The Essence of Entrepreneurship – Rick Adam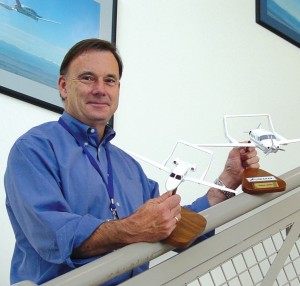 Adam Aircraft Industries is steadily gaining recognition for its leadership, advancements and ingenuity in bringing the next generation of aircraft to market. The company manufactures the A500, a six-place, pressurized, twin-engine, carbon fiber composite aircraft with centerline thrust. A follow-on very light jet, the A700 AdamJet, coupled with highly efficient turbofan engines, is expected to usher in a new era of business jet travel. Company founder and CEO George F. "Rick" Adam Jr., the recipient of Airport Journals' 2003 Michael Chowdry Memoriam Aviation Entrepreneur of the Year award, grew up on Air Force bases around the world. When a color vision deficiency foiled his dream of flight training at the U.S. Air Force Academy, he entered the U.S. Military Academy at West Point. He eventually applied for an inter-service transfer and switched his U.S. Army commission to the Air Force.
"I still couldn't fly because of the color vision thing, but I was at least back in the Air Force," he said.
During his five years in the Air Force, he attended Florida State University and Golden Gate University, where he received his MBA. He later worked in the information technology departments of Baxter Healthcare Corp., FMC, Litton Industries and IBM, before heading to Wall Street. There, he ran the IT department at Goldman Sachs, eventually becoming a general partner, and founded the Goldman Sachs Trust Co., Global Custody Business and Securities Lending Business.
Adam retired from the firm in 1992. With some free time on his hands, he began taking flying lessons at Centennial Airport.
"I essentially became a fulltime student pilot," he said. "In a year, I went through private, multi-engine and instrument ratings."
In late 1993, Adam formed New Era of Networks, an integration software company. He began flying himself on business trips, making hundreds of flights to New York and back. All that traveling and the lack of choice he found during flight training led him to considering manufacturing aircraft.
Adam paid close attention during the mid-1990s to a couple of companies attempting to get their kit planes certified by the FAA. Cirrus and Lancair both succeeded.
"The key to all of the newcomers was the use of composites instead of aluminum—carbon fiber, fiberglass, or some kind of combination," he said.
He began thinking that if someone studied and worked hard enough, that person could bring new modern airplanes to the market. Why not him?
Read about his progress: CarbonAero – By Karen Di Piazza, Rick Adam—The Essence of Entrepreneurship – By Di Freeze, Adam Aircraft Takes Off – By S. Clayton Moore
---
Life Is Fate, Time & Circumstance – Dr. Forrest Bird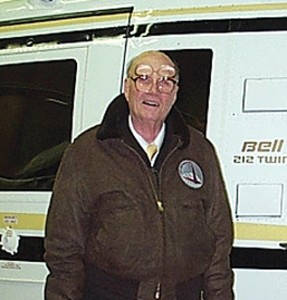 Looking around a group of hangars in northern Idaho containing 18 helicopters and fixed-wing aircraft, it's evident that Dr. Forrest M. Bird's life mimics his name.
Bird traces his love for aviation back to his childhood. His father was sent to France with the American Expeditionary Forces as a pilot during WWI, and was one of the first American pilots in the Army Air Corps to fly early bombers over German soil.
In 1928, Captain Bird purchased a GXE Waco 10. The biplane featured two side-by-side seats in the front cockpit, while the pilot flew from a back seat. It was in this airplane that 14-year-old Forrest Bird soloed, in 1935.
Bird, who had always possessed a mechanical aptitude, later helped his father and grandfather restore the aircraft. It was a great learning experience for young Bird, leading toward a mechanics aircraft and engine license. He was also soon on his way toward a commercial pilots license with an instructors rating. In the years leading up to WWII, he became a very experienced pilot for his age. An academic background in aeronautics, along with an ROTC reserve commission, prepared him for entry into the Army Air Corps as a technical air training officer in the Air Transport Command.
Bird was called to active duty just after receiving his airline transport rating. The class 5P pilot was qualified in all military aircraft, including trainers, fighters, observation, bombers and transports.
Ferrying a captured high-altitude version of a German Junkers Ju-88 from the British RAF back to the states gave Bird the opportunity to study its advanced demand oxygen breathing system and come up with an advanced pressure breathing system. That led to a recommendation that he enter biomedicine. The "flyboy" wasn't interested, thinking he would stay in the military or return to an offered position with Eastern Airlines.
But circumstances ("I saw my life go up in smoke") and fate would intervene, leading him to introduce the world's first reliable, low-cost, mass-produced respirator to the world in 1958, as well as other Bird respirators, such as the Babybird, which drastically reduced the death rate in low birth weight babies with respiratory problems. Other inventions followed, eventually leading to Bird's induction into the National Inventors Hall of Fame.
To find out what drastic circumstances changed Dr. Bird's destiny, read, "Life is Fate, Time and Circumstance" – By Di Freeze
---
From Disease-Resistant Bananas To UAVs – Linden Blue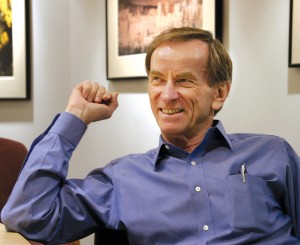 Linden Blue, founder and CEO of Spectrum Aeronautical, LLC, manufacturer of the Spectrum 33 twinjet, has always been interested in technology. That interest led him from innovating Learjet product improvements while executive VP and general manager of Gates Learjet in the mid-seventies, to overseeing the development of the Lear Fan in the early eighties and the Beech Starship in the mid-eighties, and more recently to involvement in the development of unmanned aerial vehicles and nuclear reactors.
Throughout his entire career, Blue has remained involved in aviation in one form or another. Presently, he's also the vice chairman of General Atomics, which he and his brother, Neal Blue, purchased for $50 million in 1986.
"GA is a treasure trove of technologies—all because of this high-tech foundation of nuclear technologies, both fission and fusion," he said.
The basic research of General Atomics into fission and fusion has made GA, and its affiliated companies, one of the world's leading resources for high-technology systems development, ranging from the nuclear fuel cycle to remotely operated surveillance aircraft (the Predator); airborne sensors; and advanced electric, electronic, wireless and laser technologies.
From 1975 through 1980, Blue worked at Gates Learjet. He influenced the company early on to be more aggressive in product development and to create higher performance aircraft through aerodynamics. His association with Richard Whitcomb of NASA, who developed what we now know as winglets, was a huge benefit.
"I thought that the days of the Lear 20 series—24s and 25s, with the turbojet engines—were numbered, and that we should focus on a more economical fanjet airplane, using either the down-rated 731-1 engine or a JD 15D," Blue said.
He said the only way to make a Learjet do that was to get rid of the weight of the tip tanks and add a little more wing.
"You can't add a lot more wing without getting wing bending," he said. "If you use winglets instead, you can reduce wing bending, avoiding changing the structure too much. You see winglets everywhere now, but Gates Learjet was the first company to put winglets on a business jet. We did it in great secrecy."
Although he was involved in the Lear Fan, he said it started to come on stream at the time that the industry turned south in 1979. Blue, a recognized expert in composites technology, chose to join Beech as president and CEO, and then became a director of the Raytheon Company.
During his two-year tenure, Beech solidified its position in training airplanes with the T-34C, got heavily into the Beech 1900 series, and started the Starship, which became the foundation for Raytheon/Beechcraft's entire line of current "Next Generation" composite Premier and Horizon business jets.
To read more about Linden Blue, read Disease-Resistant Bananas to UAVs – By Di Freeze, Spectrum 33 Twinjet Takes Flight
---
Always Shoot For the Moon – Gene Cernan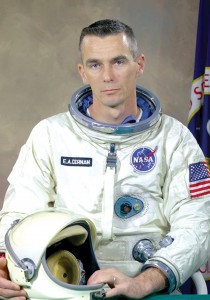 The "Last Man on the Moon" vividly recalls his first trip there as well. Gene Cernan, a graduate of Purdue and the Naval Postgraduate School, was selected in 1963 among the third group of astronauts chosen, known as "the 14." He made his first space flight in June 1966.
In the time leading up to Gemini 9, Lt. Cdr. Cernan looked forward to his extra-vehicular activity, which would allow him to emulate Buck Rogers. His planned 150-minute spacewalk was to be highlighted by strapping on a rocket-powered backpack and scooting around the universe. It turned out to be the "spacewalk from hell."
Wearing a stiff, bulky spacesuit, his slightest movement rippled through his umbilical hose (quickly nicknamed the "snake"), jostling the spacecraft and resulting in an "unwanted game of crack-the-whip." Cernan continuously tumbled out of control, while trying to escape from being lassoed.
Donning his complicated astronaut maneuvering unit also proved extremely difficult in true zero gravity, but he succeeded in powering it up and became the first human ever to circle the Earth outside a spacecraft. His troubles continued when a fogged visor blurred his vision and problems with leverage slowed his progress in strapping into the small seat. Cernan's heartbeat tripled during the ordeal, and Mission Control, hearing of the difficulties, scrubbed the rest of the EVA, to his disappointment.
After logging 130 minutes outside the spacecraft, getting out of the backpack and back into the spacecraft would prove just as challenging. The six-foot astronaut compared getting back into the small Gemini spacecraft with putting a cork back in a champagne bottle.
Eventually his feet were inside, and with Tom Stafford holding his ankles to anchor him, Cernan inched lower into the spacecraft, forcing his legs to bend into a duck-walk position. Excruciating pain shot through his legs as he pulled his body lower, twisting and managing to slide his heels over the edge of the seat, while pushing his knees beneath the instrument panel.
Halfway in the spacecraft, with his legs bent in a V position, he managed to force his shoulders below the level of the hatch. He bent his neck and head, and pulled on the hatch, but it hit the top of his helmet and wouldn't close. Stafford was able to lower the hatch further, and jam it down another few inches. Finally, the hatch closed enough so that it couldn't pop open.
But Cernan couldn't unfold his feet, nor could he push his torso any lower. The hatch was finally locked tight, but he was in excruciating pain.
"If we can't pressurize the spacecraft in a hurry and I have to stay this way for the rest of the flight, I'll die!" he said.
To learn what happened next, and on Gene Cernan's other flights (Apollo 10 and 17), read, "Always Shoot for the Moon" By Di Freeze (3 Parts).
---
Lord of the Wings – Joe Clark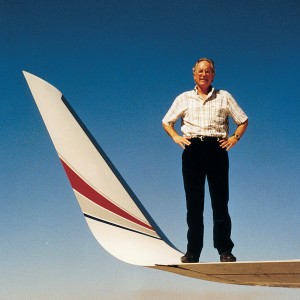 "Joe Clark took his jacket off yesterday and some feathers fell out," laughed Dick Friel, when speaking about the founder and CEO of Aviation Partners, Inc. and chairman of Aviation Partners Boeing.
Clark, the recipient of Airport Journals' 2004 Michael A. Chowdry Aviation Entrepreneur of the Year award, is an innovative thinker who has surrounded himself with others in that category. The selection of Clark wasn't only because of his success in making a dramatic, positive and lasting impact on the industry, but also because of the extraordinary fuel savings and environmental impact created by the efficiencies of Blended Winglet Technology.
Since developing the patented Blended Winglet in 1991, Seattle, Wash.-based Aviation Partners, Inc. and Aviation Partners Boeing, a joint venture with The Boeing Company, have changed the economics of flight by dramatically improving wing efficiency and aircraft productivity. The original Blended Winglet, designed for the Gulfstream II business jet, defied all industry predictions by reducing overall aircraft drag, and boosting range, by more than seven percent.
Clark says he loves being involved in a "fun" business. Part of that fun is what people say about his product.
"It's very unusual to have a product where people come up to you and say, 'You build the coolest stuff,'" he said.
Numerous commercial and private jets worldwide now sport Blended Winglets, including the Boeing 737, with a savings of more than 110,000 gallons of jet fuel each year. If all Boeing aircraft were retrofitted with Blended Winglet systems worldwide, fuel savings would be close to two billion gallons each year. Unlike traditionally smaller and angular winglets that can be seen on earlier generation aircraft, Blended Winglets are markedly larger and of wider sweep.
"Winglets can be put on any airplane to make them more fuel efficient and quieter, and they'll put fewer pollutants in the air," Clark said. "We can literally put ours on just about any airplane, and usually can substantially improve the performance."
Among other airplanes, the company has converted 70 percent of the Gulfstream IIs with winglets.
"The airplanes are all owned by heads of state, wealthy private individuals or CEOs of big companies," Clark said. "It gives their corporate jets a sexy look; that's appealing to CEOs."
For more read "Lord of the Wings" – By Karen Di Piazza and Joe Clark—Providing "Way Cool Technology" – By Di Freeze
---
Aerobatics Superstar – Julie Clark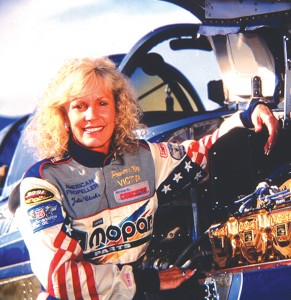 After 27 years with Northwest Airlines, Captain Julie Clark retired in 2003, to devote more of her time as one of the world's top performing air show pilots. Beyond the wrought iron gates of the hangar community in Cameron Park, Calif., where she lives, it's not unusual to see her working on her Mopar-sponsored T-34 "Free Spirit," or her bright yellow T-28 "Top Banana."
The 2002 Women in Aviation Pioneer Hall of Fame inductee has a personality to match her electrifying air show performance presentation of "Serenade in Red, White and Blue," choreographed to Lee Greenwood's "God Bless the USA" or "God Bless You Canada." Streaming multicolored wingtip smoke cascading down like a waterfall highlights her famous fireworks finale.
Flying as a passenger with Clark in her T-34 isn't for the faint at heart. She recalls when Robin Leach, then TV host of "Lifestyles of the Rich & Famous," couldn't handle it.
"He was such a wimp," laughed Clark. "They made him look like he was flying in the backseat with me, but he wasn't. I talked him into mounting a camera in the front and taking him up for just one roll. He said, 'I felt like I was going around and around inside of a washing machine!'"
Clark's blue eyes shine brightly when she talks about performing in air shows, but she's easily saddened recalling some dark days. In 1963, 14-year-old Clark was devastated when her mother suddenly choked to death. Then, just one year later, Clark's father, Ernie Clark, an airline captain, was murdered.
"A deranged passenger walked into the unlocked cockpit with a gun and shot my father and the crew," said Clark, holding back tears. "The aircraft went down, killing all 44 people on board."
The incident prompted the Federal Aviation Administration's Clark Act in 1967, which requires cockpit doors to remain locked during commercial flights.
Clark has survived other experiences that she said gave her the strength to continue doing what she wants to do.
For more read Julie Clark's Flying Adventures as Captain and Aerobatics Superstar – By Karen Di Piazza
---
The Combs / Gates Connection – Harry Combs & Charles Gates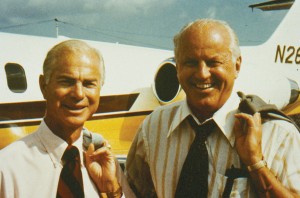 As far as Charlie Gates knew, establishing a chain of "garages" for general aviation aircraft was a unique idea. The first link in that chain would be Combs Aircraft Corp., which Gates acquired from Harry Combs in 1966.
Initially at an airfield abandoned by the Colorado Air National Guard, Combs began his enterprise in 1938 with the establishment of Mountain States Aviation, which included a flying school and aircraft sales division. In 1950, then at Stapleton Airport and involved in Piper, Stinson and Ryan Navion operations, the company obtained the coveted Beechcraft franchise for Colorado, Wyoming and Montana. When Combs bought out a partner's share in the business in 1954, the fixed base operation and aircraft sales were combined under the name of Combs Aircraft Corp. It became the leading Beechcraft distributor in the United States in 1958, and the largest in the world in 1962.
From Combs, Gates had earlier acquired a Beech Travel Air, in which to transport Gates Rubber Co. executives. Since Combs had always had a "topnotch reputation," Gates renamed the FBO—a subsidiary of the new Gates Aviation Corp.—Combs Gates.
In early 1967, Gates acquired the controlling interest of Roscoe Turner Aeronautical Corporation, established in 1940 at Indianapolis Airport, which had become a Beech distributorship and was in financial straits. That same year, Gates and Combs discussed having a private brand airplane marketed through the two FBOs. The conversation between Combs and Gates turned to William P. Lear's Lear Jet, the world's first certified business jet.
"Later, Harry called me and said, 'It's interesting; Bill Lear is a hell of a salesman but sort of a leapfrog mechanic,'" Gates said. Combs also mentioned that Lear was "about to go belly up," and suggested that Gates should think about acquiring what was available of the company.
"We negotiated from 11 in the morning until 11 at night," Gates said. "There was a handshake and that was it."
In April 1967, Gates acquired the available 65 percent of Lear Jet Industries. Bill Lear served as chairman of the board for the next two years.
On Dec. 2, 1969, Lear Jet Industries Inc. became Gates Learjet Corporation. Gates Aviation Corp., a wholly owned subsidiary, took on the role of domestic and Canadian distributor for the Learjet. Gates served as chairman of the board of Gates Learjet Corp, and Combs was elected to serve on the board of directors. In 1971, Combs was elected president of Gates Learjet of Wichita, Kan.
By 1975, Gates Learjet was the industry's leading business jet manufacturer, but all that would change in the next decade.
For more on Harry Combs read Harry Combs: The Early Years (part 1) – By Di Freeze and
Harry Combs Enters the Jet Age (part 2) – Dy Di Freeze and our tribute to Harry Combs Spoiled for Anything Else – By Di Freeze
For more on Charles Gates read Charles Gates Jr.—Born in Motion (2 Parts) – By Di Freeze and October 2005 Tribute to Charles Gates Jr. – By Di Freeze
---
Promoting Aviation with Young Eagles – Harrison Ford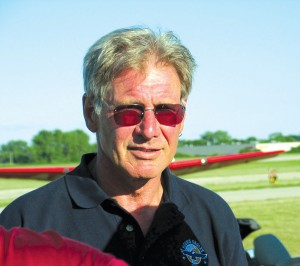 It's the morning of July 28, and Harrison Ford is getting ready to fly in the lead AeroShell Aerobatic Team T-6 at EAA AirVenture Oshkosh 2005.
"One of the few pleasures of celebrity is rides that have come my way," Ford says, as the pilots perform pre-flights nearby. "Like this morning, I'm really looking forward to flying with the AeroShell team. I'm riding everything from an F-16 to the Tiltrotor. It's been a wonderful experience to fly those machines for a brief period of time."
Ford has always loved flying his de Havilland Beaver to small fly-ins around Wyoming, but not until recently did he feel comfortable at gatherings such as AirVenture. He admitted to having an aversion to large crowds.
The fact that Ford is sitting in a tent at Oshkosh talking about his experience at the annual convention, attended by approximately 700,000 people, can be credited to a vital group of people within the Experimental Aircraft Association. When Ford was first asked to take on the role of chairman of the Young Eagles program, he didn't immediately say yes. But it wasn't because he had doubts about the program.
"I became acquainted with Young Eagles in Jackson," he said. "I have a number of friends who, for years, have been involved with Young Eagles, and they pressed me into service. I really loved it."
And his hesitation wasn't about time—even though his acting career does limit the amount of time he can spend doing Young Eagles activities.
"It was a daunting prospect taking over from Chuck Yeager, who was a wonderful representative for the program," he explained. "But for years I've been enthusiastic about the program, so I thought it would be a little payback to spend some time helping promote aviation."
Ford has a "nicely rounded stable" of aircraft, including a Cessna Citation CJ3 jet, an Aviat Husky A-1B two-seat tail-dragger, a Beech Bonanza B36T3, a Cessna Grand Caravan and a 1929 Waco Taperwing. His passion for aviation prompted him to address issues that concerned him.
"I believe general aviation is under serious threat from a variety of misunderstandings and fears," he said. "People don't understand what we're doing and why we do it."
Read more: Promoting Aviation through Young Eagles – By Di Freeze
---
Driving Miss Seneca – Morgan Freeman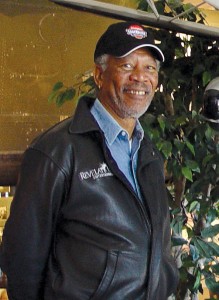 Morgan Freeman was born in Memphis, Tenn., in 1937, but lived most of his youth near Charleston, Miss. Before he left the Mississippi Delta in 1955 to attend Los Angeles City College (where he studied dance and theatre), he dreamed of flying.
"I wanted to be a fighter pilot," Freeman said. "I wanted to strafe freight trains, dogfight and re-fight World War II."
Freeman joined the Air Force when he was 18, in hopes of becoming a jet pilot.
"In the fifties, that wasn't happening," he said. "I guess if I'd come out of college it would've been somewhat easier. I don't blame the Air Force so much as time and circumstance. I didn't like military service, so it was a wash anyway."
It would be decades before he would actually fly. Before that, Freeman discovered a love for sailing.
"I discovered sailing when I was about 30 years old and just dove into it," he said. "I've been doing it ever since then. I thought of that as flying, in a sense, because you're riding the wind. I really like it a lot."
Freeman became a pilot after attorney Bill Luckett gave him the push he needed in that direction.
"When we hooked up, he was flying his Seneca all over the place," says Freeman, now a multi-engine rated pilot. "One day he invited me just to go up and fly with him, look around. When Bill and I started tooling around in the sky, he said, 'You have to get lessons. You have to learn how to fly.'"
The two friends now partner in a Piper Seneca II, a light twin-engine six-passenger aircraft, and a Cessna 414. They're also partners in Ground Zero Blues Club, in Clarksdale, Miss., and Madidi, an upscale restaurant nearby.
Freeman says that particularly every flight he makes is "memorable," but one flight really stands out in his mind.
Read more: Driving Miss Seneca – By Di Freeze, and Lifelong Dream Fulfilled
---
Bringing Back the Lost Era of Aviation – Greg Herrick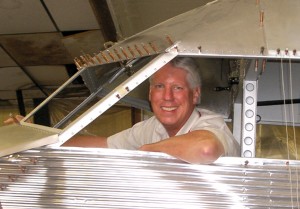 Greg Herrick says the "Golden Age of Aviation" has been forgotten. Because of that belief, he's formed the Aviation Foundation of America, a nonprofit organization dedicated to making sure that others remember that era.
"Everyone remembers that on Dec. 17, 1903, at Kitty Hawk, N.C., the Wright brothers made the world's first powered flight," Herrick said. "Then, for some reason, people seem to think that the history of general aviation went from there to barnstorming to the jet age. Back up; that's wrong! If it hadn't been for the Golden Age, we wouldn't have had the jet age of flight."
Herrick explains that the Golden Age was carved out between 1925 and 1931.
"In the U.S., many advancements in aviation occurred during World War I and World War II—a time that became the Golden Age," he explained. "Ironically, that time has been overshadowed by the aircraft and action of the two wars that framed it."
Herrick, who made a substantial amount of money in the nineties from the sale of his mail-order computer business, Zeos International, personally owns more than 35 vintage aircraft—one of the largest holdings of aircraft in the U.S.—and admits to investing more than $10 million to purchase and restore them. He knows that some people might find it odd that he chases aircraft around the world and is concerned about the Golden Age.
After not flying for decades, Herrick purchased his first vintage aircraft, a 1943 Fairchild PT-23, and brushed up on his flying skills. Although that particular plane wasn't part of the Golden Age, it's what pushed him more in that direction, because he thought there were enough warbirds.
"Frankly, the world doesn't really need another restored P-51," he laughs.
Most of Herrick's vintage jewels are stored at Anoka County-Blaine Airport, near Minneapolis, where he opened the Golden Wings Flying Museum. However, not satisfied that "the world" could share in the lost era of the Golden Age, he decided to create the National Air Tour 2003—something that hadn't happened since1931. Herrick recreated the Commercial Airplane Reliability Tours, which became known as the Ford Air Tours.
Read more: Consummate Entrepreneur Greg Herrick Brings Back the Golden Age – By Karen Di Piazza
Comments
comments