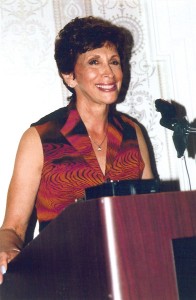 Arlene Feldman got her pilot's license in 1959. Her passion for aviation has overflowed into many different areas including law, business, logistics and aviation, ultimately leading her to a 21-year career as an executive with the Federal Aviation Administration.
She learned to fly at Wings Field Airport in Pennsylvania and credits The Ninety-Nines, the international organization of over 6,500 licensed women pilots, for much of her success. Like Amelia Earhart, the group's first president, Feldman would become a pioneer in her field.
With children in high school, Feldman earned a degree in political science at the University of Colorado, and at the urging of her professors earned a law degree at James Basley Temple University in Philadelphia. She was able to combine her interest in flying and legal matters by studying aviation law.
Her first responsible position was director of the New Jersey Division of Aeronautics, where she is widely credited with doing more to advance the cause of aviation in the state than any other previous administrator. It wasn't long before she was recruited by the FAA, where she quickly moved up through the ranks of America's civil aviation authority.
During her tenure at the agency's Technical Center in Atlantic City, she became known as a pioneer in the advancement of rotorcraft technology, largely due to her fondness for the flexibility of helicopters. Moving on to become deputy director of the FAA's Western Pacific Region, she managed the complex job of closing and reopening the primary runway at Los Angeles International Airport. In taking on the job, she became the first woman to become director of an FAA region.
She became the FAA's highest ranking, non-politically appointed woman in 1988 when she was selected as New England's regional administrator. During her tenure there, she coordinated an international aviation partnership with Spain, which won her a Presidential Rank Award for meritorious service.
Feldman also used her influence to develop one of the FAA's most successful aviation education programs. While aviation education has always been part of the FAA's mission, she has been extraordinarily encouraging of young pilots by advising high school and college students in each area she has worked and providing leadership to some of the country's most complex aviation education programs.
She book-ended her career with the organization with a decade-long engagement as director of the FAA's Eastern Region. From 1994, Feldman supervised all of the aviation activities in seven eastern states from New York to West Virginia, including some of the most complex airspace in the country.
"If you can't see any opportunities where you are now, don't waste your time criticizing the darkness," she once said, in an often-quoted talk about aviation. "Light a candle to find your way out."
It's obvious that Arlene Feldman has had no trouble finding her own way in the world.
Comments
comments