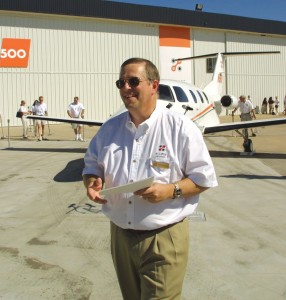 Vern Raburn, CEO and founder of Eclipse Aviation, knows something about taking risks. He made so much money building up companies in the uncertain world of high technology that he could have retired a long time ago. Instead, he's on a mission to drag the general aviation industry into the future with his visionary project, the Eclipse 500 jet.
Raburn is so full of energy and addicted to change that he jumps headlong into working on the ideas that excite him. It's hard to fault his instincts. During his career in high technology, he advanced some of the most successful computer companies in the world.
He started his career by opening one of the country's first computer stores in Westminster, Calif., before joining the Lotus Development Company as executive vice president and helping to launch Lotus 1-2-3. He was one of Bill Gates' first executives at Microsoft, where he was also executive vice president. He went on to run Symantec as its CEO and chair and to oversee high technology investments as president for the Paul Allen Group, formed by the Microsoft co-founder.
Raburn has logged over 6,000 hours of flight time and earned his multi-engine, instrument, commercial and rotary ratings. He's type rated in more than 15 aircraft types from WWII bombers to corporate jets and owns several vintage aircraft, including a Lockheed Constellation and a Douglas A-26 Invader.
But he believes the future is in commercial jets. He founded Eclipse Aviation with the idea that point-to-point, on-demand air travel should be affordable to a higher percentage of the population, especially busy executives.
Located at Sunport International Airport in Albuquerque, N.M., the company was formed with $325 million in private equity capital raised by Raburn. Its sole product is the Eclipse 500, a six-seat business jet powered by two Pratt & Whitney PW610F turbofan engines with an anticipated cost under $1 million. There are already three of the aircraft in testing and Eclipse anticipates deliveries to customers by mid-2006.
The Eclipse 500 is also in line with Raburn's commitment to using new technologies including the use of friction stir welding for airframe construction, glass cockpit technology not usually found in such lightweight and relatively low-cost aircraft and state-of-the-art information acquisition technology for data collection.
Raburn knows that developing new aircraft isn't easy. The proposition is full of risk and that's just the way he likes it.
"All of a sudden, I'm telling the GA industry, 'Hey, I come from a world where taking risks is fun, where taking risks results in rewards, where taking risks results in whole new businesses and markets, so let's do that with airplanes!" Raburn said.
Comments
comments