Dr. Forrest Bird invented the world's first heart-lung machine in 1958. The Bird Universal Medical Respirator—inspired by aviation and informally known as "The Bird," has been a boon to medical science. Add the fact that the good doctor invented a high-altitude regulator and an early anti G-force system, nearly killing himself while testing the suit, and you start to realize his impact.

An inventor since childhood, Bird learned to fly in his father's GXE Waco 10 and soloed at the age of 14. Before WWII, he became an experienced pilot with an academic background in aeronautics, preparing him for entry into the Army Air Corps as a technical air training officer. After being called to active duty in 1941, and assigned to the Army Air Transport Command, he received training on almost every aircraft the Army flew, including the C-46, B-26, A-20, B-25 and B-18.
While ferrying a captured German Junkers back to the states, he became fascinated with an onboard demand oxygen breathing system designed for high altitudes. Bird studied and redesigned it. Later, he discovered that his crude prototype had been developed into a highly efficient regulator manufactured by Bendix and Aero, allowing pilots to fly higher than ever before.
As turbine aircraft came on line, pilot blackouts became an increasing concern so Bird developed a simple prototype of the modern G-suit. However, during a system test, his seat failed during a positive G load. Instantaneously, the resulting negative Gs created pressure in his cranium that led to ocular hemorrhages and a long-term but not permanent blindness.
Removed from flight status, Bird used his time to earn a medical degree because he simply "wanted to learn medicine." He was flying again by the end of the Korean War, and became a transport pilot for air evacuation, which spurred the development of the respirator. By the early 1960s, his $375 universal respirator was used in most hospitals in the world.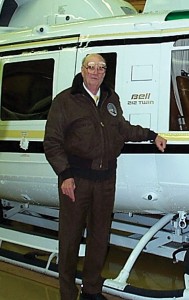 Through Bird Space Technologies, he continued his respirator research, and by the 1990s had moved most of his operation to his Idaho ranch, where the 20,000-hour pilot houses a collection of 18 rotary and fixed-wing aircraft.
"When I look back on my life, I realize that without my aeronautical qualifications, I couldn't have excelled in my various pursuits," he said. "The time spent on aviation projects has always been my reward for succeeding in my medical projects."
Inducted into the National Inventors Hall of Fame in 1995, Bird continues to contribute to the field of pulmonary science by participating in the development of the VDA, a ventilator that permits a patient to move from room to room.
Comments
comments