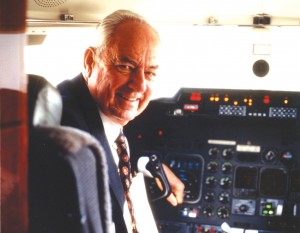 Clay Lacy has more time flying than any other human on the planet; it would take over five years of non-stop gear-up to touch-down flying just to equal his piloting time. The founder of Clay Lacy Aviation has flown more than 300 different aircraft types, has over 30 different type ratings and holds 29 current world speed records.
Born in Wichita, Kansas, Lacy wanted to fly since he was 8. He got his student permit at 14 and with that piece of paper claiming he was two years older, it was easy for Lacy to gain his private pilot license and instructor's rating. With 1,500 hours already logged, he began flying for United Airlines, at 19, in 1952.
Due to the Korean War, he ended up in the California Air National Guard in 1954. Lacy headed to Nellis Air Force Base for training but returned in 1955 to fly the F-86, and later the T-33 and C-97, as well as flying for United.
During that period, he met Jack Conroy, a fellow airline pilot, who would introduce him to two of his childhood idols, Herman "Fish" Salmon and Tony LeVier, as well as Allen Paulson, the owner of California Airmotive at Burbank Airport, who would become Lacy's closest friend.
At first, California Airmotive was mainly a parts business, but in the late fifties, Paulson began buying and selling aircraft, and Lacy ferried many for him. In 1960, Lacy went to Denver for a year to work in United's flight training center. In September 1961, he was recalled to active duty with the Guard due to the Berlin Crisis, flying C-97s on active duty until 1962.
By early 1964, he had resigned from the Guard, was checked out in the Boeing 727 tri-jet, and was involved with the Lear Jet, which made its first flight in October 1963. California Airmotive signed on as the Lear Jet distributor for 11 Western states and Lacy served as manager of sales.
One of California Airmotive's biggest advantages was their proximity to Hollywood. In the mid-sixties, Lacy began shooting air-to-air footage. He has served as pilot, director and/or videographer on over 3,000 flights requiring air-to-air photography. He's done work for every major aircraft manufacturer and for every branch of the U.S. military and six foreign branches. He's made about 200 flights for Hollywood productions, including "Armageddon," "Capricorn One," "Turbulence," "Flight of the Intruder, "Dragnet," "Iron Eagle II" and "Top Gun."
Lacy started the first on-demand jet charter company in the Los Angeles area in 1968 and in 1981 opened his all-turbine fixed base facility in Van Nuys, expanding to Seattle recently.
He continued to fly with United until August 1992, working his way from the Convair 340 through the DC-4, DC-6, DC-7, Boeing 727, DC-8, DC-10, 747 and 747-400. He retired with number one seniority.
An enthusiastic air racer, Lacy participated in the first National Championship Air Races and Air Show in 1964, at Reno, in a P-51D. From that year through 1969, he took third in the unlimited class, before becoming the unlimited class champion in 1970.
He participated in other racing events as well, including "The Great Race," from London to England, in 1971, which he won, and set various records throughout the years.
Comments
comments