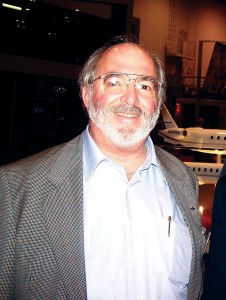 As a young boy, Bruce McCaw learned his lessons well. His parents, Marion and John Elroy McCaw, taught him a passionate, hands-on style of business, which is reflected in the dramatic progress of one of the top aviation museums of the world. His quiet but hugely generous giving of his time and resources has helped insure that a visit to The Museum of Flight is truly a world-class experience.
John Elroy McCaw was in the business of buying and selling television and radio stations and helped to bring the World's Fair to Seattle in 1962; the community effort inspires Bruce McCaw to this day. He died when his sons were young. Their mother, a dedicated supporter of the Seattle Opera, taught her boys to seek out and give voluntarily to the causes that are closest to their hearts.
The McCaw boys—Bruce, Craig, John and the late Keith McCaw—learned about business from the ground up, working as linemen and door-to-door salesmen. Alongside his work maintaining the family company, McCaw formed his own aviation insurance company, which later became Forbes Westar. He also co-founded Horizon Air, one of the nation's largest regional airlines prior to its sale to Alaska Airlines in 1986.
After their father's death, the brothers transformed the company, buying up undervalued cellular rights in the early 1980s. Their aggressive expansion, created by borrowing against and selling shares in the cable operation, created one of the most competitive cellular companies in the United States. In 1994, the McCaw brothers sold McCaw Cellular to AT&T.
Since that time, Bruce McCaw has been heavily involved in serious efforts to provide the west with an aviation museum on par with the Smithsonian. Both he and his brother Keith have served on the board of The Museum of Flight in Seattle.
Recently, he and his wife Jolene served as co-chairs of the museum's "Rendezvous in Space" celebration. He has also participated in the Air Venture Museum in Evergreen and is a director of Universal Space Lines, Inc., a company focused on enabling low-cost access to space.
In addition to sharing an avid enthusiasm for aviation with his brothers, McCaw also collects classic automobile race cars and competes in vintage racing events. He owns the PacWest Racing Group based in Indianapolis and has served as a trustee of Championship Auto Racing Teams.
He also follows his mother's example, striking out and creating new groups when there is a need. He's a director of the Apex Foundation, the McCaw family's charitable private foundation. McCaw uses his personal fortune to support a wide variety of organizations. Beneficiaries of his patronage range from the Seattle Children's Home to the Talaris Research Institute. He also joined the rest of the McCaw family in supporting the new $72 million Marion Oliver McCaw Hall at the Seattle Opera.
Despite Bruce and Jolene's enormous impact on their community, they remain remarkably low-key about their achievements. Speaking for the family last year, he quietly but steadfastly affirmed the McCaws' commitment to their causes.
"I don't think of myself as a philanthropist and I don't think the rest of the family does either. We try to do things that are important and sensible—things you sort of feel you should do," McCaw said.
Comments
comments