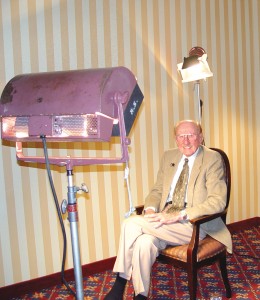 Bob Hoover has inspired more pilots and aviation enthusiasts with his legendary air show performances than perhaps any other pilot in history. He's one of the founding fathers of modern aerobatics, described by no less than Jimmy Doolittle as "the greatest stick-and-rudder man who ever lived."
A celebrated test pilot, Hoover has flown more than 300 types of aircraft and has performed at more than 2,000 air shows all over the world, setting records for transcontinental and time-to-climb speed.
Born in 1922, in Nashville, Tenn., he began taking flying lessons when he was 15. He enlisted in the Tennessee Air National Guard and later went on to pilot training in the Army Air Corps. As part of the 20th Fighter Group, he was soon on his way to the European theater, with assignments in England, Africa, Morocco, Algiers and Italy. After Hoover had flown 58 successful missions, on Feb. 9, 1944, a German Focke-Wulf 190 shot down the 22-year-old flight leader in his Spitfire Mark V, off the southern coast of France.
He was captured and held for 16 months in Stalag Luft 1, a German prison camp. He escaped in April 1945, stole a Focke-Wulf 190 from an abandoned Luftwaffe base and flew it to Holland.
When WWII ended, he was assigned to Wright Field's Flight Test Division, where he flew as backup pilot to good friend Captain Chuck Yeager on the Bell X-1, the first aircraft to exceed Mach 1. Hoover flew a Lockheed P-80 Shooting Star when Yeager broke the sound barrier and flew chase in 1997 for the 50th anniversary of the feat in an F-16.
In 1951, he began a 36-year career with North American Aviation, testing airplanes and demonstrating all over the world, including the T-28 Trojan, FJ-2 Fury, AJ-1 Savage, F-86 Sabre and F-100 Super Sabre.
In 1986, he joined Del Smith's Evergreen International Aviation Company. Recent ventures include co-founding Jet Fleet International with Capt. Gene Cernan.
At the first Reno Air Races held in 1964, Hoover was the official starter in his famous P-51 Mustang; he continued the tradition for over three decades. In 1973, he began flying aerobatic demonstrations in a Shrike Commander 500S. Although he had many spectacular maneuvers, his signature was his "Dead Engine Energy Management Maneuver."
Hoover's contributions to aviation include two terms as president of the Society of Experimental Test Pilots. Over the years, he has been honored by many organizations, including the International Council of Air Shows, which, at their 1995 convention inducted him as the first member of their Hall of Fame. In 1986, he received the Lindbergh Medal for lifetime achievement, and in 1988, he was enshrined in the National Aviation Hall of Fame. In 2000, Hoover donated his famous Shrike to the Smithsonian.
"I don't think I possess any skill that anyone else doesn't have," Hoover said modestly. "I've just had perhaps more of an opportunity and more exposure, and been fortunate to survive a lot of situations when many other weren't so lucky to make it. It's not how close can you get to the ground, but how precise can you fly the airplane."
Comments
comments