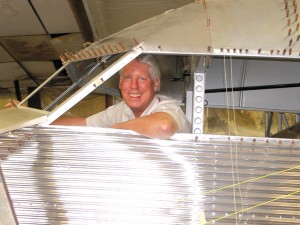 Greg Herrick, president of the Aviation Foundation of America, is on a mission. He and his foundation are preserving in detail the aircraft and history of the Golden Age of Aviation, carved out between 1925 and 1931.
"Everyone remembers the Wright Brothers, but then, for some reason, people seem to think that the history of general aviation went from there to barnstorming to the jet age. Back up; that's wrong! If it hadn't been for the Golden Age, we wouldn't have had the jet age of flight," Herrick said.
Prior to the flying career he treasures, Herrick's entrepreneurial spirit drove him to establish several companies including the mail-order computer business ZEOS International, which was sold to Micron Technology, Inc. in 1995. Subsequently, Herrick bought and still owns SkyMedia, LLC, a direct marketing business in Minneapolis.
However, the pilot, who earned his pilot's license as a high school graduation present, spends much of his time collecting, protecting and preserving vintage aircraft. Since the 1990s, he has invested many millions of his own funds purchasing and restoring Golden Age aircraft.
He pores over the U.S. Civil Aircraft Series, cross-referencing planes of interest with the FAA's register to see what's still out there. His zeal for antique airplanes and history has driven him to purchase more than 35 Golden Age aircraft, many of which are housed at the Golden Wings Flying Museum at Anoka County Airport in Blaine, Minn. His one-of-a-kind airplanes include the first diesel-powered airplane, American Airlines' oldest surviving airliner and the oldest surviving Ford Trimotor.
Not satisfied with simply owning the aircraft and sharing them with others, Herrick has conducted historic flights to commemorate the contributions of the pilots who came before him. In September 2001, he and pilot Carlene Mendieta recreated a flight across America that Amelia Earhart made in 1928, in an Avro Avian owned by Herrick. In 2003, he recreated the Ford Air Tours, a 1932 event that was sponsored by Henry and Edsel Ford to demonstrate to America that flying was safe, but was unfortunately canceled due to the Great Depression. More than 80 volunteer pilots and crew from 20 states and Canada returned to Willow Run, Mich. to complete the 4,000-mile journey.
When not working at the foundation, Herrick enjoys researching aviation history and sharing his knowledge with others. He often lectures on the National Air Tours, having spent two years researching the routes, airplanes, people and pilots involved in the event. He also continues his search for the lost airplanes of the Golden Age.
In short, Greg Herrick isn't just researching history; he's finding out what it means to live it.
"It's what I love to do and share with people," Herrick says. "I'm humbled to be the custodian of such exquisite aircraft. I've been very fortunate."
Comments
comments