By Bill Stansbeary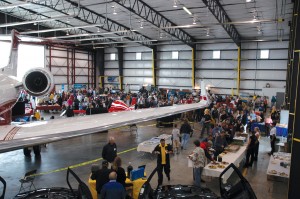 The general aviation marketplace was well shown at the 2005 Business Aircraft & Jet Preview held at the Denver jetCenter, Centennial Airport (APA), on August 4. Wetzel Aviation and Wealth Management Partners presented this annual event, produced by Airport Journals.
The Business Aircraft & Jet Previews offer buyers in the general aviation market a place to meet face to face with the original equipment manufactures as well as the entire spectrum of aviation suppliers. This event was the first public showing of the Aviation Technology Group Javelin prototype aircraft, so it attracted much attention. A new light sport aircraft, the Nexaer LS1, also caught the eye of many beholders. Others took a close look at the Piaggio Avanti P180 offered by Wetzel Aviation.
News media coverage included a WB2 Television News interview of Bill Mayo, Mayo Aviation CEO. Matthew Kryjak, Paragon Motorcars president, and Danette O'Callaghan showed several sparkling supercars. A Gulfstream 550 operated by professional golfer Greg Norman was surrounded by the activities.
The Perfect Landing Restaurant provided a delicious lunch buffet. Highlands WineSellers provided wine and cheese, courtesy of Dassault Falcon. Nearly 800 people attended.
For future Business Aircraft & Jet Previews, check [http://www.jetpreview.com].
Comments
comments