By Jerry Lips
I have little memory of life before being consumed with transportation—my 1949 Cushman step-thru, my Ford and Mercury years, followed by '56 and '57 Chevys. Then came the European sports cars, followed up with flying lessons compliments of the G.I. Bill. Wheels and wings had consumed me.
So, when Bill Stansbeary recently mentioned the Detroit Auto Show, my heart beat a little faster. After all, it was just a year ago that he was at the same event when he ran into Carroll Shelby and made a call to me so I could say "hi" to Mr. Cobra himself. We had become acquainted when Di did her interview with him in the June 2002 issue of Airport Journals.
OK! My car emotions have settled down considerably since those great Cobra days of the '60s. It seems more difficult to get emotional about a Ford/Astin Martin or a Ford/Jaguar or a VW/Bentley, or a Mercedes SUV made in a place that's more famous for moonshine than engineering. It's really confusing when Jaguar has the same platform as the Lincoln and BMW is trying to look like a Buick, or whatever. But, let's try to figure it out.
If we subtract Ferrari from the equation, we end up with a lot of the same stuff just mixed up in different forms. The Koreans and Chinese are making components, Californians are styling, the Mexicans and American red necks are doing the assembly, and the Japanese are winning the spelling bee with dependability. But what car nut ever cared about dependability—certainly not Mr. Lucas (aka) "The Prince of Darkness."
Well, it's the 2005 Detroit Auto Show, and we should have enough reverence to report and enough responsibility to be fair and balanced. Even if they are mundane, there's no shortage of models for various market segments, even the tiniest slivers of the buying public.
A few years ago, several of the world's top auto manufacturers commissioned a study to determine where the auto market was going. Sigma, a highly respected European research company, didn't stop at lifestyle and demographics; they went to the homes of the research participants, took photographs of the furnishings, became acquainted with their politics and philosophies, studied their activities and conducted hours of interviews with each participant. The conclusion—and correctly, it turned out—was that the luxury car market was headed for a significant expansion.
Ford responded with the purchase of Land Rover, Jaguar, Astin Martin and Volvo, and even tried to buy BMW. VW bought Bentley, Lamborghini and repackaged their Audi A-8 as a $75,000 VW Phaeton. BMW picked up Rolls Royce and Mercedes re-launched the Maybach marquee and borrowed the McLaren badge.
Sigma's study classified the luxury segments into four groups. The first group identified was the "social climbers." This is basically the yuppies of the '80s and '90s; they were motivated almost exclusively by professional success, and flaunted their wealth.
But Sigma determined that this greed-is-good, look-at-me group was becoming passé. It determined that other groups with different upscale mindsets would increase in number. One group dubbed "upper liberals" includes socially-conscious, open-minded professionals who made it in the '90s. Still ambitious, but with families, this group is into hobbies and activities; sedans no longer provide the needed flexibility.
The "post moderns" group is high-earning innovators, entrepreneurs and highly individualistic thinkers. In the '90s, they tended to drive Mercedes S-class and Jaguars, and they're still interested in sophistication and elegance.
The final group in the Sigma study is the "modern mainstreamers." Like the upper liberals, they are family-oriented and active. Typically they lean toward near-premium brands, Honda, VW, Audi, with increasing numbers looking to move up to luxury brands.
With the luxury market so over supplied, it was interesting to see the emphasis of the show on the evolution of the WWII Jeep. With the SUV craze peaked and the market tired of the mini-van diaper smell, the "Crossover" concept cars were the hum. New variants are the industry's answers to a waning market for the gas-thirsty SUVs and saturated minivan market. Ford's successful two-wheel drive, imitation SUV, Escapade, is their first example with plans to launch several more crossover cars, including the Freestyle wagon and Ford Fairlane.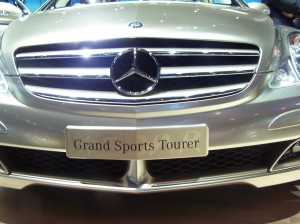 The Fairlane has borrowed a well-known name from Ford's past, featuring a wood-trimmed dash made of unfinished plywood, painted wicker arm rests and flexible space for active lifestyles. This new Crossover has Land Rover-inspired styling with a three-way tailgate inspired by the station wagons of the 1960s. It's something you might see in Dwell Magazine.
Along with the Mercedes new R-Class, and BMW's 1-Series, most manufacturers are trying to find the right mix to fit the emerging market. Built on auto and minivan platforms, instead of the heavier and less fuel efficient truck underpinnings, these Crossover units are pushing the edges of the SUV definition.
Honda's Pilot, Toyota's Lexus RX330 and Chevrolet's new HHR, modeled after the 1940s Chevrolet Suburban, are also all category-bending vehicles that reflect the industry's attempt to anticipate the fast-moving consumer target.
I guess I'll keep driving my 1972 911.
Comments
comments