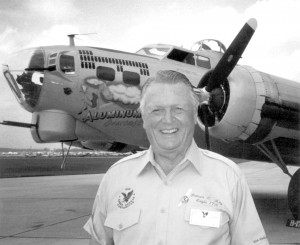 James Ray has never forgotten where he came from. Operating his investment and business operations from Minden, Nev., and Ketchum, Idaho these days, he obviously still has a place in his heart for the down-to-earth people of the American Midwest.
His extraordinarily generous efforts are legendary, especially at the University of North Dakota, where the former rancher has invested more than $12 million in aviation education and the university's entrepreneurial efforts.
He learned to fly in World War II, after enlisting in the Army Air Corps. He served as a B-17 lead pilot with the 8th Air Force based in England, and completed 30 bombing missions over Europe. He retained his commitment to duty during the Korean conflict, actively serving with the Air Force.
As a Montana rancher in the 1960s, Ray was running a large-scale cattle operation when a particularly virulent disease ravaged the herds of the Northwest. In 1964, he and his late wife Joan founded the Ray Foundation to study the problem and eventually came up with a vaccine, TRI-VIB, in 1967. He earned a fortune from sales of the vaccine; the Ray Foundation distributed most of its royalties to charities, including anti-drug education and mental health organizations.
Since that time, Ray has put his money where he thinks it will do the most good, not only in education but also by investing in entrepreneurial business opportunities. He has been a seed investor in more than 300 startups in the technology and aerospace sectors and has also had interests in oil and gas exploration and real estate development, as well as ranches in both Montana and Oregon.
He's the lead investor in Cirrus Design Corporation. Ray's foundation also gave the University of North Dakota $3.5 million in 2001 to establish endowments that promote entrepreneurship through its Center for Innovation. That's just a drop in the bucket compared to Ray's personal and financial investment in UND's Aerospace Foundation. He gave the organization $2.3 million to buy training aircraft, flight training devices and a Piper Cheyenne turboprop, as well as $2.5 million in scholarships, including the school's largest, a $50,000 scholarship funding a full completion of the school's aviation program.
Unlike many benefactors, Ray likes to see where the money goes. Although a very private man, he visits the University of North Dakota several times a year to talk with students, entrepreneurs and faculty members. One weekend, he stayed in a residence hall to visit with his scholarship students and he often stops by to take small groups of students to dinner, learning about their studies and sharing his own extensive life experiences with them.
In one of his few public comments, Ray said he'd be proud for any of the university's students to be his wingman.
Comments
comments