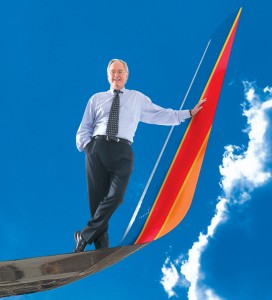 "Joe Clark took his jacket off yesterday and some feathers fell out," laughed Dick Friel, when speaking about the founder and CEO of Aviation Partners, Inc., and chairman of Aviation Partners Boeing. Joe Clark, named "Aviation Entrepreneur of the Year for 2004," has done a lot to make things better in the industry.
His great idea—the Blended Winglet Performance Enhancement System—would be legendary among designers just for the performance enhancement that it has lent to dozens of aircraft manufacturers. As founder and CEO of Aviation Partners Inc., he is one of the strongest leaders in the aviation arena.
Clark attended the University of Washington and immediately became active in aviation, inspired by friends like Clay Lacy and Bill Lear. In 1966, he founded Jet Air, the first Learjet dealership in the Northwest. His career in aviation grew quickly with marketing and sales assignments for Gates Learjet and the Raisbeck Group. In 1981, Clark teamed up with Milt Kuolt and Bruce McCaw to form Horizon Air, a successful regional carrier that was later sold to Alaska Airlines. In 1986, he founded Avstar, Inc. and established a worldwide sales system to market ex-military jet training aircraft to American companies and private individuals.
Clark co-founded the Seattle-based Aviation Partners in 1991 after business tycoon Dennis Washington asked him if he could do something about extending the range of his Gulfstream II business jet. Introducing the GII to blended winglet technology reduced the drag by more than seven percent.
After that first Gulfstream, others were equipped with the technology. Then, Clark discussed the innovation with Borge Boeskov, at the time vice president of product strategy at Boeing Business Jet. Boeskov believed in the blended winglet concept, but engineers at Boeing initially didn't.
Clark and Boeskov took matters into their own hands, forming Aviation Partners Boeing to explore putting winglets on 737s. Boeskov agreed to fund the cost of building a prototype and the testing using BBJ's budget; Clark would foot the bill of the blended winglet design and would build it.
Boeskov, who nicknamed Clark "Lord of the Wings," once said that what he admired most about Clark is that he's a "do-it" kind of guy.
Today, over 500 Boeing 737s are outfitted with blended winglets, and the company has orders for over 1,200 additional shipsets. Southwest Airlines, Continental Airlines and Alaska Airlines are just a few of the 33 major carriers in the process of upgrading to blended winglet technology. Over 90 BBJs are blended winglet equipped as standard delivery configuration. Aviation Partners has successfully performance enhanced over 70 percent of the Gulfstream II fleet and has recently certified a blended winglet program for Raytheon Hawker 800 and 800XP business jets.
"Blended winglet technology is the most exciting technology in the marketplace, enhancing the overall performance of any type of transport aircraft," said Dick Friel, Aviation Partners VP of marketing. "When an airline or cargo operator realizes that a product will save them four to six percent in fuel burn, increase the range of their aircraft and give them a host of other valuable performance benefits, it gets their attention quickly!"
Comments
comments