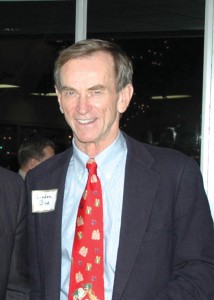 Linden Blue sees the big picture. Whether he's building a vision of energy development for the future or helping drive leading aviation manufacturers like Beech Aircraft or Gates Learjet, Blue has always applied his groundbreaking, visionary thinking to whatever project he's working on.
You can see his optimism as far back as April 8, 1957. That was the week the cover of Life magazine featured "The Flying Blue Brothers," two energetic young Coloradoans—Linden, 20, and his brother Neal, 21. The magazine shows them horsing around with headhunters in the Amazon and trying to save their crashed Piper on a mountain ice shelf during their expedition to South America.
Almost 50 years later, Linden Blue continues to use his unique spirit to push the envelope of exploration. As vice chairman of General Atomics in San Diego, he has concentrated his activities on high technology developments in such diverse fields as fusion, fission, superconductors, power for space applications, and advanced composite materials.
Blue earned his BA from Yale in 1958, and later served on active duty with the Strategic Air Command. From 1965 to 1975, he was involved in real estate development, ranching and construction in Colorado, and was a partner in a 100,000-acre ranch in Nicaragua. Blue is also a graduate of the Advanced Management Program of Harvard Business School.
In 1977, he started with Gates Learjet Corporation as the head of strategic planning, later moving up to executive vice president and general manager. While with Learjet, he was instrumental in setting up new manufacturing facilities, creating the Learjet 31 and 55, and pioneering the use of winglets. From 1982 to 1984, he was president and CEO of Beech Aircraft Corporation and a director of Raytheon Company.
In 1986, Linden and Neal Blue bought General Atomics, a nuclear physics and defense contractor, from Chevron. Among the company's projects are the advanced, second-generation Modular Helium Reactor and the Predator, a medium-altitude, long-endurance unmanned aerial vehicle system used by the U.S. military for aerial reconnaissance during combat operations in Afghanistan, Bosnia, Kosovo, Iraq and Yemen.
Blue is also deeply involved in arts and sciences, nonprofit and civic organizations. He's a trustee of the Hudson Institute, a policy research organization in Washington, D.C., and a board member of several organizations including the Burnham Institute, Jobs for America's Graduates and the San Diego Economic Development Corporation.
A pilot with more than 10,000 hours of flight experience, he has flown more than 10 types of jets and owned more than 20 GA aircraft. He has also served as chairman of the Airports and Airways Committee for the General Aviation Manufacturers Association.
In addition to his responsibilities at General Atomics, Linden Blue continues to develop his interest in advanced aeronautical composite airframe design and concepts, which he shares with his friend Burt Rutan. Blue is managing director of Spectrum Aeronautical, LLC. In 1985, he and his brother Neal purchased the Rocky Mountain JetCenters Network, a chain of FBOs that includes operations in Denver, Colorado Springs and Salt Lake City.
Comments
comments