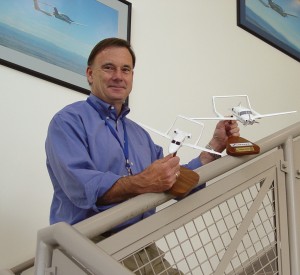 As the founder and CEO of Adam Aircraft Industries, Rick Adam is bringing the next generation of aircraft to market, gaining wide recognition for his products' advancements and ingenuity.
Implementing innovative management techniques and employing advanced manufacturing processes using composite materials, Adam Aircraft first introduced the A500 centerline twin, which recently received FAA type certification. The A700 AdamJet, the company's follow-on aircraft and a leading aircraft in the very light jet market, is currently undergoing initial flight test.
George F. "Rick" Adam Jr. always knew he wanted to be a pilot, but he didn't begin flying until a decade ago. He grew up on Air Force bases around the world so it didn't take him long to decide he wanted to enter the military. Barred from flight training because of a vision deficiency, he learned computer science instead. Captain Adam, a launch crew officer, eventually ran the Real Time Computer Centers at the Kennedy Space Center and Vandenberg Air Force Base, during the period of Apollo missions 8 through 14.
He also attended Florida State University and Golden Gate University, where he received his MBA. Later, he worked in the information technology departments of Baxter Healthcare Corp., FMC, Litton Industries, and IBM. On Wall Street, he ran the IT department and later became a partner at Goldman Sachs.
In 1992, be began flying at Centennial Airport during his transition away from Goldman Sachs, gaining private, multi-engine and instrument ratings. He acquired a Cessna 337 Skymaster, before moving to a Mitsubishi MU2, and then stepping up to a CitationJet, followed by a Citation VII.
In late 1993, Adam formed New Era of Networks, an integration software company.
In 1999, NEON helped him earn the Ernst & Young Entrepreneur of the Year award. Adam sold the company to Sybase for nearly one-half billion dollars in 2001.
As he progressed in his flight training, Adam couldn't believe there were so few aircraft available utilizing new technologies. He eventually decided to bring to market an in-line twin aircraft, combining value, new generation technologies and safety with modern looks.
In 1998, Adam Aircraft was founded. Adam hired industry icon Burt Rutan of Scaled Composites to engineer their prototype, build it and get it flying. Initially dubbed the M309, the proof-of-concept aircraft flew for more than 300 flight hours.
Often compared to Howard Hughes, Rick Adam invested his own money developing the new generation centerline thrust aircraft. In 2002, the first A500 took its maiden flight from Centennial Airport. AAI announced the A700 in October 2002 and it made its maiden flight in 2003, marking the first flight of a light jet with production engines. Adam received the Michael A. Chowdry Aviation Entrepreneur Award for 2003.
Headquartered at Centennial Airport, Adam Aircraft expanded to Pueblo with a manufacturing plant and recently announced it would open a manufacturing and assembly operation in Ogden, Utah.
Adam Aircraft has begun manufacturing customer aircraft. There are currently five customer aircraft undergoing the construction process in Colorado, and with the help of the Ogden facility, the company plans significant production rate growth in 2005. Customer deliveries of the AdamJet are scheduled to begin in 2006.
Comments
comments