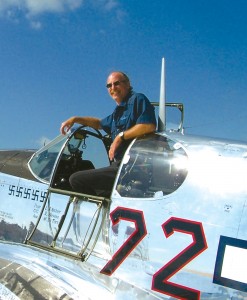 There are lots of museums in the United States that present the fabled warplanes of old but Kermit Weeks had different ideas for his unique attraction, the Fantasy of Flight in Polk City, Fla.
"Many museums exhibit aviation; I want to celebrate flight. I want to cater to the general public and move away from only pleasing the pilot," Weeks says.
Weeks has always pushed the envelope, competing against himself to go higher, further and faster, and to push both his aircraft and his personal abilities to the limit. With Fantasy of Flight, he wants both to share his personal collection of rare airplanes and also to get people to think about flying and what it means. He hopes a visit to Fantasy of Flight will be the catalyst for a life transformational experience.
Born in Salt Lake City, Weeks has spent most of his life in Florida. He began building his first aircraft at 17, before earning his pilot's license. When he finally did get around to it, he soloed in just six and a half hours. When he got hooked on the idea of aerobatic maneuvers, he didn't let the lack of an instructor stop him. He just got a copy of Duane Cole's "Roll Around A Point," and taught himself.
He dabbled with aeronautical engineering at Purdue University but he became restless and dropped out to train for aerobatic competition. In 1977, at 24, he made the U.S. Aerobatic Team, and by 1978 he won three silver medals and one bronze in the World Aerobatics Championships in Czechoslovakia.
An inheritance from his grandfather combined with good fortune led to the acquisition of several extraordinary aircraft, starting with a P-51 Mustang. Weeks had owned and designed several aircraft, including the Weeks Special, an aerobatic plane that hangs in the corporate offices of Fantasy of Flight. However, his fondness for warplanes grew to the point where, at some point, he has owned every single U.S. fighter from World War II. He also owns much of the former Paul Mantz/Frank Tallman collection of aircraft used in many Hollywood movies.
Although disaster struck with Hurricane Andrew in 1992, Weeks was able to recover. Today his collection is housed at the 300-acre attraction 20 miles southwest of Disney World. It's close enough to major tourist attractions to draw visitors, yet still allows for the restoration and flight of the fleet of vintage aircraft that covers WWI up to the early jet age. From a rare Morane/Brock monoplane to a recovered Japanese Zero, the collection represents the driving passion of Weeks' life.
His goal is to combine the gravity of aviation history with the entertainment value of a major tourist attraction. In investing his time and energy to inspire others to discover the joy of flight, Kermit Weeks represents the best impulses of general aviation.
So if you're in Florida and you hear a B-17 roaring overhead, don't fret. It's probably just Kermit out for a Sunday drive.
Comments
comments