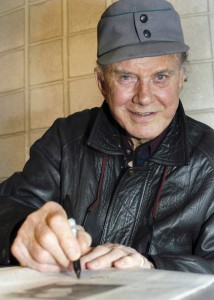 "Being involved in aviation is like meeting a beautiful woman you never forget," says actor Cliff Robertson. It's a great line, delivered with all the charisma and style you would expect from the Academy Award winning screen star.
What you might not expect is his incredible enthusiasm for flying. Robertson has owned and flown a wide array of aircraft, including a Spitfire MK IX, a Messerschmitt ME-108, a French aerobatic Stampe SV4 biplane, a Grob Astir glider (in which he still holds a distance record) and a Beech Baron 58. A holder of single, multi, instrument and commercial licenses, as well as balloon, the pilot has accumulated many aviation awards, including EAA's highest Eagle Award and AOPA's Sharples Award. He was recently voted and honored as the Veteran of the Year by the American Veteran Association.
Robertson, who has starred in over 60 films, most recently "Spider-Man" and its sequel, says that when he's not in a hurry, he prefers to fly his twin-engine Baron, which he's had for over 20 years.
He happened to be flying the Baron on Sept. 11, 2001, on the way to the West Coast.
"I was the one guy up there above the whole bloody thing," he said. "I got right over the World Trade Center, climbing at 7,000 feet. I looked down and suddenly saw this great big column of smoke. I didn't see the plane, because by that time it was inside the building. I just thought it was an explosion of some kind."
Robertson became aware of aviation when he was 5, living in La Jolla, Calif. At age 14, he began regularly riding his bicycle to a small airport with one small, sandy runway.
"I would work eight hours a day cleaning airplanes and engine parts, and never got paid a nickel, but every third or fourth day, the chief pilot would say, 'Cliff, go get your cushion.' I was short for my age; I'd take my cushion out to a little red Piper Cub and he'd take me up for 15 minutes and let me at the controls once we took off," Robertson recalled. "I thought I was the ace of aces. I thought I was the luckiest kid on the block, and I was."
While working in England in the early 1960s, Robertson joined the Fairoaks Flying Club in Chobham, Surrey. There, he soloed in a de Havilland Tiger Moth. He later acquired one, and flew it across the Channel to Normandy, France, to film "Up from the Beach."
Robertson's movie flying included piloting a DC-8 in "The Pilot," which he directed, and taking to the air in "633 Squadron." His film credits include "Charly," for which his intense performance earned him the 1968 Oscar for Best Actor, as well as "Three Days of the Condor" and "Midway," in which Robertson appeared as a pilot in a bar scene that he wrote.
In 1987, Robertson was presented EAA's highest honor, the "Freedom of Flight Award," for his role in EAA's "In Pursuit of Dreams" presentation.
Comments
comments