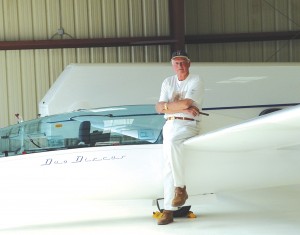 Barron Hilton shares the wealth. Although he's one of the most famous hoteliers in the world, not to mention one of the most influential people in both general and experimental aviation, he's definitely on top of the world of soaring. Quiet time in the clouds wouldn't be the same without the Hilton Cup and the unselfish service of Barron Hilton.
"No one is more generous than Barron," says good friend Clay Lacy.
These days, Hilton's collection of aircraft includes a Cessna Citation V Ultra, a Staggerwing, a Bull Stearman, a Citabria Decathlon and a Cessna 185, used as a tow plane for his Grob Twin III Acro, Duo Discus, Discus B, Schweizer 2-32 and an ASW-20.
Hilton has more than 7,300 hours in gliders, balloons, helicopters and single- and multi-engine aircraft. He began taking flying lessons on his own time, at a civilian air base, when he was stationed in Hawaii during his service to the Navy in World War II. After the war, he attended the University of Southern California's Aeronautical School, where he earned his multi-engine rating.
His involvement in aviation continued when he founded the Air Finance Lease Corporation in 1955. In 1959, he pioneered the concept of airport hotels with the San Francisco Airport Hilton.
The balloonist sponsored Earthwinds Hilton, and a later attempt to circumnavigate the earth in 1998, known as the Global Hilton. Although the ultimate goal of flying around the world was elusive on those attempts, both Bertrand Piccard and Brian Jones, the first pilots to fly non-stop around the world in a balloon, and Steve Fossett, the first pilot to circle the globe solo in a balloon, cite Hilton as their inspiration.
In the mid-1960s, he acquired the Flying M Ranch in northern Nevada. Hilton soon found that the ranch was one of the best soaring places in the world.
"Soaring has added a whole new dimension of pleasure to my life," said Hilton.
His discovery has also benefited many others through the Barron Hilton Cup, the world's largest sailplane competition. Glider pilots who complete the longest triangle flights in each of eight divisions from around the world win a 10-day soaring camp at the Flying M Ranch.
Hilton's interest in gliding stems from an encounter with Hannah Reitsch at a meeting of the Society of Experimental Test Pilots at the Beverly Hilton, in 1972.
"She told me the greatest thrill of her life was soaring over the Alps," said Hilton. "I said, 'I've got a ranch up in the Sierras. Do you think it would be any good? She said, 'I know it would be!' That Monday, I had my chief pilot get me a soaring aircraft—a Schweitzer 2-32."
Dennis Ivans says there's no place else like the ranch, where well-known aviators like Lacy, Gene Cernan, Bill Anders, Cliff Robertson, Bob Hoover, Carroll Shelby and others gather to swap flying stories. With all the ranch has to offer, Ivans says the hotelier is the "main attraction."
"There are all these beautiful things, but if you come here without Barron, it's not the same," he said. "He makes this place. He is the consummate host."
Comments
comments