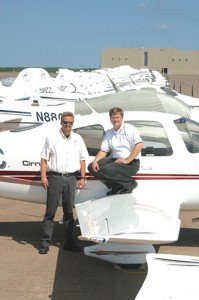 Alan Klapmeier of Cirrus Design Corporation says that flying is an act of conquest. He and his brother Dale have certainly approached the aviation world in that same spirit. They started out making airplane models in their parents' barn in rural Baraboo, Wis. They have, through sheer determination and smart business instincts, ended up running the fastest growing aircraft manufacturing company in the world.
They've always loved airplanes, first in the Civil Air Patrol's cadet program in high school and later sharing a wrecked Cessna 140 as they earned their pilot's licenses. Their educations—Dale has a degree in business administration from the University of Wisconsin-Stevens Point and Alan has a degrees in physics and economics from Ripon College—came together in the perfect mix of business sense and technological know-how.
By 1984, they had started producing their VK-30 kit airplane, but they dreamed of creating a new kind of affordable, certified production airplane to offer comfort, performance, control and safety equal to or greater than any aircraft on the market. As they drove together planning their business, they saw cirrus clouds on the horizon and knew they had found a name for their company.
Their sales have grown exponentially since the FAA granted them a type certificate in 1998 to manufacture and sell their first aircraft, the four-place, all-composite SR20, which they started producing in 1999. In 2001, a private investment firm invested $100 million in their company. In 2003, Cirrus sold 469 aircraft; by the third quarter of 2004, they had already sold 475 aircraft. Last year, production increased to 12 aircraft per week.
There are bigger considerations than sales, though. The Klapmeier brothers want to challenge the industry to value innovation and find ways to make better, safer and more interesting aircraft, as well as encouraging new pilots to enjoy more diverse aircraft such as those produced by Cirrus.
No slaves to the traditional business model, Alan is often found out in the hangars with his sleeves rolled up and is sometimes mistaken for a demo pilot. Dale handles the nuts and bolts of the business but can still be found roaring into the company's headquarters in Duluth, Minn., on his Harley-Davidson.
Both believe in focusing on the vision, direction and actions of their company as opposed to worrying about next quarter's profits. They continue to run Cirrus Design Corp. with the same extraordinary imagination they had when they started, combining the best technology available with new ideas about what aircraft should be. They also believe in the customers and make robust efforts to build relationships between their employees and Cirrus pilots.
"We give ourselves up to the exhilaration of slicing through altitudes," Alan Klapmeier says. "We understand this experience; it informs every design decision we make. We design with the mind of engineers but the heart of a pilot."
Comments
comments