By Karla Florence Smith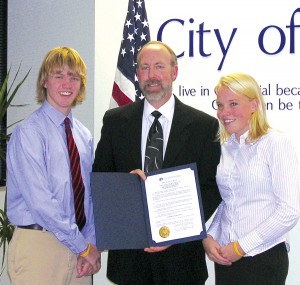 Citizens comment on public works priorities
At the November 1 budget hearing, Centennial residents commented about their priorities for the public works budget. Because citizens approved a sales tax increase and an auto use tax last fall, the city's budget is now in line with what it takes to run a city. This year, Centennial began working on its backlog of road and drainage projects; these projects will continue in 2005.
Several citizens stood up and spoke out about priorities. Blanch Freeland of Kings Point requested that the drainage problem on East Caley Avenue be fixed. Phil Martin of Heritage Village suggested that money be spent to redesign and reconstruct the Arapahoe and Holly intersection, which has become congested since the increase of housing in that vicinity. Dean Rogers requested that the drainage system be fixed at Orchard and University because of ice build-up during the winter months. Tom Wood, representing the Tiffany neighborhood, said that streets in their neighborhood have "not been done in 25 years," and says that resurfacing them is a priority.
Harold Thyfault, speaking on behalf of his Nob Hill/Ridgeview Hills community, expressed that fixing the stretch of Arapahoe Road between Colorado Boulevard and South Dexter Street is a priority for Centennial.
"We've been concerned about this for years," began Thyfault. "There's a bus stop, but no sidewalks. We're concerned about the safety of kids walking across the street to go to school."
He went on to say that stretch of road slopes down toward the ditch on the south and that one neighbor has had to replace her fence three times because of cars sliding on ice and into her fence; another neighbor has put up his own retainer wall to try to deter the same problem at his property. Thyfault also said that stretch of road is an "eyesore" and that it "reflects negatively" on their neighborhood.
The proposed 2005 budget shows total projected resources of $48,234,005, with total proposed expenditures of $47,969,201. In addition to road and drainage projects, the budget proposal also includes additional city staffing, including a second code enforcement officer; implementation of the city's Comprehensive Plan; an economic development study; and new municipal court responsibilities, including code enforcement complaints.
Comprehensive Plan adopted
The city's Comprehensive Plan, which was presented to city council at its September 13 meeting, was adopted at its November 15 meeting.
"It's not the end of the process; it's the beginning of the process," said Nancy Reubert, director of media and community relations for the city. "We now have the framework in place to plan for the future of various major corridors in the city. The acceptance of this comprehensive plan is a huge benefit to the city."
Reubert also congratulated the members of the task force, who have "enthusiastically" met twice a month since June 2003 to build a plan for Centennial's future. The Comprehensive Plan document is available to the public and can be downloaded at www.centennialcolorado.com.
Three more land use suspensions approved
At the November 15 public hearing, city officials approved temporary suspensions, for up to six months, on three additional land use cases. City officials will not be accepting applications for certain types of group homes, sexually oriented businesses and sexual encounter businesses.
Jim Slifer, a Centennial resident, attended the public hearing to try to persuade city officials from approving the suspensions, stating that he was planning to apply to open a strip club business near Arapahoe Road and Potomac. However, city officials voted unanimously in favor of the suspensions.
Nuisance abatement ordinance
At the November 15 city council meeting, preliminary discussions took place about a "nuisance abatement" ordinance. This ordinance will better equip Centennial's code enforcement officer, E. Joseph Brooks, who has responded to well over 500 code violation complaints since he was hired a year ago, to complete his task regarding residential and commercial properties in violation of city code.
"This ordinance is geared toward voluntary compliance, but when that doesn't happen, what are the next steps?" said Reubert.
Reubert said the ordinance "will define the administrative and legal remedies for correcting code violations." "It sets up an official procedure," she said.
Reubert said the ordinance, for which there will be a future public hearing, will give citizens a clear understanding of the levels of penalties when there is a code violation.
"The procedure leans heavily toward exhausting all informal remedies before invoking stiff legal penalties," said Reubert.
Illicit discharge ordinance
Also at the November 15 meeting, an "illicit discharge" ordinance was introduced. This ordinance is designed to "enact regulations and provide for the health, safety and welfare through the regulation of water pollution."
"This ordinance is about not dumping bad things into creeks, retention ponds and other waterways," Reubert said. "We don't want citizens taking grass clippings down to the creek or dumping leftover paint into the drainage ditch."
Reubert went on to say that Centennial encourages citizens to take advantage of their toxic waste pick-up program.
"This program essentially allows citizens, for a nominal $20 co-pay, to put out a big bag of (toxic waste) and then a waste removal company will take it away," said Reubert.
She said details about that program can be found on the home page of the city's website.
New bus service expands transit options
Centennial announced in November that two recent RTD schedule changes provide important new bus service to Centennial citizens just in time for holiday shopping. One route, the 473, expands service through Centennial to Park Meadows shopping mall and the Centennial Promenade shopping center, while the other, the 26X, expands express service to downtown Denver.
"Each of these new routes represents important additions to RTD service provided for Centennial," said Tex Elam, Centennial's public transportation coordinator. "It demonstrates in a concrete way RTD's commitment to providing our residents with appropriate and meaningful service, and is much appreciated. There's a portion of Centennial's residents who don't drive, and these routes will really expand their shopping opportunities."
Full schedule information is available at (303) 299-6000 and at [http://www.rtd-denver.com/].
Centennial proclaims November 2004 "Entrepreneurship Month"
At the November 15 city council meeting, Mayor Randy Pye proclaimed November 2004 "Entrepreneurship Month." Dan Sheeks, advisor for Cherry Creek High School's Distributive Education Club of America, worked with his students to enact the proclamation. The proclamation reads that students of Cherry Creek High School "encourage the community of Centennial to support entrepreneurship and free enterprise."
The high school's DECA Club, which has 240 members, is participating in activities over the next several months to promote entrepreneurship that will culminate in the state DECA conference to be held in February 2005.
Cherry Creek High DECA students Chase Blood and Sarah Kihme, both 16-year-old juniors, attended the city council meeting.
The Centennial City Council holds its regular meetings, at which public comment is heard, on the first and third Mondays at 7:00 p.m. at the city offices, 12503 E. Euclid Drive, Suite 200. For more information, please visit [http://www.centennialcolorado.com/] or call 303-734-4567.
Comments
comments