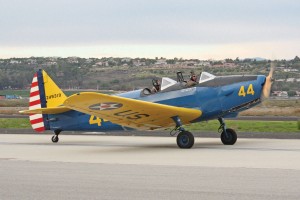 By Harlis Brend
The Commemorative Air Force Southern California Wing
The Commemorative Air Force (CAF) Southern California Wing continued its series on remembering World War II battles with a very timely subject—the Japanese attack on Pearl Harbor, Hawaii, on Dec. 7, 1941. More than 220 people attended the presentation that was held at organization's Camarillo Airport facility.
The featured speaker was CAF member and retired U.S. Army Col. James Hinckley. An avid student of WWII, Hinckley served with the 27th Infantry Division. He was stationed at Schofield Barracks
in Oahu, Hawaii, in early 1944. "The problem with this assignment to talk about Pearl Harbor is that it has been 67 years and so many books have been written," he said. During his preparation, Hinckley reviewed 10 books, one of which referenced 73 others! Following his opening remarks, Hinckley introduced a longtime friend and Bataan death march survivor, John Real. Real was in the Army Air Corp and was captured by the Japanese on Luzon.
Hinckley related a variety of facts and statistics to the crowd. He began by explaining that Lt. Gen. Short and 40,000 Army soldiers were stationed at Schofield Barracks; it was their responsibility to guard the islands of Hawaii. Adm. Kimmel was responsible for Ford Island. Adms. Kimmel and Stark were blamed for the events of the day and were sent home to the U.S. Adm. Chester Nimitz assumed command on Dec. 31, 1941.
When the Japanese finally ceased their attack, the United States had suffered the loss of many men, ships and airplanes:
• 2,335 members of the military were killed (1,143 wounded)
• 68 civilians were killed (25 wounded)
• Five ships were destroyed with 13 damaged and salvageable
• 188 aircraft were destroyed (159 damaged)
By contrast, the Japanese lost only 64 men, plus an unknown number of crew members aboard a large submarine. They lost a mere 29 airplanes. The recurring theme of Hinckley's presentation was, "Never forget what happened at Pearl Harbor."
CAF volunteer Ceci Stratford introduced special guests Sam Richiusa, Pearl Harbor Marine Corp survivor; Sarah de Bree, Camarillo CAF museum director; and Charlotte Craven, former Camarillo mayor. The event concluded with dramatic flight demonstrations that included three restored WWII warbirds— a Zero, an F6F Hellcat and an F8F Bearcat. Static displays included an SNJ-5, a PT-19A, antique cars and special Pearl Harbor exhibits in the museum.
The stories of two survivors
Cpl. Sam (Salvador) Richiusa, U.S. Marine Corp 2nd Division, 2nd Combat Engineer Battalion, arrived at Pearl Harbor in mid-October 1941. His group was living in tents on the parade grounds at the Marine barracks while constructing camp/barracks outside of Pearl Harbor.
That Sunday morning, Richiusa was walking from the Marine barracks to a little restaurant on the harbor. Suddenly, he heard planes and saw them fly overhead. Bombs were dropped, but from where he was standing, he could not see their targets. His first impression was that it was just a drill. Then more planes flew over. "When I saw the red insignia on the side of the airplanes, I thought it was the red team from our maneuvers," said Richiusa.
He didn't realize that they were Japanese planes. A gunnery sergeant walking behind him had been in Japan, and he immediately recognized the enemy. Needless to say, they never made it to the restaurant. They rushed back to their camp and didn't eat until late that night.
When they arrived back at camp, everyone had rifles and pistols, but no ammunition or machine guns. The staff sergeant finally took them to the armory. Richiusa recalled, "They didn't want to give us the ammunition. We had to insist on it!" They tried to contact a base officer for permission, but no one was there.
The soldier at the armory could hear the planes going over and the bombings. "He finally gave us the ammunition and a couple of .30- and .50-caliber machine guns," said Richiusa.
They deployed among the heavy equipment that belonged to the engineer battalion. When the planes came over, they could actually see the pilots. Richiusa said, "They would bomb the harbor, fly over our barracks and strafe us, then head for Hickam Field and drop more bombs."
They missed the entire first wave of Japanese planes because they didn't have any ammo. The Marine units deployed in Richiusa's area were credited with shooting down three planes. "One plane that I started shooting at began to smoke, but I don't know if I hit it or caused it to go down," he said.
After Pearl Harbor, Richiusa's Marine engineer battalion returned to the U.S. for a few months, then deployed to New Zealand by way of British and American Samoa. In 1943, his battalion returned to Hawaii and was stationed at Hilo, where they built another camp. In 1944 he went aboard ship again and was in the landings at Siapan (in June) and Tinian (in July). They repaired airfields at both islands, returning the Saipan runways to use within two days. After a few months, they returned to the U.S. Richiusa was in San Diego with his sea bags packed, waiting on the pier to be shipped out again, when the war with Japan ended. He was discharged from the Marines in October 1945.
Richiusa married Flora May Villani while on leave in May 1942. Following his discharge from the Marines, they lived in the Los Angeles area until his retirement. He worked primarily for the Los Angeles Examiner newspaper as a "stereotyper," making lead plates for the printing presses. Since retirement, the couple has lived in southern California, moving to Camarillo in 1991.
Pearl Harbor survivor Martha Sue Stanley Cvijanovich also attended the CAF event on Dec. 6. She was born and raised in Honolulu, Hawaii, and was 12 years old at the time of the attack on Pearl
Harbor. Her father was a civilian employee for the Navy. He moved to Hawaii in 1922 to help build dry docks for the battleships and served in an administrative position. In April 1941, her family moved into the naval housing at Pearl Harbor that was open to both civilians and naval personnel.
The family was sitting down for breakfast at 7:45 a.m. that Sunday. It was a beautiful, blue, balmy day—a typical day in paradise. "As we sat down, we heard an explosion, then another. On the third one, we were all out the door," Cvijanovich remembered.
Cvijanovich recalls the scene with clarity—her neighbors were standing in their front yards looking toward Pearl Harbor at the black, billowing smoke rising up from the harbor area. About that time, a Navy chief ran through the neighborhood to his house, telling them all to "take cover—this is the real thing!"
The Zeros flew right over their house on the way to Hickam Field. Their house faced Hickam, so they could see the strafing and bombing of the planes. Cvijanovich said that as a 12 year old, she "was a little bit frightened!" They went back into their house, and the three sisters went upstairs and peered out the window. They could see what was happening at Hickam Field, but could not see Pearl Harbor because the surrounding area was so black and smoky.
The radio called all men who worked at Pearl Harbor to report for duty. Her father left with the other gentlemen from the block. Her family had no idea what he was doing and didn't see him
again until 9:00 that night. When he returned, he told them that he had been out in the bay helping estimate damage to the ships. The residents did not know if the Japanese would come back again. "There were rumors that they were coming in from Pearl Harbor, invading and landing there and at other points around the island, such as Barbers Point," said Cvijanovich.
The Navy sent many of the families back to the states—only the men stayed. Her mother chose to stay, along with the children. They uneasily remained in Hawaii for the duration of the war.
For more information about its educational series and work
to preserve military history and "never forget," visit the
Commemorative Air Force Southern California Wing at
[http://www.orgsites.com/ca/caf-socal].
Comments
comments