By Terry Stephens
Do you want a $100,000 or $200,000 power boat that's designed with aviation technology? A boat that performs like a Porsche in the water, outlasts most other boats and has a range of nearly 300 nautical miles?
That's how Travis Brandt, president and two-thirds owner of Aerohead Aluminum Boats in Auburn, Wash., describes his aerodynamically-designed boats. He even offers "test flights," not boat rides, to serious potential customers.
It was being a pilot, after all, and service in the U.S. Coast Guard that got Brandt thinking about how to design a better boat with the quality and performance of fine aircraft.
"I had a vision," Brandt said. "Nobody was making a boat using aviation technology. If you look at a (Boeing) 747, the entire plane's electrical system is drawn out, along with the hydraulic and air systems. It's 100 percent thought out before it's built. Nobody was doing that with boats."
That's whey Brandt sold a third of the company to Dr. Earl Weener, retired chief engineer of The Boeing Company. Weener was the 2005 recipient of the Honeywell/Bendix Trophy for his work with the Flight Safety Foundation for controlled flight into terrain as well as ground accident prevention. An avid boater, Weener has lived aboard a custom made 50′ yacht for the past four years and has sailed it some 25,000 miles. He also owns and flies a B36TC Bonanza.
When it came to naming his company, Brandt said he wanted a nautical name that would say his boats had quality and were different.
"It's not fast–about 48 knots top speed, with the best fuel efficiency, at 50 percent power, burning about 11 gallons an hour at 21 knots," Brandt said. "But it has the quality of a Cessna 172 or a de Havilland Beaver."
He incorporated his company in November 2004. Brandt then began working on designs he had considered while navigating a 110-foot-long USCG patrol boat in the Caribbean, between Cuba, Haiti, the Dominican Republic, and up to Key West and the Gulf Coast states.
"We ran into a lot of different weather," he said. "I'd seen a lot of different boats when we were enforcing maritime laws or rescuing people. I got very familiar with other boats and how they performed in the water. Nobody was designing for much more than four or five-foot waves."
While he was stationed on Kodiak Island with the Coast Guard, he thought more about those designs. At that same time, he earned his pilot's license. A few years later, he flew a Cherokee 180 with a flying club in Iowa, where he worked for Rockwell Collins. He continued to think about aircraft and boat designs.
After moving to the West Coast, Brandt was hired as production manager for an aluminum boat company in Seattle. That gave him the experience he needed to begin designing and building his first power boat. In April 2005, he set up a booth at the Seattle Boat Show.
"The reception was amazing," he said. "I had a beautiful boat with classic lines. It weighed 500 to 800 pounds more that its competition. People would ask if it was fiberglass, because it didn't look like any traditional aluminum boat they had seen. I designed it with computer technology, a specially written program for bending aluminum. Four different companies made the hull, because I couldn't find just one company to do it."
His first model, a 25-foot by 8.6-foot boat powered by twin outboards, rated at a combined 400 to 500 horsepower. One of the most significant design changes was the variable deadrise hull.
"It's common in the boating industry to have a constant deadrise hull, which means the V-shape of the hull has the same 24-degree V from front to back, for example," Brandt said. "My boat has a 55- or 60-degree V up forward and only 20.5 degrees at the back, constantly flattening out to provide better handling when hydroplaning. When the boat is on the water, even in rough water, the sharp V-angle up front pierces the waves very smoothly."
With an optional extra fuel tank, Brandt said his boat could stretch its 260-nautical mile range to 320. By this summer, he'll have a new diesel-engine model on the market, with a 500-mile range. Measuring 30 feet by 10.6 feet, the boat will be in the $200,000 range, compared to the smaller model, which sells from $135,000 to $140,000.
"Again, the final price depends on what you add to it. We offer several pages of options on our website," he said, "But unlike many companies that start with a low-ball entry level price that inflates with options, our boats come with more than 30 standard features that buyers would normally pay extra to get."
The company's original "proof of concept" boat is still used as its demonstration boat. Brandt noted that having the first completed boat turn out so well reinforced his feelings about the quality of the design. Behind the rough-water design is a quarter-inch thick aluminum hull, reinforced with T-bar stiffening, frames and more longitudinal support than any other boat in its class. Each boat cabin contains heaters and SIMRAD electr onics provide quality technology.
Standard features include two forward facing suspension seats, two inward facing bench seats above storage boxes and a custom-designed captain's chair. Diamond Sea-Glaze windows reduce glare and an AM/FM/CD stereo system makes traveling, fishing or "tied-to-the-dock" time more entertaining. The standard electronics package features a SIMRAD GPS plotter, VHF radio, engine instruments on the sash, a lighted compass and a breaker switch panel. The quality construction includes thermal insulation and sound deadening engineering throughout the boat and cabin.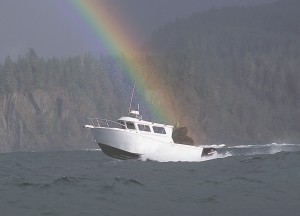 Further options can customize each boat with such things as an autopilot, bathroom, a remote-controlled searchlight, dome or open array radar, heated windows, a galley, a two-burner stove, dinette, fridge and electric hot water heater.
Brandt sold six of the boats in 2005. An airline captain bought one. Two were sold to commercial and residential lenders who own their own real estate brokerages, one in the Puget Sound area and the other in San Francisco.
"A family on Lopez Island, in the San Juans, even bought one for a grocery-getter, because they have a lot of rough weather up there," he said. "A group of guys at West Port bought one for fishing charters."
As both a pilot and a boater, he's gotten insight into both worlds.
"That's why I started advertising in the Pacific Northwest Aviation & Business Journal," he said. "Many business people own both planes and boats. I wanted a crossover publication that would reach pilots who didn't have boats, or who wanted better ones."
He was sure he was on the right marketing track when he saw high-end boating magazines carrying prominent advertisements for Cirrus aircraft.
"Cirrus is a company that started with a dream about changing general aviation…then they wanted to reach people who had expensive boats, because they knew people in that market could also afford expensive planes," Brandt said. "I chose an aviation publication to reach pilots who wanted expensive boats."
For more information, visit [http://www.aeroheadboats.com] or call 206-714-0029.
Comments
comments