By Greg Anderson, President of Wings Over The Rockies
From June 3 to 9, 2009, Wings Over the Rockies hosted the EAA B-17 Aluminum Overcast, perhaps the finest Flying Fortress of the few still airworthy (almost 13,000 were built for World War II). Wings' volunteers once again made the stop a highlight of the national EAA tour.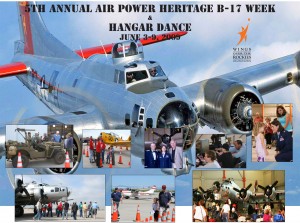 The ramp at Centennial Airport's Signature Flight Support was busy all week with veterans, aviation enthusiasts, families and young people who were able to enjoy a genuine piece of history. Over 200 of them purchased flights, while thousands of others watched and toured the beautifully restored aircraft.
Veterans were saluted by visitors and media, as well as a sign in the corner, the 398th Bomb Group photo album, military vehicles, static aircraft displays, audio/visual presentations, dogtag machines and the Hangar Dance. Approximately 100 young people received Young Eagles flight experiences with volunteer pilots, while B-17 flight simulators and pedal planes added to the excitement.
The Hangar Dance was one of the week's highlights. More than 400 guests dined and danced under the wing of the Aluminum Overcast at TAC Air, and Maj. Nicole Malachowski delivered a stirring keynote presentation about her experiences as the first woman pilot of the Air Force Thunderbirds. Maj. Gen. Mike Edwards provided an update on our deployed Colorado Air National Guard troops serving in Iraq.
Sidebar Story: Rendezvous With History
Comments
comments