By S. Clayton Moore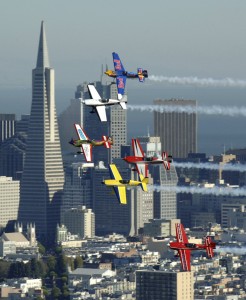 It was one of those perfect days. An American aerobatic pilot showed his tremendous talent during the finals of the Red Bull Air Race World Series in San Francisco on October 8. Held just two days before Mike Mangold's 50th birthday, winning the championship was a sweet prize for the competitive former Top Gun pilot.
"This result is a great culmination to a long year, a great season, and I couldn't have had a better outcome," said Mangold, who won the first-ever world championship with two perfect, blazing runs through a course that took the racers around Alcatraz Island and the Golden Gate Bridge.
This year's competition has been the pinnacle so far of a sport that has developed at the same frenetic pace that its racers fly the course. Red Bull developed the relatively new, high-performance motor sport in conjunction with Hungarian aerobatic pilot Peter Besenyei in 2001. The first Red Bull Air Races was held in 2003 at the AirPower03 air show in Zeltweg, Austria.
"For a long time I had been looking for a way to make aerobatic flying even more interesting for the public and the media," Besenyei remembered. "When they described their idea to me, I knew it was precisely what I had in mind."
In 2004, the company held three more races and by 2005, the Red Bull Air Race World Series was born. It encompassed seven races on three continents, over land and water, deserts and cities. Mangold and fellow races like friend and rival Kirby Chambliss raced competitors from around the world over Abu Dhabi in the United Arab Emerites; Rotterdam, Netherlands; Longleat, England; and Budapest, Hungary, where national hero Besenyei amazed the crowd by flying upside-own under the city's Chain Bridge.
Besenyei describes the races as "a slalom race in the air with a stopwatch ticking." During the race, a pilot is required to fly a course through several inflatable gates and perform a number of aerobatic maneuvers at speeds approaching 250 miles per hour, twisting through the sky with gravitational forces that range from 10 positive to 8 negative G's.
The gates are made from two inflatable pylons 18 meters high, which are then placed between 10 and 14 meters apart. It's a tight squeeze for aerobatic aircraft with wingspans averaging eight meters across.
"It's the ultimate aviation discipline," Besenyei said. "There's no other competition that places such high demands on pilots' flying skills as this race in the sky."
This year's competition speaks well of Mangold, who finished first in both Red Bull Air Races in Reno, Nev. in 2004. This year, he dominated the field, winning five out of seven races and drawing comparisons to Formula One ace Michael Schumacher's glory years with Ferrari.
Born in 1955, Mangold began flying in 1977 while attending the U.S. Air Force Academy. After graduating, he began flying the F-4 Phantom on missions that included nuclear weapons delivery, laser guided bombs, air-to-air combat and surface-to-air suppression. A highlight of his Air Force career was earning the Outstanding Graduate Award of his class at Fighter Weapons School (Top Gun) at Nellis AFB in 1983.
Today, he pilots the Boeing 767 for American Airlines out of Los Angeles. He also enjoys a number of intense outdoor sports including hang gliding, snow and water skiing, and scuba diving. Mangold is also an accomplished skydiver with over 4,500 jumps, including an entirely unexpected bailout from a flaming F-4.
He got bitten by the aerobatic bug in the late 1980s and flew a Super Decathlon in his first competition, in the Sportsman category, in 1990. Since then, Mangold has gotten enormously proficient at flying by the seat of his pants, capturing five California and two Arizona State Unlimited Championships, the 2001 National Four Minute Airshow Championship and a second place overall finish at the 2002 U.S. National Aerobatic Championships.
Mangold has flown a variety of aircraft including a Citabria, Pitts S-1T and the Sukhoi 26, but won this year's Red Bull competition in his very favorite, the "Dragon Edge" Zivko Edge 540. He defeated a remarkable field of competitors with a two-run time of 2:27.60. It was an almost perfect record, barring an inopportune incident with a pylon during poor weather conditions in Ireland that cost him a few points.
That doesn't mean that his opponents left him an easy victory. The 10 air race pilots are a fascinating bunch of characters but the one thing they all have in common is a tremendous talent for air racing. There's the Spaniard, Alex Maclean, who has parachuted out of two burning aircraft in his time. Frank Versteegh from the Netherlands has a quirky sense of humor, occasionally taking off with his little dog in the cockpit. The two British pilots, Paul Bonhomme and Steve Jones radiate a smart sense of cool while never taking themselves too seriously. There's even one pilot from Zimbabwe, Nigel Lamb.
Closest to Mangold's splendid race time was his friend and rival, Kirby Chambliss from Eloy, Ariz., who finished just 2.71 seconds behind him. Dogging Mangold through the entire series was the Hungarian hero, Peter Besenyei, who finished a meager 0.57 seconds behind Chambliss. Mangold scored 36 points over the season while Besenyei took an overall second with 32 points and Chambliss took third place with 21 points. Over 600,000 spectators were on hand, lining the San Francisco waterfront, and organizers estimate over three million people have seen a Red Bull Racing Event live.
Mangold admits that next year remains a formidable challenge with an increased schedule of 10 races across four continents. The starting pistol gets fired on March 10, 2006, in Abu Dhabi. New locations include Germany, Spain and Turkey, in addition to repeats of this year's events in Hungary, the U.S. and Canada. For its final race in November, the race will add a new continent by sending the racers to Australia.
"Everyone has seen my performance this year, and I think they are going to make adjustments to both their tactics and their airplanes," Mangold observed. "It will be a really tight series next year."
For more information about the Red Bull Air Races, visit [http://www.redbullairrace.com]

Comments
comments