By Jack Elliott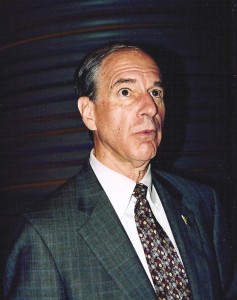 "So what did you think was the best thing about this AOPA convention?" the friendly fellow next to me asked as we were leaving the convention's closing banquet to the rousing rhythms of a Count Basie tune being played by a forties-style big band.
I thought about that as I gazed around at the other guests making their way out after an evening of Benny Goodman, Glenn Miller and Tommy Dorsey favorites, among others. So much went on over the past three days that it wasn't the easiest thing in the world to come up with an answer.
The three-day convention took place October 21-23. Expo attendees, all 11,000 plus of them-the second biggest attendance ever, had heard firsthand from the two people who wield the greatest power over day-to-day general aviation rules, regulations and restrictions, FAA Administrator Marion Blakey and Admiral David Stone, Deputy Chief of Staff of the Transportation Security Administration, Admiral David Stone. They attended seminars by leading authorities on various aspects of GA, and saw 70 aircraft on static display at Long Beach Airport. At the convention exhibit hall, 500 exhibitors displayed a wide variety of GA merchandise and services. In addition to that, there were receptions, luncheons and dinners.
It was all over now, but the people filing out of the banquet hall were the most up-beat group of aviation enthusiasts I had ever seen. In these troubled times, if you can raise the spirits of pilots and send them home feeling good about general aviation, you have accomplished something. And AOPA did that.
Although she wasn't able to attend this year's expo (she did attend last year), Blakey addressed the opening general session via satellite. She began with high praise for AOPA President Phil Boyer, whom she described as a man who could sell ice chips to icebergs, and who has two speeds-fast and takeoff.
She discussed one of GA's most pressing problems, the threat to airports.
"We have 5,280 public use airports," she said. "There will always be an effort somewhere to shut one down."
She spoke of the successful effort to save Albert Whitted Airport in St. Petersburg, Fla., which for a while looked like another Meigs Field. The plan was to turn half the airport into a park, and the mayor was a hundred percent for the plan.
"Lurking in the background was a developer whose plan was to build high rises which would block the residents' view of the bay," Blakey said.
She cited the work of AOPA Airport Support Network Volunteer Jack Turnstill, whose efforts contributed greatly to the outcome of the controversy. Turnstill worked tirelessly with backup from AOPA and Boyer himself. The issue of park or airport wound up as a yes or no referendum on the ballot. The airport won with a vote of 78 percent.
Blakey acknowledged the important role the ASN plays in cases where airports are threatened. She drew enthusiastic applause when she said the FAA is taking steps to make the City of Chicago pay for destroying Meigs Field.
"Airports are national resources," she said. "Once they're gone, they're gone. We need to do a better job of protecting the nation's transportation system. America needs airports."
Blakey talked about possible ways to cut the cost of running Flight Service Stations. She pointed out that the majority of the funds to run them come from the Transportation Trust Fund, and a good portion of that comes from airline ticket taxes. She said there's a dilemma because of budget constraints and less money coming in as a result of lower airline ticket costs.
"How can we save money and upgrade our equipment and our services to you at the same time?" she asked rhetorically. "Back in 1950, the Eisenhower Administration developed the A-76 program, competitive financing. It's not privatization. It's not selling the system to the lowest bidder. It's making sure the government is not paying too much to get the job done. The best way to check is to allow private companies to bid. The Inspector General's office determined that by consolidating Flight Service Stations we could save five hundred million dollars over seven years."
She said competition is well under way, with the decision expected in January. "Whether the government or the private sector wins the competition, the overall goal remains the same-to provide superior service to the pilot," she said. "Since the taxpayer foots the bill, it also has to be affordable. We collect 60 million in avgas taxes every year. But the full bill comes to more than 500 million. I repeat what I said last year. The FAA does not support a fee based system."
The administrator had high praise for the Wide Area Augmentation System that AOPA has been advocating for years. She encouraged pilots "to be part of the new wave and acquire equipment to use the system."
"WAAS provides accuracy, availability, continuity and integrity to allow for GPS in all phases of flying," she said.
WAAS makes precision approaches available at GA airports that don't have ILS approaches. Blakey also cited GA's improving safety record, saying that the goal last year was not to have over 349 fatal accidents.
"We came in at 340," she said. "I think it's safe to say our involvement with the AOPA Air Safety Foundation is making a real difference. Last year the FAA and the foundation held more than 175 safety seminars. The FAA and the AOPA have bonded to form a strong partnership. I'm confident the best is yet to come."
The second general session featured Admiral Stone, a graduate of the U.S. Naval Academy whose first command at sea was aboard the "USS John Hancock." As an admiral, he served as U.S. commander of NATO's Standing Naval Force Mediterranean. He held several high level posts in the TSA before President Bush nominated him for the position, which was confirmed by Congress.
Stone began by talking about the importance of partnerships. Referring to the restrictions on GA flights, he said, "It cannot be a federally mandated approach."
"It has to be a partnership-working with Phil and your team here to understand the ramifications of security measures," he said. "How can we do it better, whether it has to do with alien flight schools, making sure we have a system in place that truly protects America. At the end of the day, we as Americans want a system that ensures our freedoms and our access and has the appropriate level of security. The way you get that is through partnerships and understanding and sitting down together."
Stone said that AOPA's Airport Support Program is of tremendous use.
"It's a layer of security that I've been very impressed with," he said.
During the question and answer period, Stone fielded a bevy of hardball inquiries. One CFI expressed concerns with the new alien training rule, which place security responsibilities on instructors who are not trained to handle such tasks, which, he said, belong with the INS.
Stone said he has no interest in a system that doesn't add value to the security system, and said he planned to discuss it with Boyer. Another questioner asked why pilots and mechanics can't have access to Flight Standard District Offices or Flight Service Stations.
"I can be 40 feet away from an FSS and if I want to get information on the weather before I take off, I have to find a phone to call them," the pilot said. "Then I have to hang on for 30 minutes or more before I can get through."
Stone said it was a valid comment, and thanked the pilot for educating him.
"I'd not heard of that before," he said. "We're going to get an answer back from Phil on how we can improve that."
A flight instructor from Alaska complained that America's longstanding leadership in aviation is being compromised by the new alien training rule that make it impossible, in many cases, for flight schools to stay in business. Many pilots, he pointed out, fly 747s into Alaska from overseas and have three-day layovers during which they like to get checked out on skis or floats or tail wheels.
"Now, because they're flying in from overseas, they can't get float rated with me because they don't have a student visa in the United States," he said.
Stone said they'd revisit the issues.
"We want to get it right," he said.
Stone displayed a great willingness to work with Boyer, and an eagerness to take advantage of his vast knowledge. After he had been subjected to a sizeable barrage of tough questions, Stone was asked whether he would come back next year. He firmly nodded yes, and received a standing ovation.
At the third and final general session, Boyer introduced key members of his staff, who explained to members the work being done by the departments they head and how they contribute to AOPA's overall agenda.
In addition to the general sessions, there are also seminars on a wide variety of subjects of special interest, some conducted by leaders in the aviation community. Two of aviation's best known advocates, Jack Olcott, former president of NBAA and currently a consultant whose clients include AOPA, and Drew Steketee, president/CEO of the Be a Pilot program, spoke at seminar sessions.
Steketee announced that 29,000 prospective pilots had registered for introductory flight certificates through October 19. That's a gain of 4.5 percent over last year. Most of the responses were generated by cable TV advertising. Unit costs per lead were reduced by 7.8 percent, Steketee said.
Air show star Patty Wagstaff and chairman, president and CEO of Rockwell Collins, Clay Jones, are highlighted in a new campaign that was just launched and will run for a year.
In 2005, the program, which began in 1997, will register its 250,000th pilot prospect. More than 40,000 of the prospective pilots took an introductory flight and two-thirds of them signed up for flight lessons.
Jack Olcott, who is an authority on the coming era of the very light jet, conducted a seminar titled, "Moving Up," in which he discussed the transition many pilots will undergo in the coming years as this new category of aircraft takes to the skies. There are thousands of orders on the books even before the first one is delivered.
The three major concerns that will face transitioning pilots, Olcott said, are adequate insurance, achieving and maintaining proficiency, and operating professionally.
"To meet these needs, manufacturers of very light jets are concentrating on training," he said. "The training needs to be recurrent. There is still a mystique about the jet pilot. I think we have the capability for one of the most successful transitions in history."
Olcott conceded that insurance costs would be very high the first year, and flight restrictions would be strict, but that both would drop in the years after that. While he talked about the imminent transition in GA to the world of the VLJ, a visit to the static exhibit at Long Beach Airport revealed an unusual change that has already taken place.
For years, what pilots saw at the convention's static exhibit were the latest model Cessna1 172 or 182, the newest Piper Warrior or Archer, the Beechcraft Bonanza, the Mooneys and maybe a current day version of the venerable Champ, plus a few light twins scattered in. This year the flight line was loaded with multimillion dollar jets and turboprops, including the Learjet 60, a $12 million dollar aircraft.
A couple of turboprops on the line made their public debut here. One of them was the Epic LT, a six-place carbon fiber turboprop that lists its maximum cruising speed at 350 knots. It also claims a 1,560 nautical mile range with six 200-pounders aboard, including their baggage, and with NBAA IFR reserves.
The aircraft on display at the show is the only one flying. Five more are under construction at the factory in Bend, Ore. The base price is $1.1 million. Certification is expected in 2007, according to Jeff Sanders, founder of the company and a member of the board of directors.
Another aircraft making its debut appearance at the show was the PAC 750XL, a New Zealand-built jump plane that can carry 17 jumpers. The second one in the U.S., it was flown here especially for the show, according to company representative Philip Esdaile. The FAA-certified aircraft can carry more than its own weight. Its empty weight is 3,220 pounds. Its useful load is 4,280 pounds for a maximum takeoff weight of 7,500 pounds. Pacific Aerospace Corporation Limited, which builds the aircraft, is marketing it as a cargo plane and medical transport as well.
Adams Aircraft, one of the leaders in the VLJ market, had its $2.1 million twin jet A700 at the expo as well as its A500 piston model. The A700, which is expected to be certified by the end of 2005, has 200 orders with $125,000 deposits. The $2.1 million price includes pilot training, according to John Hamilton, vice president of marketing. The A500, which sells for $1,150,000, is expected to be certified by yearend.
Another entry in the VLJ market is the $2.5 million ATG Javelin, which is looking at certification in 2007. The .92 mach, two-place Javelin looks like a jet fighter. In fact, the company anticipates there will be military applications because its price is so low compared to military jets, according to Simon Maina, sales manager. Ninety of these aircraft have already been sold.
The German-built, all composite, six-place Extra ER-500, which has been on display in this country on a number of previous occasions, is now certified; first delivery of the $1.295 million, 227-knot aircraft is scheduled for the spring.
Another noteworthy speaker at the convention was Mike Melvill, who helped Burt Rutan win the $10 million X Prize. Melvill, the guest speaker at a luncheon on the second day of the convention, piloted SpaceShipOne on its first flight past the edge of space, flight 15P, on June 21, 2004, thus becoming the first commercial astronaut. He was also the pilot on SpaceShipOne's flight 16P, the first competitive flight in the Ansari X Prize competition.
Melvill predicted the first commercial flight into space would take place within three years. The commercial vehicle will carry five passengers plus the pilot. "We are working on this with Richard Branson of Virgin Atlantic Airlines," said Melvill.
There is a difference between the space shuttle pilot and the pilots of the civilian vehicle.
"We fly the airplane," said Melvill. "The space shuttle pilots are passengers. They fly by autopilot."
Melvill paid tribute to AOPA.
"If we did not have AOPA, we would not be doing what we have to do," he said.
One of the top social events was the Friday night party aboard the Queen Mary, anchored not far from the Convention Hall. As guests walked up the gangplank to the deck, W.C. Fields and Mae West waited to greet them, as well as Judy Garland and Toto, Clark Gable, Fred Astaire and Ginger Rogers. A buffet dinner was served in several ballrooms, all with music and dancing. The closing banquet, complete with live big band music, brought back memories to the old-timers and had a lot of the younger members dancing.
AOPA annually pays tribute to those who have made noteworthy contributions to GA in the preceding year. This year's J.B. "Doc" Hartranft Award went to Congressman Don Young of Alaska, chairman of the House Transportation Committee. He sponsored legislation to force the FAA to grant pilots due process if their certificates were revoked or suspended because of a security threat, and got a provision in the Aviation Reauthorization Act, in response to the Meigs Field travesty, which greatly restricts the ability to close an airport without notice. He also incorporated a provision to permit the federal government to purchase an airport's development rights in order to prevent it from closing. He has taken a strong position on a number of other matters that threatened general aviation or airports.
The AOPA's Laurence P. Sharples Perpetual Award went to Jack Turnstill of St. Petersburg, Fla. an AOPA ASN volunteer whose tireless efforts helped to save Albert Whitted Field. AOPA also recognizes people in the media for exemplary aviation coverage or for outstanding features.
At Thursday's opening luncheon, AOPA honored six journalists from the general (non-aviation) media with AOPA's Max Karant Journalism Award for fair, accurate and insightful" reporting on GA. John Bowman, San Mateo County Times managing editor, and Eric Simons, copy editor, put together a special pull-out session, "100 Years of Human Flight," on the Centennial of Aviation that highlighted GA airports and aircraft.
In "Restoring Planes, Rebuilding Dreams," reporter John Miller and videographer Tom Bishop captured the joy of restoring old aircraft. At a rural airport outside Seattle, a group of young people help rebuild old aircraft in exchange for the chance to learn to fly. "First Flight, First Hand" captured the thrill of Dec. 7, 1903, and the exciting years immediately afterward. Using recordings of the Wright family, friends and coworkers, reporter Hal Cannon and producer Taki Telonidis gave listeners an intimate portrayal of Orville and Wilbur Wright.
Comments
comments