By S. Clayton Moore
The origins of the Aurora Airpark are shrouded in mystery. Although the locals suspect that the small collection of landing strips, located just off of Interstate 70 in Watkins, Colo., has been in operation since before World War II, there's very little in the way of historical preservation.
The men and women who come here simply love to fly, so the "little airport that could" remains a modest but vital part of Colorado's aviation community.
The man most responsible for building up the airport into what it is today is manager Kevin Kennelly, who took over the operation of the airpark in 1992, following his semi-retirement from the electronics industry. When he first started hanging out at the airpark in the mid-1980s, there wasn't much to see besides airplanes and dirt.
"They only paved the northeast/southeast runway (14-32) sometime in the late 1960s," Kennelly said. "There was a lot of ramp area to see out here but never much in the way of buildings. When I came here the first time, there were 150 airplanes just tied down on the ramp. Other than a few sheds, there was virtually no hangar space here."
That's changed greatly in the time that Kennelly has spent there. With DIA being built and its proximity to Front Range Airport, the Aurora Airpark was under threat many times of being closed. Kennelly helped to put together a small limited liability corporation to own and operate the airport in order to keep it habitable for the pilots who enjoyed it.
"It's nonprofit, not in the legal sense but by design," Kennelly laughed. "We never intended to make any money. It was kind of a co-op deal. The guys who had airplanes or hangers here just wanted to make sure it stayed open. The business philosophy here is 'quality versus quantity.' It's a nice place to operate out of where people can enjoy themselves—particularly myself. It's somewhat selfish to say, but this is my idea of how I want things to go."
Kennelly had earned a few quiet days by the time he took over the management of the airport in 1992. In his career in the electronics industry, he finished at the top as the district manager of the Denver sales office for Intel. When the semiconductor industry hit hard times, he struck out on his own by helping to form LSI Logic, a small manufacturer of custom circuits that has survived to this day. By then, though, he was ready for a change.
"I had gone through a divorce so I was at the point in life where I was trying to do something different," Kennelly said of his side project, a small aircraft parts distribution business called Ken Aero. Kennelly explains that as he was building "old airplanes," he was always looking for hardware and other pieces.
"It's always hard to get parts from people who are out of town," he said. "So I thought I'd use my background in electronics, software and the Internet to create this little parts business."
Kennelly also cut a deal with the former airport owner to start building hangars on the grounds of the Aurora Airpark, a project that drew some skepticism when it began.
"People told me I was nuts in 1986, when I started building hangars and they keep telling me I'm nuts," Kennelly said. "Maybe I am, but no one ever guaranteed me anything. You take risks and that's how you make money when the rewards come along, too. That's the nice thing about the hangars; they are a fairly passive business and the demand for hangars in this area is tremendous." Seventeen years later, Kennelly has built 12 hangars on the grounds and all of them remain full, with more in the works. While the airport doesn't generate enough excess revenue to pay the manager a solid salary, between the parts business and income from hangar rentals, he makes do.
About 70 aircraft are housed at the airpark, and its customers are made up of a rich cross-section of the metro area's aviation community. Everyone from young pilots just learning to fly to former military officers with years of experience takes turns at the same runways. Nearby, remote-control enthusiasts gather in the summer to compete. The airport also has a strong reputation as one of the most tail-dragger friendly airports in the metro area; instructors often give lessons in an L-16 Champ. What everyone at the Aurora Airpark has in common, said Kennelly, is a simple love of flying.
"There's no standard customer here," Kennelly said. "The short answer to that question is the people who fly here don't have ego problems. People who are into aviation to impress other people with their skill or their money or their slick airplane aren't attracted to a place like this. No one gets treated special here. We have a nice mix of people here but everyone is just one of the dudes."
Kennelly does wish, though, that more people would take the time to enjoy the small airport. While he often sees visitors from larger cousins Jefferson County and Centennial, they tend not to stay.
"People come in and see what we do and the fun we have and say it's a great place," Kennelly observed. "Then they go away for a year or two. I ask why don't they come by every once in a while and enjoy it? The standard answer is that they're too busy. Everybody is too busy to enjoy life, which is a sad thing. I didn't want to be one of those people."
Kennelly keeps a rotating stock of four aircraft himself, including a 1946 Globe CG-1B Swift, the L-16 and a couple of other projects he's always tinkering with, as well as maintaining the airport's facilities.
"A lot of it is fixing stuff," Kennelly said. "We can't call an electrician and pay him $1,000 to come all the way out here and fix something, so I do it myself. Fortunately, I was raised on a farm and I know how to fix things and enjoy doing it. I've always been that kind of a person, tinkering with stuff. There's always something that needs to be fixed. It just gets to be a question of what needs to be fixed first."
The airport presents a few challenges to the inexperienced due to its proximity to the Class B airspace of DIA, but most of the pilots there find it a relaxing place to stay.
"It's kind of quiet but it's nice to just get in an airplane and fly. Sure, you have to look out for other airplanes, but you don't have all the waiting and frustration that you have at the other airports, and it's pretty out here," Kennelly observed.
Unfortunately, the encroachment of civilization is also on the mind of Kennelly and the others that inhabit the Aurora Airpark. As development creeps further east and Front Range continues to develop its Transport multi-modal transportation hub, lots of eyes are on the land surrounding the airport.
"This is the only land out here that's worth a damn and unfortunately, we're on it," Kennelly said. "During one of the many bankruptcies here, some of the property ended up in the hands of people who are all speculating about the value of land along this corridor. The problem is, that speculation creates some doubt about this airport. People keep asking me how much longer we're going to be open. That's like asking how much longer I'm going to live.
I don't know the answer to that question but let's use it while it's here and enjoy it. I feel the same way about life. Let's get out there and enjoy it while we can."
One of the ways Kennelly and his cohorts enjoy themselves is playing in the makeshift band they've assembled. It began with flight instructor Keith Stevens, who plays guitar, and quickly grew to three or four guys jamming on the weekend. Before long, Kennelly, who played drums in high school, was roped in as well.
"There were times after the day was over where I'd go sit with them and have a beer and listen to those guys," Kennelly remembered. "I was really rusty and never that good to begin with but we were just having fun. We had an impromptu gathering on Memorial Day so we moved the equipment in and just started playing."
"It was pathetic," Kennelly laughed. "I wish someone had recorded it. The people who were here, though, just had a great time laughing with us. Before long, people were asking us when we were going to do it again."
The band still jams for its fans on holidays, featuring occasional guest appearances from singer Amy Grey, who works at Jeppesen, and another local aviator who plays the banjo.
All in all, it's been quite a ride for Kevin Kennelly and he doesn't intend to stop living well anytime soon.
"When I took this place over, it was just a matter of trying to keep the place open for another few years. I've probably run this airport longer than anyone else ever has. Looking back, it's been fun," Kennelly said. "When I first moved out here, though, I thought, 'Who would want to live in this godforsaken land out here? The wind blows all the time and it's dry. You can't grow anything and it's pretty miserable.'"
Over the years, though, Kennelly has found peace out among the sagebrush of the eastern plains.
"I just don't have a burning desire to do other things. I have a life. I can go down to Lulu's in Watkins, have the best steak in town, and practically walk home. They have a band in there and I know some gals who like to dance. It's just a lot of fun," Kennelly said.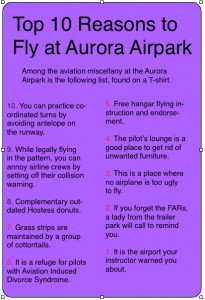 "We sit out here at night to watch the sunset and see the lights coming up from the city," Kennelly continued. "You have to stop and think of all those people scurrying around in this matrix like ants and you don't have to do that. It's peaceful and you're out here away from it. It grows on you after a while, and I've gotten to the point where I call it home."
Both pilots and visitors are welcome to join Kennelly and the regulars at the Aurora Airpark, located at 28580 East Colfax Avenue. Facilities range from fuel and maintenance services to picnic areas for families. The two primary runways are the paved 14-32 and 08-26, which is turf. The airport's identifier is 01V.
For more information, call Kevin Kennelly at (303) 361-9630.
Comments
comments