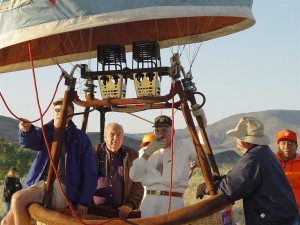 Featured in 2003
It's 6 a.m. at the Flying M Ranch and Conference Center in northern Nevada, and Barron Hilton and a few of his friends are ready to launch in a hot air balloon. As the balloon is being readied, Mike Gillis, a pilot for Hilton, says in a helium-induced Munchkin-type voice, "Are you really a wizard?"
Everyone laughs, and Gillis asks who has the ruby slippers. But no guests gathered here want to click their heels to go home. The consensus seems to be, "There's no place like this ranch."
Frequent guests at the Flying M include astronauts Gene Cernan and Bill Anders, Academy Award winner Cliff Robertson, famed aerobatic pilot Bob Hoover and automotive legend Carroll Shelby. These visitors arrive simply because they're friends of the "innkeeper." Others earn entry into this paradise by winning Barron Hilton Cup competitions.
On one weekend in June 2003, Hilton grins broadly when he talks about one of his guests, John W. Myers, who served as chief test pilot for both Northrop and Lockheed. Both Myers and Hilton are fellow members of Conquistadores del Cielo, an organization of aviation executives to which Hilton's belonged for more than two and a half decades. Myers is the oldest member.
"This guy is 92, and he still flies his own jet!" Hilton says.
On this weekend, however, Myers arrived with Clay Lacy, owner of Clay Lacy Aviation, whose flight hours are at 50,000 and counting. Their transportation was Lacy's Lear 24—the same Lear he used to give Hilton a ride when the two met in 1965.
William F. Balhous also has a Northrop connection; he designed aircraft for the company. Peter Ueberroth, organizer of the 1984 Summer Olympics in Los Angeles and former baseball commissioner, is visiting the ranch for the first time, with his wife, Ginny. Richard Bertea, former commissioner for the gymnastics venue at the Los Angeles Olympiad, has arrived with his wife, Hyla. Hilton quickly fills more guest cabins with Patrick Barry, managing director, and Hannes M. Linke, competition director, of the Barron Hilton Cup. Dennis Ivans, who has been coming to the ranch for years, arrives with Molly, his recent bride.
Over the years, many have tried to describe the allure of the Flying M Ranch. In a poem that graces the wall in the main dining area, Cliff Robertson calls it "a place of magic." John Denver defined the physical setting as "an awesome panorama of mountains and deserts."
Some assert that the Flying M is as big as Rhode Island. Hilton owns 20,000 acres (at fee) and leases 980,000 Bureau of Land Management acres, making for a million-acre ranch. The ranch covers an area that begins 25 miles south of Yerington, Nev., and stretches to the shores of Mono Lake in California. The Wassuk Mountains in the east and the Masonic Mountains in the west form the other boundaries. Nearby is Mount Grant, as well as the Toiyabe National Forest, six miles north of the ranch. The Sierra Nevada range looms to the west of the property.
It would be difficult for any guest to be bored. They enjoy trout fishing at the East Walker River, and manmade lakes offer both trout and bass. Deer and elk roam freely, and swans gracefully swim in a beautiful pond.
Across from the main house is an old stagecoach house. Nevada's second oldest building still in operation, it was erected in the mid-1800s to shelter mules that hauled produce and firewood to the boomtowns of Aurora and Bodie. On the border of California and Nevada, Bodie is on Hilton's property.
Photos of aircraft, family and acquaintances decorate the walls of one wing of the main ranch house, which is Hilton's private residence. The main house also holds two dining room facilities; the smaller is for made-to-order breakfast, and in the larger formal area, guests gather with their host for five-star lunches and dinners.
At 6 p.m., an hour before dinner, guests begin arriving at the bar for cocktails, leisurely enjoyed there or in a big screen display room, where they can watch videos or catch up on the news. Some choose to sip their refreshments in an adjacent reading area.
On this weekend, a chef from the Reno Hilton will create mouthwatering dishes in a professional gourmet kitchen. An attentive wait staff is on hand to serve the offerings of salmon, filet mignon, abalone and elk medallions with huckleberry sauce.
The aviators gathered here this weekend, however, haven't come for the gourmet meals, no matter how delectable. These guests will spend much of their weekend in the skies above the Flying M Ranch.
Comments
comments