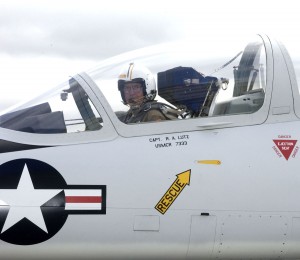 Featured in 2005
Bob Lutz, vice chairman of global product development at General Motors Corp., says he's never regretted the decision he made at Berkeley that led him away from the military and toward the world of business, but he did suffer "occasional anguish" over no longer flying military aircraft.
"I've always longed for the experience of flying a single-engine, tactical military jet," Lutz said. "I used to dream about it at night. Whenever I saw an F-18 or an F-16, I had this thought of powerful nostalgia and then this sinking feeling: the realization that I would never, ever experience that again."
Although it seemed impossible for a civilian to own a tactical aircraft, the dreams of the former Marine caption and jet attack pilot turned into reality after the collapse of the Soviet Union. L-39 jet trainers, built as the successor to Czechoslovakia's earlier trainer, the L-29 Delfin, suddenly came on the market.
Lutz acquired his Czech-built Aero Vodochody L-39 Albatros, a single-engine, two-seat, subsonic aircraft, in November 1994. Maj. Alex Makarenko trained him in Gadsden, Ala.
"He was the transition pilot for Rudy Beaver," Lutz said. "He had been an L-39 instructor pilot in the Soviet air force, and he had also spent a lot of time in Iraq, training Iraqi pilots. He was a very skilled instructor and a great guy. He would've made a fine addition to any U.S. Marine Corps fighter squadron. He was very meticulous and thoughtful."

His last flight in a military jet was in May 1965. Almost 30 years to the day, he soloed in his Czech-built Aero Vodochody L-39 Albatros, after accruing about 18 hours of dual instruction.

The L-39 kept him content until 2004, when he decided to vary his recreational flying a little and bought his West German Dornier A model Alpha Jet. He acquired the jet from Abbatare Inc., located in Arlington, Wash., at Arlington Airpark. Abbatare, founded by developer Hans von der Hofen, is the only company to have imported German Alpha Jets into the U.S.

After buying the jet fighter, Lutz trained at von der Hofen's Alpha Jets USA. He took his first flight with von der Hofen and then continued training and got his check ride with the company's chief pilot, Rick Millson, who served two tours in Vietnam and a tour with the Navy Blue Angels.
Lutz bought the Alpha Jet for a few reasons, including the simple fact that it was available, it was "almost new," and it had a reputation for being a rugged and reliable airplane. Also, he'd always wanted something that offered higher performance than the L-39.
"The L-39 is a wonderful airplane, but frankly, other than being a pleasure to fly and very maneuverable and reliable, it isn't very fast," he said. "The Alpha Jet is much more what I'm used to; it's swept wing and very fast. I have a great power-to-weight ratio. It's actually very close in performance to the late model Douglas A-4s, like the N models, with the J-57 or J-52 engines."
Lutz said the Alpha Jet is a demanding airplane that always requires a heightened state of awareness of the angle of attack.
"The angle of attack indicator is almost your primary instrument," he said. "For high-G, low-altitude flying and low-altitude yanking and banking, you'd need to be at an illegal speed to be able to pull three and four-G turns below about 5,000 feet. With the L-39, with its straight and very thick wing, you could be at 220/230 knots and do a five-G turn. The Alpha Jet will not let you do that. So, when you're legal at under 10,000 feet, 250 knots indicated, you've got quite a bit of nose-up."
Lutz bases his L-39 at Michigan's Ypsilanti's Willow Run Airport.
"It requires lots of runway on a hot day," he said. "The Alpha Jet is at Ann Arbor, because it needs very little runway."
He tries to get as much time as he can in both aircraft.
"If I can, I try to fly on both Saturday and Sunday, weather permitting," he said.
Comments
comments