By Bob Shane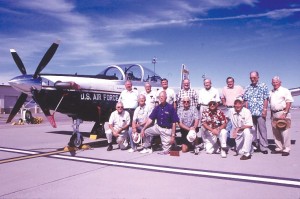 Fourteen members of the class of 1944G returned to the site of the Army Airfield where they received their military pilot's wings 60 years ago.
It was on July 16, 1941, that the Army Air Corps broke ground for an Advanced Flying School in Mesa, Ariz. In 1942, the school was named Williams Field, in honor of Lt. Charles Linton Williams, a native Arizona aviator who died in an aircraft accident during a formation flight on July 6, 1927.
In 1948, Williams Field was renamed Williams Air Force Base, training pilots until its closure in 1993. During the 52 years it was operational, more than 26,500 service men and women earned their wings. The base was the Air Force's premier pilot training facility, graduating more student pilots and instructors than any other base in the country.
The site where these aviators once trained is now Williams Gateway Airport. When the group showed up to celebrate their 60th anniversary, they were given a tour of the passenger terminal and the flight line.
That day, many war stories from World War II were told, by guys who were there. After graduation, Roy Blunk, now 80, went to England and flew five missions in a B-17. His crew only encountered one enemy fighter, but what a fighter it was-a ME-262 jet fighter! When he first saw it, it was climbing straight up. He remarked: "Holy Toledo; that's impossible!" He and his crew knew they were witnessing the future of aviation.
Then there was James Weaver, who, after graduation, went on to fly B-29s in the Pacific. He was on a mission flying out of Tinian Island when it was announced that a single B-29 had wiped out an entire Japanese city.
The oldest member of the group was Fred Roever, 85. Bill Page, the leader of the group, after graduating in 1944, went to the South Pacific where he flew the P-38 and B-25. Page made a career of the military, flying almost 40 different aircraft. His service spanned three major conflicts, World War II, Korea and Vietnam.
As a tribute to the group for their patriotic service to our country, the airport presented them with a T-38 memorial brick, which will become part of a sidewalk display in the T-38 Memorial Park.
Comments
comments