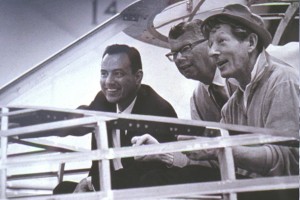 Featured in 2003
"All through your life, you meet people and do things that change the course of your life," Clay Lacy reflects. "Different things impress you at different times."
The course of Lacy's life has held twists and turns, but it's always had one central theme.
"It's always been in aviation," he said.
People have told Lacy that if he ever has time to pen his autobiography, he should name it, "The Planes I've Flown and the People I've Known." The founder of Clay Lacy Aviation has flown more than 300 different aircraft types, has more than 30 different type ratings and holds 29 current world speed records. He's accumulated more than 50,000 flight hours—perhaps more than any other pilot. He logged those hours in military and test flying, air racing, aerial photography, aircraft sales and a four-decade career with United. His involvement in aviation has led him to meet many interesting people, including aviation legends, presidents and celebrities.
One of those people was Allen Paulson, a TWA flight engineer who had served in the U.S. Army Air Corps during WWII and later formed California Airmotive at Burbank Airport, in 1952. Lacy would later team up with Paulson, ferrying aircraft for him, while he also juggling a full schedule for United and was active in the Guard.
In 1964, the same year that Bill Lear's airplane company became publicly owned, California Airmotive took possession of Learjet N1965L, serial number 23-012.
"When I brought that airplane to Van Nuys, it was the very first corporate jet on the airport," Lacy said.
The jet might've been impressive, but its interior wasn't.
"It had raw seats in it," Lacy said. "They built the planes so fast, they hadn't thought about what the interiors were going to be like. We flew it around and gave some demonstrations, but we had to get an interior in."
The jet went back to Wichita in January 1965, and returned to California in April in showcase condition.
"In addition to flying for United, I was flying that jet probably close to 100 hours a month," Lacy remembered.
Lacy recalled that in the early days, people often commented to Lear on one problem or another they saw with his plane. He responded with several one-liners.
"If someone said, 'You can't stand up in the Lear,' Bill would say, 'Can you stand up in a Rolls Royce?'" Lacy said. "If they said, 'It doesn't have a galley for food,' he'd say, 'If you want to get a meal, go to Club 21, or go home.' It had only a small emergency lav with a curtain, so if they said, 'It doesn't have an enclosed lav,' he'd say, 'I don't know how many of my friends just want to fly around, taking a shit!'"
Lear also dismissed the size of the cabin.
"He'd say, 'If you want to take a walk, go to Central Park,'" Lacy laughed.
Lear asked Lacy for marketing ideas to expose the Lear name to the public.
"He told me to go through the phonebook, call anyone who might talk up the jet and give them demo rides," Lacy said. "He gave me a lot of names, like Art Linkletter and some other friends. He told me to send him a bill every month for how many hours I flew."
A big advantage for California Airmotive was its close proximity to Hollywood. Frank Sinatra, who crooned about the romance of flight when he recorded "Come Fly with Me," was one of the first celebrities to fall in love with the jet.
"We flew Frank about 20 times," Lacy said. "We sold him a Lear, and he featured it on a special."
They also flew Rat Pack members Dean Martin and Sammy Davis Jr. Lacy knew that Danny Kaye flew a Queen Air and invited him up for a demo.
"When he came out, I was flying with United," Lacy said. "Another guy took Danny up and scared the hell out of him. He wasn't going to fly in it anymore. I called Danny, and he told me the plane was hard to fly. His pilot had told me that Danny and his partner, Lester Smith, had a radio station in Portland. I told him he should fly it again, and that we could fly to Portland. We flew up there, and he loved how fast we got there."
The following day, Lacy took Kaye up to shoot landings.
"We shot landings for about an hour and a half," Lacy said. "I knew to not make a guy feel stupid or get into trouble. I made him feel like he could fly it. Danny became absolutely hooked on the airplane that weekend."
Comments
comments