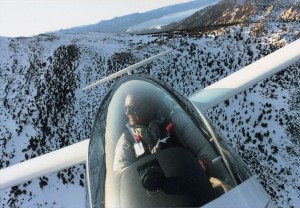 Featured in 2004
Years ago, Cliff Robertson, pilot and Academy Award and Emmy Award winner, read "Time Must Have a Stop," by Aldous Huxley. He remembers wondering about the title.
"I didn't know what he meant, but I'm beginning to realize it now," he said. "We need more time!"
A pilot with several thousand hours in the cockpit, Robertson spends as much time as possible in his Grob Twin Astir, a German two-place glider he keeps at High Country Soaring in Minden, Nev., 38 miles south of Reno on the eastern side of the High Sierras. He glides in and out of other places, but says that High Country, run by Tom and Janice Stowers and Bill Stowers, is the world's best place to soar.
"They're good people; they're like family to me," Robertson said. "When I go up there, they put me in the back room. I spend two to four days. That's my Walden's Pond."
He adds that glider pilots from around the world come to High Country Soaring, because the conditions there are so unique. Robertson's been gliding for more than 16 years and has his diamond altitude, for over 26,000 feet. A few years back, he and a friend set a Nevada state record for distance in a two-place glider—240 miles, from Tonopah to Parowan.
He shares that passion for gliding with friends like Barron Hilton, whose Flying M Ranch is about 35 miles from High Country. But gliding is only a part of Robertson's aviation "obsession."
"I have a big hole in my head and a stable of planes," says the man who holds single-engine land and sea, multiengine, instrument and commercial licenses, as well as balloon, gliding and seaplane ratings.
His planes include a Beech Baron 58, Messerschmitt Me 108 and Stampe SV4, a French fully aerobatic, open-cockpit biplane. He previously owned three Tiger Moths, as well as a Spitfire Mk.IX.
Clifford Parker Robertson III was born on Sept. 9, 1925. His grandmother and an uncle raised him after his mother died when he was 2. He recalls becoming aware of aviation when he was 5, while living in La Jolla, Calif.
"I saw a little yellow airplane doing aerobatics over our house," he said. "My uncle and another man were standing there watching the aerobatics, wagging their heads sagely. One said, 'You'll never get me up in one of those little airplanes.' Then the little airplane turned southward and started to hum its way home. We got into the Ford alongside the curb, and it wouldn't start. I was thinking, 'What's wrong with this picture?' I think I began to become a partisan for aviation at an early age. I was defending it then, and I still do now."
The summer Robertson was 14, he rode his bicycle six days a week to a "little, sleepy airport."
"Speer Airport had one little, sandy runway," he said. "I would work eight hours a day there, cleaning airplanes and engine parts. I was never paid a nickel, but every third or fourth day, the chief pilot would say, 'Cliff, go get your cushion.' I was short for my age, so I had a special cushion. I'd take it out to a little red Piper Cub. He'd take me up for 15 minutes and let me at the controls once we took off. I thought I was the ace of aces. It was a magic time."
Robertson abandoned aviation for a period while sorting out what to do with his life. As a teenager, he joined the military. He served with the Navy for three and a half years and was active in the Maritime Services. He rose to lieutenant junior grade.
Then he attended Antioch College and entered a work program, writing for the Springfield Daily News. He was told he should write for the theater "instead of a deadline," because his talent was more suited for that rather than general newspaper assignments.
When he arrived in New York, he knew nothing about the theater.
"I was told, 'If you're going to write for it, you have to go out into the regions and the provinces and learn about the theater," he said. "I learned to drive a truck and build flats, but I didn't take it seriously. Ultimately, I fell in with bad companions and did off-off Broadway and Broadway. I was this 'callow kid.' It irritated my fellow actors, who took everything, including themselves, very seriously."
Robertson said he acted because everybody around him did.
"I had the audacity, in spite of myself, to get good reviews," he said. "I was hanging in there in New York. I did a lot of things, but eventually I was making a living in the theater, then in early television and finally Hollywood."
Comments
comments