"I got involved with the Learjet project when I was finishing the fighter testing for the airforce and I wanted to get in on the design, building and the sales – the whole works of an aircraft," he said. "Mr Lear made an announcement around this time that he was going to build this aircraft and I was keen to be part of it," Beaird continued. "We were going to be able to travel around at altitudes above the airlines, at a speed just as fast. I asked him if I could do it and he was really quite nice about it."Beaird started working with Lear in Switzerland in 1961. Shortly afterwards a decision was made to move the project to Wichita, Kansas. Beaird realised that it would be a considerable amount of time between moving the project and completing it, so he moved to Florida to pilot another aircraft for a while. Lear called him when everything was ready and Beaird was onboard from that moment on."The flight itself was quite late in the day of course and it was almost dark," said Beaird. "I knew the boss was quite intent on getting it flown though.
"The biggest thing I remember was the takeoff acceleration, which I expected because I'd flown a lot of fighters and I really enjoyed that," he remembered. "The climb-out was spectacular. Then we flew it around and we tested the stability of it a little bit and slowed it down to approach speeds to be sure it flew alright." The memories still very clear in the 79-year-old's mind, he continued: "We decided to come in to land and my most prominent memory about the flight, was all those people along the roadway there – everybody had come out to see us flying and to see us land," he said. "They were out there when we were on the base leg, turning around to land and I looked down and saw all those people. It was quite exciting."

Beaird says he was confident then that the Learjet would do well. "I wasn't surprised about the success of the aircraft," he explained. "I knew all the guys who had worked on it and they had done such a good job of building it and testing it, with ground tests as well. We had made two high-speed taxi runs before we flew it, so I knew it was going to be alright."
From an impressive landmark flight to mass-production, Beaird claims that it was not long before the aircraft were being sold. "We didn't spend a long time on it, because Mr Lear didn't spend a long time doing anything!" He said. "He liked to have things done by yesterday. So if something went wrong with the aircraft, you worked day and night to fix it – to get it back in the air again so we could do the test flight," he added.
"The Learjet 23 could outperform everything that had come before, so it took a little getting used to," he said, "but people really did catch on in a hurry. Some very important people bought this aircraft because they knew Mr Lear. It didn't have any troubles getting started as some aeroplanes do," he insisted. "We built 80 of them in the first year alone."
The aviation world has undergone massive changes since that flight in 1963 and Beaird feels that this is a positive sign.
"The industry itself has improved over the years," he said. "The aircraft back then used to have very noisy engines and they've quietened them down now by putting fans on them. Now you can get power without so much noise," he continued.
"The electronic flight systems are probably the most important development to be made in new aircraft."
Beaird still maintains a love of those early Learjets. "I still have a soft spot for the Lear 20 series, because they were the first I flew in," he said. "Of course — they're lighter than other aircraft, so they outperform them — but I like performance having flown fighters so much. "I guess my favourite aircraft would be the Learjet 24D. I still fly them today."
Pilot Bob Hagen said at NBAA that it didn't feel as long as 40 years since they made that flight and Beaird agrees. "It has been a long time though," he said. "It was something which happened in a hurry, but it stays in your mind. I was extremely pleased to be there and happy that people were recognising it," he explained, "because it was the first real executive jet aircraft and I have always enjoyed being associated with it.
"The Europeans caught on quickly," said Beaird, "they bought some of the first ones, then we sold them in Africa, Singapore and all over. Everyone around the world wanted it because it was a low-priced, high-performance aircraft," he added.
Beaird still maintains a close relationship with people at Bombardier and Lear. "They have let me fly a lot of their new aircraft first, right after they certify them and I've always been very appreciative of that."
The most unforgettable moment of his aviation career, aside from that first flight, was a record-breaking mission. "My most outstanding memory is of our round-the-world flight in the Learjet 24. We set the record of a flight around the world in 1966," Beaird explained. "I was fortunate to be on that trip. The jet commander had announced they were going to fly around the world and set records with aircraft, and of course ours was much faster, so Mr Lear decided we'd better hurry up and get ready to go around the world," he said.
"There were three of us onboard taking turns to fly, so it was not as strenuous as it sounds." He continued: "We still hold the record for a lighter weight aircraft — the 23 and 24 models were lighter than most. Some Cessna aircraft have been lighter since, but that record still stands. We did it in 50 hours and 19 minutes flying time."
---
Renowned test pilot and WWII aviator Henry G. "Hank" Beaird, Jr. was born November 12, 1924 in Headland, AL. He was president of his senior class at Cullman County High School near Birmingham. Having finished high school at age 17, Hank attended Auburn University and played on the freshman football team. Hank was inducted into the USAAF in April, 1943, at the age of 18. He received his commission and wings in 1944 at the age of 19 from Douglas AAF, AZ. He was stationed primarily in New Guinea with the 3rd Air Commando Group flying P-51's and C-47's. He was also stationed in the PI and in Japan after the war as part of the occupation forces. He was discharged from active duty in November, 1946. Hank finished his aeronautical engineering degree at Alabama in 1949, being perhaps the only Alabama graduate to have played football at Auburn. Hank married Rosalind Riddle on June 22, 1951, while he was working as an engineer for Chance Island and Later Lancaster, CA where he flew the first production model of the Republic F-105. Hank was chief test pilot for Lear Jet in Wichita, KS, where he made the first flights on the Lear Jet models 23, 24, and 25. Hank then lived in Bonham, TX, for ten years working as a hardware store owner and high school and college math instructor. He returned to flying in Reno, NV, where he made the first flight on the Lear Fan. He was a charter member and Fellow of the Society of Experimental Test Pilots. He was also a member of the Alabama Aviation Hall of Fame. He was inducted and later given a "Flown West" tribute at the tribute at the "Living Legends of Aviation" gala in 2009.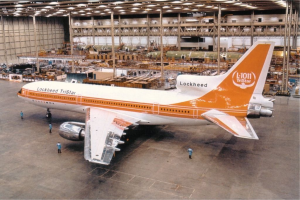 The prototype Lockheed L-1011 parked inside the Lockheed production hangar at Plant 10, Palmdale, California. The Lockheed L-1011 TriStar is a three-engine wide body airliner designed to carry up to 400 passengers on medium or longdistance routes. It is operated by a flight crew of three. The prototype, the L-1011-1 and L-1011-200 production aircraft were 177 feet, 812 inches long with a wingspan of 155 feet, 4 inches. The longer range, higher maximum weight L-1011-500 variant was 164 feet, 212 inches long with a wingspan of 164 feet, 4 inches. All TriStars have an overall height of 44 feet, 4 inches. The interior cabin has a width of 18 feet, 11 inches. Empty weight ranges from 241,700 pounds to 245,400 pounds, while the maximum takeoff weight varies from 430,000 pounds to 510,000 pounds.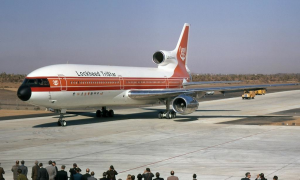 November 16, 1970. At the Lockheed California Company Plant 10, just north of Palmdale in the high desert of Southern California, test pilot Henry Beaird ("Hank") Dees, co-pilot Ralph C. Cokely (formerly a Boeing 747 test pilot), flight test engineers Glenn E. Fisher and Rod Bray, took the new prototype L-1011 TriStar, N1011, on its first flight. During the 2:12 hour test flight, the airliner reached 250 knots
---
Renowned test pilot and WW II aviator Henry G. " Hank" Beaird, Jr. was born 12 Nov 1924 in Headland, AL. He passed away on 2 Feb 2009 in Dallas, TX at the age of 84. He was president of his senior class at Cullman County High School near Birmingham. Having finished high school at age 17, Hank attended API (Auburn University) and played on the freshman football team. Hank was inducted into the USAAF in April, 1943 at the age of 18. He received his commission and wings in 1944 at the age of 19 from Douglas AAF, AZ. He was stationed primarily in New Guinea with the 3rd Air Commando Group flying P-51's and C-47's. He was also stationed in the PI and in Japan after the war as part of the occupation forces. He was discharged from active duty in November, 1946. Hank finished his aeronautical engineering degree at Alabama in 1949, being perhaps the only Alabama graduate to have played football at Auburn. Hank married Rosalind Riddle on 22 June 1951 while he was working as an engineer for Chance Vought and flying P-51's and F-84's in the Texas ANG. Hank and Rosalind then moved to Long Island and later Lancaster, CA where he flew the first production model of the Republic F-105. Later, Hank was chief test pilot for Lear Jet in Wichita, KS where he made the first flights on the Lear Jet models 23, 24, and 25. Hank then lived in Bonham, TX for ten years working as a hardware store owner and high school and college math instructor. He returned to flying in Reno, NV where he made the first flight on the Lear Fan. He was a charter member and Fellow of the Society of Experimental Test Pilots. He was also a member of the Alabama Aviation Hall of Fame. Hank was preceded in death by one brother. He is survived by Rosalind, his wife of 57 years, one brother and one sister. He is also survived by 4 sons and 5 grandchildren. There will be a memorial service at Chapel Hill UMC in Farmers Branch, TX at 4 PM on 7 Feb 2009. In lieu of flowers, memorials may be made to Chapel Hill UMC, Society of Experimental Test Pilots, or Alabama Aviation Hall of Fame.
Published in Dallas Morning News on Feb. 5, 2009
Comments
comments