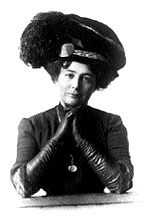 Throughout March, the Colorado Women's Hall of Fame Photographic Exhibit will be on display at the Denver City and County Building, showcasing some of Colorado's most accomplished women.
The display, located on the second floor of the building on Bannock Street, between 14th Avenue and Colfax Avenue, will highlight each woman's individual achievements as well as collective accomplishments.
"March is Women's History Month," said Sandra Shreve, chair of the board of directors of the CWHF. "Our mission is to share and celebrate the lifetime contributions of Colorado's extraordinary women. Through this exhibit, we are offering an opportunity for the public to learn more about this accomplished group of women whose achievements should not be forgotten."
The exhibit displays 81 photographs of outstanding women who have been inducted into the nonprofit organization since its inception in 1985. This diverse group of intelligent, courageous and inspiring women has made enduring contributions that have shaped and changed our states history and the history of our nation.
CWHF inductees include Emily Howell Warner, aviation pioneer; Linda Martinez Alvarado, business leader; Gloria Travis Tanner, Wilma Webb and Patricia Schroeder, politicians; Margaret "Molly" Brown, Titanic heroine; and Mamie Eisenhower, humanitarian.
They also include Reynelda Muse, broadcaster; Dottie Lamm, feminist/author; Mary Hauck Elitch Long, co-creator of Elitch Gardens; Emily Griffith, educator; May and Helen Bonfils, philanthropists; Baby Doe Tabor, folk heroine; and Owl Woman (the first wife of Colonel William Bent, who established Bent's Fort), Indian negotiator.
Free and open to the public, the exhibit can be viewed Monday through Friday, from 9 a.m. to 5 p.m.
For more information regarding the Colorado Women's Hall of Fame, and a list of all inductees, visit [http://www.cogreatwomen.org].
Comments
comments