By Bob Shane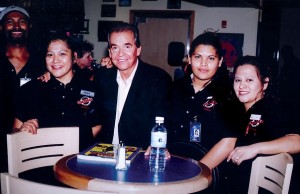 One of the newer restaurants to open at Phoenix Sky Harbor International Airport is Dick Clark's AB Grill. Located in Terminal 3, this musically-themed eatery showcases rock 'n' roll and the hit records and artists that were featured on "American Bandstand," the longest running music/variety show in history, spanning the decades from 1952 to 1989.
The great Johnny Mathis made his debut on American Bandstand in 1957. Connie Francis appeared in 1958, singing her hit single "Stupid Cupid," and Chubby Checker had everyone doing "The Twist" in 1960. American Bandstand's tenure paralleled history, from the hula hoop to the end of the Cold War.
The man behind this successful Emmy award-winning show was its host and show business legend Dick Clark. He was only 26 years old when he hosted his first after-school TV dance show for teenagers in 1956. A year later, the show went national. This was the beginning of "American Bandstand," which became the showcase for the new music phenomenon known as rock 'n' roll. Early on, it was thought that rock 'n' roll would be nothing more than a passing fad. But a clean-cut Dick Clark brought legitimacy to the loud music. Many a record sat at the bottom of the charts until Clark played it on "American Bandstand." His profound influence helped shape American culture, affecting the lives of countless millions of people.
The spirit of the 50's and 60's has been recaptured in Dick Clark's American Grill. There are five such restaurants in the U.S. The airport locations are Phoenix, Salt Lake City, Newark and Indianapolis, with a fifth one in downtown Kansas City. Reminiscent of Planet Hollywood, each restaurant has displays of rock 'n' roll memorabilia from Dick Clark's personal collection. The music is vintage rock 'n' roll and the food is classic American cuisine. A sample wrap sandwich is a "Fajita wrap 'n' roll." A classic burger and Swiss is a "Chart Topper." For dessert, there's "Mrs. Clark's Apple Pie," a favorite of Dick Clark's wife. At the bar, you can have a "Blue Suede Shoes" made with Malibu coconut rum.
The HMSHost Corporation, one of the world's largest purveyors of food, beverage and retail concessions to the travel industry, operates Dick Clark's AB Grill at Phoenix Sky Harbor. It's one of 52 restaurants the company operates at the airport.
During his recent visit to the restaurant, Dick Clark spent the afternoon gladly signing autographs and posing for pictures with lunch patrons. He also shared memories from his 50 years in the entertainment industry. The veteran air traveler says he has flown over nine million miles.
At 74, Clark is still referred to as "America's oldest living teenager." When asked about his secret to looking young, he jokingly replied, "Select your parents very well." On the subject of what his favorite music is, Clark stated, "I like it all."
Clark remains very active. In addition to Dick Clark Restaurants, Inc., he serves as chairman and CEO of the publicly owned Dick Clark, Productions, Inc., which produces TV shows.
Comments
comments