By Terry Stephens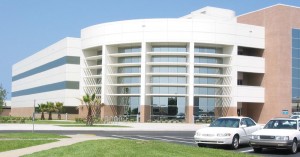 Florida-based Embry-Riddle Aeronautical University continues to expand its network of more than 130 extended campuses at aerospace and military centers, registering its latest success in the Pacific Northwest's Everett community.
Home to the Boeing 747, 767, 777 and 7E7 assembly plant, Goodrich Corp.'s Aerospace Division, Paine Field, Naval Station Everett and a large community of aerospace and high-tech businesses, Everett now has an Embry-Riddle campus established at the Applied Technology Training Center, a classroom facility operated by Everett and Edmonds Community Colleges.
"With real visibility for the first time, more people are calling and enrolling," said Elena Lynch, director of operations for the university's Everett Center. "We're close to Boeing and we're doing much more marketing, hosting events and reaching out to local high schools, the YMCA's Minority Achievers Program and the local aerospace community."
Last October, as part of its new outreach effort, the Everett center joined Embry-Riddle's Seattle, Tacoma and Whidbey Island centers at the Museum of Flight at Boeing Field for an evening open house that included free tours of the museum for current students, alumni and those looking into Embry-Riddle courses, with opportunities to talk with university counselors.
The ATTC facility is a quantum leap forward for the Everett campus, which began as a small teaching site five years ago to serve the nearby Whidbey Island Naval Air Station. With the help of Goodrich, Boeing and other supporters in Everett, the ERAU presence grew its way through a series of small offices and classrooms in different locations until it was established well enough to move into its present quarters.
"We have both undergraduate and graduate programs for aeronautical science, technical management and other aeronautical degrees, plus associate programs in aviation and technology areas," Lynch said. "Embry-Riddle engineering students are competing with those at MIT. These are quality programs, not just in aviation but also in technology management and cross-over areas in other fields. The focus is aviation, of course, but we have people studying for all kinds of careers."
Although the university's largest facilities are its home campus in Daytona Beach, Fla., and a satellite campus in Prescott, Ariz., its network of extended campus learning centers and online Internet classes give Embry-Riddle a global presence. Courses are designed primarily for adults already working in civilian or military aerospace fields who want to expand their skills or advance in their careers, along with educating those who need preparation to enter the industry.
Each year, more than 28,000 students are enrolled in the university's 35 associate, bachelor and master's degree programs, ranging from aeronautical science, aircraft maintenance, aerospace engineering and aviation technology to computer engineering, airport management, applied meteorology, global security and aviation business administration.
Of that total, 17,000 students participate in extended campus programs, a venture that began in 1970 in small, cramped quarters at military bases in response to the need for military education programs. Today it serves civilian as well as armed forces personnel in the United States and Europe.
"In the late 1980s, the university began working with civilians in the aerospace industry as well as military students. In recent years, we've seen military enrollment decline with federal budget downsizing, growing only about six percent annually but civilian growth has been much greater and could reach 13 percent this year on our extended campuses," said Robert Myers, PhD, chancellor of the university's Extended Campus program.
Myers was in Seattle in September for a regional graduation ceremony for more than 50 graduates from the Puget Sound area and their families and friends, in a gathering at the Museum of Flight.
"Our Everett and Renton centers have had good growth lately, thanks in great part to the center's directors," Myers said, noting that he had hired away the Everett Center operations director, promoting Elena Lynch to associate dean of worldwide operations for the Extended Campus program. Her replacement, Melissa Helmansteine, is expected to arrive in Everett before the end of the year.
The Seattle area will also be benefiting from Embry-Riddle's plans for establishing a network of 12 "metro center" education facilities, a new teaching concept for the university that will provide 6,000- to 12,000-square foot state-of-the-art classrooms for the university's programs, Myers said. The first center opened in Orlando last May. Along with Seattle, other targeted metro centers will include Phoenix, Los Angeles, Washington, D.C., Atlanta, New York City or Newark, Dallas-Fort Worth, Houston, Chicago and elsewhere, he said.
"There are thousands of civilian and military aviation personnel who will be retiring in coming years. We want to be prepared to train the new people who will be needed," he said.
Myers said Embry-Riddle also offers many of its courses via the Internet as part of its Distance Learning program, spanning the world electronically to reach students enrolled at its extended campuses as well as those who aren't affiliated with one of Embry-Riddle's training centers.
The history of Embry-Riddle began Dec. 17, 1925, exactly 22 years after the Wright brothers' first powered flight, when entrepreneur T. Higbee Embry and barnstormer John P. Riddle formed an independent university that has become the world's leading institution for people seeking to enter or advance in careers in aviation, aerospace, engineering and related fields.
Today, it's the world's only accredited aviation-oriented university. U.S. News & Report's 2005 "Best Colleges" guide recently named Embry-Riddle first among aerospace, aeronautical and astronautical engineering schools without doctorate programs. Within a year of graduation, 96 percent of Embry-Riddle students are either employed or have decided to continue their education. Women make up 17 percent of the school's total enrollment, according to school officials.
In partnership with airlines and corporations, the university also provides customized flight training through its Commercial Airline Pilot Training programs, qualifying candidates for first-officer positions aboard transport aircraft, as well as training programs for aviation maintenance professionals, including FAA-approved airframe and power plant mechanic certification, with specialization in avionics line maintenance.
The university has a $30 million, 10-year contract with the U.S. Department of Defense as the sole provider of aviation-related degree programs to the U.S. military in Europe, along with a $15 million, five-year contract for pilot training at the U.S. Air Force Academy in Colorado Springs. It's also the largest supplier of air traffic controllers to the Federal Aviation Administration.
For more information about Embry-Riddle Aeronautical University, visit [http://www.erau.edu/].
Comments
comments