By AJ Staff Writer
Reprinted from June 2001
"Peggy the Pin-Up Girl"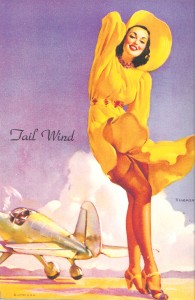 Peggy Jones had a picture took,
it got in "Live" and it got in "Look"
In a plane or on a train, she's a friend, she's a pal
She was there when they landed down in Guadalcanal
She's Peggy the Pin-Up Girl…
"Pilot to bombardier, come on boys, let's drop one here"
For Peggy the Pin-Up Girl

Glenn Miller
Many people pitched in to do their job during World War II. Among them were entertainers like Bob Hope, who traveled to military bases and outposts bringing laughter, an entertainment troop, and at least one beautiful girl. His reason? To raise the morale of the boys fighting for their country.
Hope had the right idea. Lana Turner, known as the "sweater girl," was one of the beautiful women who sometimes accompanied Hope–and brought hope. But it wasn't every day that the enlisted men could get this type of entertainment from Hope or other entertainers, such as Glen Miller, whose popular wartime song, "Peggy, the Pin-Up Girl," explained why these beautiful women were important to the morale of the GIs.
According to a well-publicized wartime survey, the top five favorite pin-up girls of World War II included actresses Dorothy Lamour ("the Sarong girl") and Jane Russell. The legs of Betty Grable, the undisputed queen of the wartime pin-up girls, were insured through Lloyd's of London for more than $1 million. The other two were Lana Turner, who was discovered in Schwab's Drugstore on Hollywood's Sunset Boulevard, and Rita Hayworth.
But the women adorning airplanes and bomber and fighter jackets as nose art, and gracing the walls in barracks, didn't necessarily have to be the "real thing." "For the Boys: The Racy Pin-Ups of World War II," published by Collectors Press and compiled by Max Allan Collins, showcases the "illustrated" and real women who kept our boys happy during WWII.
In the book, you'll find over 500 classy lassies, drawn or painted by Gil Elvgren and others. They're beautiful women glimpsed on the street, would-be starlets, the girl next door, sweethearts, wives or daughters–or, in the case of the illustrated beauties, a combination of many intriguing women. They're in calendars and posters, and on matchbooks, playing cards, postcards and stationery.
Collins' introduction to "For the Boys," an oversized, 144-page hardcover book, takes you behind the scenes and shares the story of many of the popular pin-up girls and of the illustrators who created them. It shows how painting these beauties elevated the artists' career and how many of these painted images became the sweetheart of the day.
Gillette A. Elvgren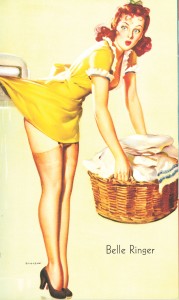 Minnesota-born Gil Elvgren is considered one of the most important glamour and pin-up artists of the 20th century. His professional career began in the mid-thirties, lasted more than 40 years, and encompassed many different fields of commercial art.
Elvgren, who originally intended to be an architect, was often sent home from school for sketching in the margins of his schoolbooks. Although he studied architecture and design at the University of Minnesota, he also took art courses at the Minneapolis Art Institute and at the American Academy of Art in Chicago. Elvgren painted so well in Chicago that many of his illustrations were used for college catalogues and brochures.
His first paid commission was the cover of a fashion catalogue. After being commissioned to paint several other catalogue covers, Brown and Bigelow asked him to paint a portrait of the newest media darlings, the Dionne quintuplets. Throughout the late 1930s and early 1940s, he painted a series of pin-up girls for Louis F. Dow and the Dow Company. In the late 1930s, he also created several life-size die-cut store displays for Royal Crown Soda, which were distributed throughout the U.S.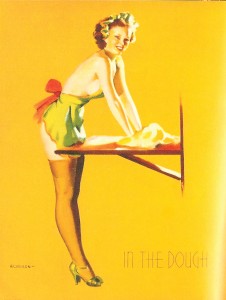 In 1940, through his work at the prestigious Stevens/Gross Studio in Chicago, Elvgren met Haddon H. Sundblom, the creator of Coca Cola's "Santa." Sundblom later became his mentor and was instrumental in Elvgren's 25 years of work with Coca Cola, including roadside highway billboard advertising and depictions of military scenes during WWII and the Korean War.
Sundblom taught Elvgren the lush brush stroke technique that would bring a glow to Elvgren's girls. Due to the creamy look, the technique became known as "mayonnaise painting."
Elvgren's oils on canvas are surpassed in value only by Alberto Vargas originals. His work for Brown and Bigelow as a staff artist, beginning in 1944, put him into competition with other prominent illustrators working for the company, such as Rolf Armstrong, Earl Moran and Zoe Mozert. His salary, which came to about $1,000 per painting for two paintings per month, made him one of the highest paid illustrators in America. By the end of the decade, he was the company's most important artist, and by 1951, he was earning $2,500 per painting. He illustrated for them for the next 30 years.
A friend of Norman Rockwell, Elvgren illustrated for McCall's, Cosmopolitan, Redbook, Good Housekeeping, Woman's Home Companion and the Saturday Evening Post, and created ads for companies including Orange Crush, Schlitz Beer, Ovaltine, Sealy Mattress, Sylvania, Pangburn's Chocolates and NAPA Auto Parts. He illustrated national ad work for General Electric's War Effort Campaign. Earlier work that he'd done for Dow was repackaged during WWII and distributed to servicemen fighting abroad. His pin-up girls were used to help raise funds for war bonds.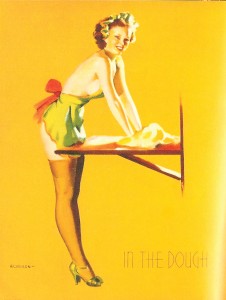 Elvgren's work included universal billboards and pin-up girl reproductions on revolving lampshades. A popular deck of playing cards, with 53 different images, also displayed his work. He was the only pin-up artist besides Vargas to have a deck like this produced.
During his later years, Elvgren lived in Florida and painted portraits. His models included Kim Novak, Donna Reed and Myrna Loy. He died at the age of 65 in 1980, after a bout with cancer.
Comments
comments