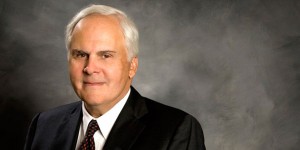 Frederick Smith to be Honored at the 11th Annual "Living Legends of Aviation" Awards on January 17th, 2014
By Barry Schiff and Laurie Lips
Fred Smith Lifetime Aviation Entrepreneur Award. Fred Smith is living proof that from little acorns giant oak trees grow. The acorn, in this case, was an original idea for an overnight, small-package delivery service that he described in a term paper while an undergraduate student at Yale University. Considered by many so-called transportation experts as a totally unfeasible proposal, Smith ignored the critics and founded a company called Federal Express that he grew into the leader of an entire industry. As the chairman, president, and CEO of FedEx, his mushrooming business has become a household word, the name of his company a common verb, and the familiar purple-and-orange logo a familiar part of the global landscape.
Smith began operations in 1973 with a Dassault Falcon business jet that often had fewer than a dozen small packages as its total payload. But by combining bitter determination and an "absolutely, positively" unshakable faith in his business model, Smith grew FedEx into one of the world's largest airlines without carrying a single passenger. Today the company has a fleet of 660 aircraft that routinely visit more than 375 airports in more than 220 countries. FedEx operates 90,000-plus trucks, has more than 300,000 employees, and generates annual revenues in excess of $43 billion.
In addition to being an extraordinary entrepreneur, Fred Smith is an extraordinary human being and yes, he is a pilot.
Fred Smith is the most recently sustained member of the "Lifetime Aviation Entrepreneurs" honored. Past Recipients include Charles Gates, Clay Lacy, Steven F. Udvar-Hazy, Al Ueltschi, James Raisbeck, Sir Richard Branson, Joe Clark, Delford Smith, J. Robert Duncan, and David Neeleman.
Charles Gates was awarded the "Lifetime Aviation Entrepreneur Award" in January 2003. Gates purchased the Learjet company from Bill Lear in 1974 and developed the Gates Learjet product line. Charles Gates was involved with many aspects of aviation until his death in 2005, and left a great aviation legacy.

Clay Lacy, the 2004 award recipient, was one of the first distributors of Learjet, and designed the camera systems for air-to-air filming revolutionizing aerial photography. Clay operates Clay Lacy Aviation at Van Nuys Airport and another FBO at Boeing Field in Seattle. With more than 60,000 flight hours, Clay has more flying time than anyone else on the planet, and is a well-known and highly respected aviation entrepreneur.

Steven F. Udvar-Hazy, the 2005 recipient, changed the world of commercial aviation by providing airliner aircraft leasing. Founder of ILFC and later Air Lease Corporation, Steven Hazy donated the
initial money to build the "Nation's Hangar" at the Smithsonian, providing housing for historic aircraft and aerospace vehicles. He continues to innovate and create relationships globally through Air Lease Corporation.
AL Ueltschi was an airline pilot for Pan American Airlines. He was the personal pilot for Juan Tripp, the founder and owner of PanAm. Ueltschi recognized the need for all pilots, including pilots of business aircraft, to get flight training and testing, making safety the Number 1 priority. He founded and was CEO of FlightSafety until his death in 2012. His legacy continues, as training and saving lives is FlightSafety's top priority.
James Raisbeck, the 2007 recipient, is owner and founder of Raisbeck Engineering. His innovation and engineering genius has impacted clients around the world.
Sir Richard Branson, the 2008 recipient, is the marketing genius behind the well-known and recognized "Virgin" brand. He currently is selling seats on Virgin Galactic space flights.
Joe Clark, the 2009 recipient, is founder and CEO of Aviation Partners and Aviation Partners Boeing. Aviation Partners has developed and engineered winglets for a variety of aircraft. Saving fuel and adding efficiencies to aircraft, his profound legacy is directly connected to saving the environment and sparking many innovations during aviation's 2nd hundred years.
Delford Smith is the 2010 recipient of the Lifetime Entrepreneur Award, and founder and CEO of Evergreen Aviation, a multi-facetted aviation company that uses helicopters in forestry, fire fighting, military transport, and environmental spraying applications for large geographical areas. Owner of the Spruce Goose and other historic aircraft, he houses beautiful, historic aircraft in his museum in Oregon.
2011's recipient, J. Robert Duncan, built Duncan Aviation into a global company using his entrepreneurial skills and building Duncan's famous reputation as the top avionic installations business. His son now represents the third generation of the family business, located in Lincoln, Nebraska.
David Neeleman, the 2012 recipient of the Lifetime Aviation Entrepreneur Award, was selected by fellow "Living Legends of Aviation" to receive their highest honor because of his dauntless entrepreneurial spirit in creating four airlines, including Morris Air, WestJet, JetBlue, and more recently Azul Airlines in Brazil. He also developed a reservation system that is used today by many airlines.
Polled, the preceedng "Lifetime Aviation Entrepreneur" honorees concluded that with Fred Smith's name associated with this award, it is an enhancement beyond equal. Fred Smith deserves an award unequaled to any recognition ever presented to an individual in aviation. No one in the history of aviation has eclipsed Howard Hughes or affected the world of business aviation or the world through aviation more than Fred Smith.
The "Living Legends of Aviation Awards" are held the third Friday of each January at the Beverly Hilton. There are currently 88 Living Legends of Aviation that meet once a year to celebrate accomplishments in aviation and recognize significant contributions during the 2nd hundred years of flight. A "Living Legend of Aviation" is defined as an entrepreneur, industry leader, innovator, astronaut, record-breaker, a celebrity who has become a pilot or a pilot who has become a celebrity.
Awards are presented to both the Industry and Entrepreneurial sides of aviation. John Travolta, the official "Ambassador of Aviation" and host of the event, welcomes the 700 VIP guests. Harrison Ford presents the "Harrison Ford Aviation Legacy Award" each year to someone that makes the world a better place through aviation. Bob Hoover has presented the "Bob Hoover Freedom of Flight" Award to 16 worthy recipients. The "Vertical Flight Award" is sponsored by Bell Helicopter and is presented as the "Vertical Flight Hall of Fame" recognition.
The Living Legends of Aviation Awards is produced by the Kiddie Hawk Air Academy, a 501-c-3 organization whose mission is to educate and spark children's interest in aviation. For more information or to reserve tickets: www.livinglegendsofaviation.org.
Comments
comments