By Shari Valenta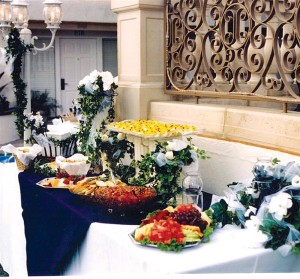 Isaac's Distinctive Catering, located a stone's throw from McClellan-Palomar Airport, in Carlsbad, Calif., has everything from bagels to Chicken Marsala-and a staff that has over 60 years of experience in food service and fine dining. Isaac's will create and deliver your every culinary wish. Some of the customer's favorites include assorted wraps, deli sandwiches and Mexican buffets for lunch, as well as mouthwatering dinners that include meat or vegetable lasagna, filet mignon or stuffed trout. Mini crab cakes, artichoke dip and stuffed mushrooms are some of the delectable appetizers.
For breakfast, some best-loved fares are chocolate croissants, breakfast cakes or an omelet station with a chef preparing omelets to order. In addition, there are low-carb options. Bartending services are offered, and they have on-hand catering supplies and equipment to rent for large events and weddings.
All food is made fresh the day of the event. While they sometimes do private events and weddings, this gourmet operation mainly caters to corporations and has over 300 repeat customers.
Owner Richard Bier created Isaac's six years ago. He has 24 years experience in food service and is armed with a marketing background to boot. After working for an institutional food service distributor in Pennsylvania, Bier relocated to southern California to work for Rykoff-Sexton, a food service distributor (presently called U.S. Foodservice, Inc.) and soon after, went into business for himself.
"I was hired for sales and marketing for southern California," remembered Bier. "One of the accounts that I marketed for was a bagel shop that was financially struggling. I really wanted to do something for myself so I bought this bagel shop (called Bonjour Bagel) to do on the side. It didn't take too many months in the business to find out that you have to sell millions of bagels to make a living. The hours were horrendous; you had to start baking at two in the morning."
Bier said they had to start that early to make bagels the way they're supposed to be made.
"Bagels made on burlap and stone are real bagels, and that's how we made them," he said. "Unfortunately, most of the population in southern California doesn't really care what a bagel is; for the most part, they're basically looking for round bread with a hole. A real bagel has a soft shiny finish and is a little harder. Most bagel shop chains just spray on water and spin them around in an oven; they don't even boil them."
You can order a "real" bagel from Isaac's, only Bier and his staff have found a more efficient way to provide fresh bagels.
"Now what we do is we finish off our own bagels, but we buy them from someone who does the grunt work," said Bier. "We have them par-baked (partial baked) until they aren't quite finished. Then we finish them as needed. So, it's still the same bagel that we had before, only we don't do the boiling or the stone ovens."
The bagel shop metamorphosed into a sandwich delivery business.
"When we started catering from the bagel shop, we were near an industrial area and corporations were requesting us to deliver bagels that had cream cheese," said Bier. "Later, it went to sandwiches; now, it's Chicken Marsala and pretty much anything people want."
Bier said that owning the shop brought him to the realization that he doesn't really enjoy food preparation, and that he's not a chef.
"I don't have those desires," he said. "So, I hired people that are very good at those things around me. Right now, I have four chefs on staff and a total of 15 employees."
One of Bier's most valued staff members and friends has been working with him since the very beginning. Bier met Ignacio "Moe" Valencia, who is chef and general manager at Isaac's, when Bier was marketing for Rykoff-Sexton, and Valencia was a customer. After Bier bought the bagel shop, Valencia told him he wanted to work for him, and that he would do so for a month, with no pay, to prove himself.
"I never had anyone approach me like that," Bier said. "Obviously, I didn't hire him for no pay. After a month, he displayed to me his confidence and abilities and has worked for me ever since. It's been a good relationship. He can do what he's gifted at, without having to worry about understanding the marketing side."
Nancy Sutton, who takes all the orders and takes care of the administrative duties, describes Valencia's talent.
"He's a great chef; he really pushes himself to learn and do new things," said Sutton.
Isaac's well-qualified crew creates their magic in a kitchen of over 5,000 square feet. The growing business has served over two million palates since the business began.
"All of our staff has been hired out of the country club circuit in San Diego County," boasted Bier, "So what we're delivering to the planes at the airport is indeed country club food service in aviation form."
Bier decided long ago to distribute one-of-a-kind entrees and offer fresh unprocessed food at the same time.
"I made a decision that everything gets done fresh that day," explained Bier. "We're roasting our own turkeys, and doing everything from scratch."
Bier's expertise in food quality has taught him that a lot of caterers purchase processed food with additives.
"Most of what is bought today, specifically the turkey and the protein that you buy in sandwiches, have a tremendous amount of additives like carrageenan and modified food starch," he said. "It's not bad for you, but it doesn't lend to turkey being turkey. Carrageenan is a derivative from seaweed, and if you put a tablespoon of it into 16 fluid ounces of water, it will turn solid as cement."
Another thing Isaac's does to ensure freshness is control the temperature of the cuisine prior to delivery. Vehicles are equipped to hold hot or cold boxes so they are delivered at the optimum temperature.
"It can be anything you want. It can be live lobster from Maine, filet mignon, or a bologna sandwich-anything you describe, we can do," said Bier.
Isaac's Distinctive Catering is located at 2051 Palomar Airport Road, Suite 200, in Carlsbad. For more information, call 760-931-0267 or visit [http://www.isaacscatering.com/].
Comments
comments