By Terry Stephens,
Early this year, Galvin Flying Service at Boeing Field installed the first Frasca International flight simulator in the nation equipped with the Garmin G1000 glass cockpit avionics system. The simulator features a 170-degree project visual display with TruVision software that provides pilots with realistic out-of-the-window views.
Custom databases and satellite technology provide realistic scenes and authentic terrain images, while the G1000 system offers graphically illustrated state-of-the-art flight information. Flight school chief Nick Frisch thinks the new Garmin G1000 is revolutionary—not simply evolutionary—in the world of general aviation.
"For pilots who want to learn how to fly with glass cockpits, there are tremendous advantages in using the G1000 avionics, because they're already well on the way to becoming the industry standard," Frisch said.
He noted that the system already is used in a variety of new aircraft built by Cessna, Diamond, Grumman, Mooney, Beechcraft and others.
"It's not just a navigation system, it's everything together. This is a powerful system that's also revolutionary in its level of standardization. Pilots trained in any aircraft with this system will feel familiar in other G1000-equipped airplanes," he said. "Think of how much easier that will make flying in several different craft."
Galvin has held two weekend flight schools with the system and plans to offer at least one course each month during the summer, with space for as many as eight pilots in each class. Frisch said he'll offer two courses a month if enough pilots sign up. The fee for the weekend classes is $599, plus about $300 for a set of manuals from the manufacturer of the aircraft of the student's choice.
Founded in 1930, Galvin is the oldest flight training organization in the Pacific Northwest. The company trains about 75 new pilots each year; about 60 more go through classes for their instrument rating, using a fleet of Diamond Star, Cessna 172 and Columbia 400 aircraft.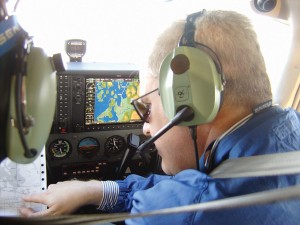 Frisch said Galvin plans to use the Frasca International flight simulator with the Garmin G1000 system to increase its emphasis on instrument, commercial and multi-engine flight programs, specializing in advanced technology training. The arrival in May of Galvin's two new Diamond Twin Stars, equipped with powerful new Thielert diesel engines, underscored the company's commitment to multi-engine, high-tech pilot training.
"We train a lot of new pilots, but there's an awful lot of competition in that area in the Northwest. By taking a leadership role with the G1000, we should become the obvious choice for any pilot who wants to learn how to fly with sophisticated glass-cockpit avionics," he said.
Acceptance of the new glass cockpits in general is growing fast, Frisch said, particularly as they become more standardized and sophisticated. When light aircraft instrument panels were standardized with six basic instruments in a "T" configuration in 1973, most manufacturers adopted the "six-pack" because it helped immensely to organize the cockpit. Today, for the same reason, manufacturers are adopting the Garmin G1000 to standardize the use of high-tech avionics in a variety of aircraft.
The glass-panel, computer-driven system provides the same information as the six-pack gauges as well as location, navigation, communication and identification data, so that all flight-critical information is easily found, and in more abundance than ever before. One option even includes four-color digital weather images.
"With proper training, pilots learn how to function with a lot more situational awareness than they've been used to," said Rob Price, who shares G1000 flight instruction roles with Bruce Williams. "They also get constantly updated information on their screens about storm locations, temperatures, terrain and other things. It's a safety issue, too. Older instruments with vacuum pumps only have a life of about 1,000 hours, if you're lucky, and vibration and other factors can cause instrument failure when you least expect it,"
Price and Williams both have background in designing and conducting training for computer user interfaces.
"When we saw the G1000 coming, we came up with the best way to teach in this new environment, using a multimedia, computer-based approach, video and the first G1000 simulator in the nation," Price said.
Frisch said learning the new G1000 system is like learning a new computer program. It takes a lot of time. Once the operation of the software and hardware is familiar to the students, they're moved to the Frasca flight simulator.
"Once they've learned how the system works, the simulator teaches them how to work the system," he said. "Pilots are excited about this because it used to be that the military got all the neat stuff first, then the airlines, then corporate planes and finally general aviation aircraft. This time GA pilots are getting avionics early on that compares to a 767 cockpit."
For more information, contact Nick Frisch at Galvin Flying Service at 206-763-9706, send email to flight@galvinflyng.com or visit [http://www.galvinflying.com].
Comments
comments