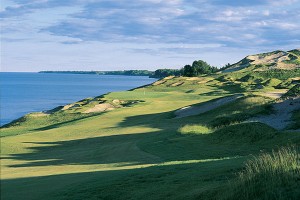 Through a special EAA Gathering of Eagles pre-event auction, you have a chance to golf at the famous courses of award-winning Destination Kohler on Wednesday, July 27, with Burt Rutan and Brian Binnie!
Burt Rutan—innovator, engineer, dreamer, entrepreneur, designer of SpaceShipOne and White Knight, and triumphant victor in the $10 million Ansari X PRIZE challenge—along with civilian astronaut Brian Binnie—who piloted SpaceShipOne into space—will join you and your guest for a round of golf during EAA AirVenture Oshkosh 2005, "the world's greatest aviation celebration," on one of the Destination Kohler golf courses.
For package one, you'll travel with Rutan and Binnie from Oshkosh, Wis., to Whistling Straits for an 8:20 a.m. tee-time at Blackwolf Run, and enjoy lunch before heading back to Oshkosh for an afternoon of EAA AirVenture excitement and fun. Blackwolf Run offers an award-winning 36 holes of championship golf in Kohler, Wis. Its two 18-hole courses have been skillfully carved out of the natural environment and are designed for golfers who appreciate the game's great traditions. Both courses at Blackwolf Run, the River Course and the Meadow Valleys Course, were designed by renowned course architect Pete Dye and given names to reflect the natural features of the terrain.
With package two, you'll also enjoy lunch with Rutan and Binnie, have a 3:50 p.m. tee-time on the Whistling Straits course, and then travel back with Rutan and Binnie. Whistling Straits is host of the 2004 PGA Championship, 2007 U.S. Senior Open, 2010 PGA Championship, 2015 PGA Championship and 2020 Ryder Cup. It's an extraordinary combination of legendary design by Pete Dye and visionary inspiration of Herbert V. Kohler Jr. Beginning with a 560-acre parcel of flat land, Dye sculpted a bit of Ireland and a touch of Scotland out of the Wisconsin coastline.
The auction will run 10 days only, from July 5 to July 15. Winning bidders will be announced on July 15.
For auction instructions and to bid online, visit [http://www.airventure.org/auction]. For course information, visit [http://www.destinationkohler.com].
Comments
comments