By Laurie Lips
When President Dwight D. Eisenhower took office in 1952, he rejected using Truman's "Independence" as his presidential airplane. He chose a Lockheed Constellation, and would, during his administration, utilize three of these, which were named the Columbine I, II and III.
Shortly after Eisenhower suffered a heart attack in the mid-1950s, he was transported from Washington D.C. to his farm in Gettysburg, Penn., on a stretcher, and spent time recovering there.
"Ike" had a private grassy airstrip on his farm, which was 70 miles away from Washington, D.C. It was too short for heavy transports, however, so a search was made for a plane that the government deemed safe for transporting the president and his family on weekend trips and vacations to and from the farm.
A specialized U-4B (L-26C Aero Commander 680 Super) was ordered for this purpose. Two planes were built for the White House fleet—one for the president (SN 55-4647) and one for the transport of the secret service.
In the meantime, an Aero Commander 560 demonstrator was "loaned" to the Air Force to use as the presidential plane. Once his Aero Commander arrived, the little airplane, which could carry a crew of two and four passengers and had a cruising speed of about 190 mph, shuttled back and forth from D.C. to Gettysburg.
Besides Eisenhower, other VIPs flew in the U-4B including Vice President Richard M. Nixon, and President-elect John F. Kennedy and his wife Jackie. The president of Mexico traveled in the aircraft as well as several other heads of states and dignitaries from foreign nations.
After Eisenhower left office, it was used for transporting high-ranking officials around. After helicopters were approved for use, there was no longer a need for the small aircraft.
In the 1950s and the 1960s, many considered the U-4B/Aero Commander 680, which came off of an Oklahoma assembly line, as the finest corporate plane money could buy. Many Fortune 500 companies utilized it.
So, where is the Aero Commander 680 today? In 1977, Bill Duff, the owner of J.W. Duff Aircraft Company in Colorado, acquired an Aero Commander 680 as part of a trade with the Nebraska Civil Air Patrol. Logbooks showed that the aircraft had last served the Air Force as a parachute jump aircraft at the Air Force Academy in Colorado Springs. It flew thousands of hours over the academy, before ending at Duff's aviation graveyard.
The plane idled in Duff's salvage yard for over 15 years. Facing eimminent doom as a pile of scrap metal, the famous aircraft was discovered by aviation artist Rick Broome, who knew the history of the aircraft.
| | |
| --- | --- |
| Broome had worked for Duff when he was a teenager and was shocked to learn Duff had the aircraft! According to Air Force records the famous former Air Force One had been scrapped at Davis Montham AFB in 1977. Broome was doing research for a painting of the aircraft for the academy and contacted his old friend to take research photos of a scrapped Commander.Once Duff knew what he had, he allowed Broome to research the find and determine the value of the aircraft. Broome spent over 300 hours doing research that resulted in great interest from the Air Force in acquiring the aircraft for their Air Force Museum at Wright-Patterson AFB in Dayton, Ohio.Following several years of negotiations, Duff reached agreement with the museum and plans were set to restore the aircraft. Under his contract with the museum, he would restore the plane completely to its original configuration. The completed museum artifact had to be represented exactly, according to the original manufacturer's specifications (as described in Aero Design and Engineering Co. work release order 2277A, form 118B for 55-4647) and specific drawings. | |
The restoration and repair had to have original components. An "R" would be stamped or inscribed on all reproduced parts and components used in the aircraft to differentiate them from original parts. Documentation of those items must get approval by the Museum Restoration Division. Duff's acres of salvage parts would come in handy.
Ted Smith, the original designer of the Aero Commander, worked for Douglas Aircraft Company as a senior design engineer during the war and designed the A20 Havoc and the B-26. A true visionary, Smith set to work with his engineers to design corporate planes after the war that would be comfortable, safe and quiet.
The Aero Commander was a miniature version of the B-26 Invader. Bigger engines were a thing of the future, and his group started to work on designing a solid, integral unit airframe—the first of its kind. If there were an accident, however, the expense would be dramatic; the only way to repair the plane would be to remanufacture the surface.
The original 680 flew with 340-hp Lycoming GSO-480-AIA engines mechanically supercharged and geared to get maximum power. In 1951, the design prototype Aero Commander flew nonstop from Santa Monica, Calif., to Washington D.C., on one engine.
The original 520 series was fitted with more powerful engines and re-designated the 560. A swept tail design was also incorporated on this first series upgrade. The 680 series followed this design philosophy with even more powerful twin 340-hp engines. Smith combined the horsepower of both engines to name his aircraft series; thus this improved aircraft was given the aircraft designation 680.
Eisenhower's Aero Commander was produced in April 1956. It was painted blue and white; the military Air Force Ones before the Commander were aluminum finish.
The cockpit layout was impressive. Control wheels were mounted from the floor rather than from attachments on the instrument panel, and they sported an overhead panel for engine starting.
When Duff restored the aircraft, all internal areas of the airframe structure and exterior surfaces had to be cleaned, chemically treated, primed and/or coated as required in accordance with the appropriate aircraft tech order. The engines had to be in airworthy condition and suitable for the flight delivery. The Hartzell propellers also had to be airworthy, and had to have anti-icing shoes installed per original specs.
All cockpit controls, indicators, instruments, flight controls, lighting, etc., had to be cleaned and installed, and included specific wiring, plumbing and cabling. The cabin interior was restored to the original presidential configuration; the interior was configured for six (optional seating plan #5), having the rear bench seat with two seat belts, center arm rest, double pilot curtains, passenger window curtains, coat hanger in baggage compartment, collapsible table and flight deck sun visors. Colors and fabrics had to be custom made. Don Connelly, out of Jefferson County Airport, did the upholstery. The stars and paint on the Commander had to be right, too. One quart of the yellow paint used for the star cost $580.
In July 1996, the Aero Commander was flown from Denver to the U.S. Air Force Museum at Wright-Patterson AFB Dayton,- Ohio, where General Charles D. Metcalf, the museum director, formally accepted it. The Commander now proudly resides in the museum's Presidential Aircraft Hangar. Other aircraft on display in that hangar are a Douglas VC-54C "Sacred Cow" and Douglas VC-118 "Independence," a Lockheed VC-121E "Columbine III," a Bell UH-13J "Sioux," a Boeing VC-137C (SAM 26000), a Beech VC-6A, a North American T-39A "Sabre Liner" and a Lockheed VC-140B "Jetstar."
Junkyard "Air Force One" Discovered
It wasn't the first time I had stopped by Duff's junkyard to try to gain entrance. Bill Duff had a reputation of being gruff and unwilling to allow access to his famous aircraft junkyard.
On this day, I found Bill in an uncharacteristically quiet and melancholy state. He said, "Willy died." Willy was Duff's junkyard dog, and after 18 years of service, had gone to Rottweiler heaven. He had served Duff faithfully and had provided the perfect excuse for Duff keeping his intruders at a minimum.
"Bill, I'm so sorry to hear such news," I said. "We lost our Poochie a few years back, and I know it's tough. By the way, I just want to take a stroll around the yard, take some pictures and reminisce where Old Willy spent his time."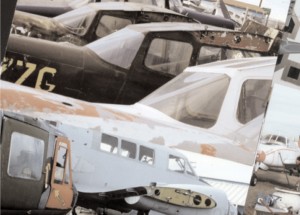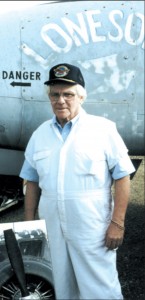 Duff said, "The gate's open." With sand halfway up their wheels, some aircraft look  like they've been parked in the same place for 50 years. Ercoupes all in a row, Beech 18s with their shredded fabric tails blowing in the breeze. As I walked by a Norseman, I couldn't resist getting in and taking a seat, looking around the cabin. I found myself carrying on a conversation with Glenn Miller. I told him how much my mother enjoyed his "Little Brown Jug," "Chattanooga Choo Choo" and "Pennsylvania 6-5000." Miller said, "The weather was marginal that evening." He explained that the Norseman had this big engine and a fabric-covered fuselage, creating a cabin noise level that made it almost impossible to communicate with the crew. He wasn't sure just what happened, but they never made it across the channel.
I next stepped into a Huey–one that had survived Vietnam, only to be inducted into Duff's open-air mausoleum. Hundreds of aircraft are here, military and civilian, T-6s, DC-3s, Convairs, everything from nearly complete aircraft to piles of gnarly, twisted aluminum, representing the violent ending of pilot and craft. They're all here, and with my Nikon now empty, it was time to go.
Comments
comments