Featured in 2004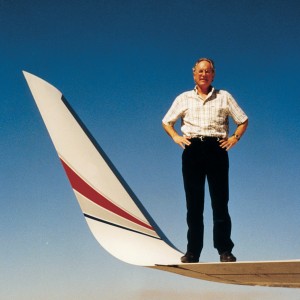 Joe Clark, founder and CEO of Aviation Partners Inc. and chairman of Aviation Partners Boeing, lives by thought-provoking philosophy: "The most reliable way to predict the future is to invent it." When it came time to put his philosophy into action, those closest to Clark weren't surprised regarding which area he chose.
"Joe Clark flies so much that the other day he took off his jacket, and feathers fell out," quipped Dick Friel, senior VP of marketing and sales for API and senior VP of marketing and communications for APB.
Friel gets serious and shares what he knows about his friend of more than 30 years.
"He loves everything about aviation—flying around the world or in the local area," he said. "His happiest times are in flight."
His innovations within the field led Airport Journals to choose Clark as the recipient of the 2004 Michael A. Chowdry Aviation Entrepreneur of the Year award. Through blended winglet technology, Clark has made a dramatic and lasting impact on the industry, including extraordinary fuel savings and a positive environmental impact.
"Winglet technology is just an extension of his vision about the design, development and creation of innovative plans for planes," Friel said.
Clark's entrepreneurial spirit, energy and innovative skills, according to Friel, are "the hallmark of Joe's leadership and success in the aerospace business."
"It's exciting to be around Joe, because you never know what his flight plans are for the future of Aviation Partners," Friel said. "He loves aviation and is dedicated to making it better. He thrives on ideas for performance enhancement and environmental benefits for business and commercial aviation."
Clark led the development effort in that technology when very few people understood what a huge impact the technology would have on business and commercial aviation.
Since developing the patented blended winglet in 1991, API and Aviation Partners Boeing, a joint venture with The Boeing Company, have changed the economics of flight by dramatically improving wing efficiency and aircraft productivity. The original blended winglet, designed for the Gulfstream II business jet, defied all industry predictions by reducing overall aircraft drag and boosting range by more than 7 percent. Up until then, aircraft would've had to be entirely redesigned or re-engined to achieve such measurable performance increases.
More than 500 Boeing 737s had been outfitted with APB blended winglets by 2004, and the company had taken orders for more than 1,200 additional shipsets. Southwest Airlines, Continental Airlines and Alaska Airlines are just a few of the 33 major carriers in the process of upgrading to blended winglet technology. More than 90 Boeing Business Jets are blended winglet-equipped as standard delivery configuration. API has successfully performance-enhanced more than 70 percent of the Gulfstream II fleet and recently certified a blended winglet program for Raytheon Hawker 800 and 800XP business jets.
The average blended winglet-equipped Boeing 737 saves more than 110,000 gallons of jet fuel each year. If Boeing retrofitted all its aircraft worldwide with blended winglet systems, fuel savings would be close to two billion gallons each year.
Blended winglets are markedly larger and of wider sweep than the traditional small, angular winglets seen on earlier generation aircraft. Once a business or commercial aircraft upgrades to this "visible technology," the benefits extend over the entire economic life of the aircraft. An added bonus is a significant global environmental impact.
Clark says he loves being involved in a business that's "fun." Part of that fun is what people say about his product.
"It's very unusual to have a product where people come up to you and say, 'You build the coolest stuff,'" he said.
Headquartered in Seattle, API initially designed a performance enhancement system for the GII wing, to explore the possibility of improving its range and performance.
"Winglets can be put on any airplane, making it more fuel efficient and quieter, and it'll put fewer pollutants in the air," Clark said. "Usually, they substantially improve performance."
Clark carried out his vision through a highly experienced dream team of aerospace professionals, consisting primarily of retired Boeing/Lockheed engineers and flight test department heads.
Comments
comments