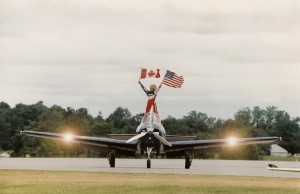 Featured in 2007
Julie Clark didn't begin trying for a job flying with an airline to prove a point for womankind; she did it to fulfill her lifelong desire.
"All I ever wanted to do was fly!" she said.
When she found out Golden West Airlines, a commuter operation in San Francisco, was hiring, she determined to get a job there. On her first call, she was told the company had never hired a woman. The next time, she was told she'd have to attend ground school in Canada, to be able to fly the de Havilland Twin Otter.
"The school was geared for Canadian pilots who flew the bush," she said. "They had to fly, fix and dispatch their own airplanes. I talked to my husband about taking a loan out on the house to pay for training. It was difficult, but I came back with my certificate in 1976."
When Golden West still wouldn't hire her, Clark applied to 30 different airlines. Knowing that her gender posed a problem, she became creative with her resume and applications.
"I removed my resume photo and wrote down my name as Julian. And that box that says, 'Sex: F or M?' It's always a little, teeny square, so I'd just skip it, like I hadn't seen it," she laughed. "But nobody called me. And if I called them, they'd hang up on me. It was very discouraging."
Nine months after she first began calling, Clark finally did interview at Golden West. The airline put "the girl from San Joaquin" through a seemingly endless series of interviews.
"Capt. Abe August, the chief pilot, finally told me he'd hire me, but said I'd have to cut my hair," she said. "It went from waist-length to chin-length, but he still said it wasn't short enough. I was crushed, but I went home and cut my hair shorter than my husband's."
Clark knew August was giving her the break she needed and that he didn't want to give anyone a reason to make waves. However, she still wasn't in the door. In fact, the lack of a door was standing in her way; the operations area at Los Angeles International Airport had a men's restroom that didn't have a door.
"When I went back for that final 'final interview,' Capt. August said, 'We still have an obstacle.' It was that door," Clark exclaimed. "I leaned over his desk and said, 'I'll buy a damn door if you'll just hire me!' He liked my spunk."
Clark took her last flight for Western Sierra on June 23, 1977, and started flying with Golden West. On reserve and based in Los Angeles, she was the only woman among 110 pilots.
With Golden West, most of Clark's flying was out of LAX to Ventura, Santa Monica, Ontario and Orange County, Calif. After five months, she received offers from both Western Airlines and Hughes Airwest.
Clark wanted to work at Hughes Airwest, headquartered in San Francisco, but not because the company had already hired her husband. The airline was a culmination of mergers. Air West was formed in 1968 with the merger of Pacific Airlines, Bonanza and West Coast. The airline became Hughes Airwest after Howard Hughes purchased it in 1972. Clark was thrilled to think she would be flying with a company that had been part of her father's airline career and flying the same airplanes he flew.
With her move to Hughes, Clark, based in Phoenix and flying the F-27, became one of only 20 women flying for a major U.S. airline as a first officer.
Comments
comments