By Jamie Runyan, KCIA Acting Operations and Compliance Officer
After the events of Sept. 11, 2001, general aviation has undergone intense scrutiny by the public as a potential avenue for terrorist activity. Prior to 9/11, security problems at general aviation airports revolved around conventional crimes such as vandalism, aircraft and avionics theft, and breaking and entering. Now, the everyday single-engine Cessna 172, which is a popular flight training aircraft, may be viewed as a potential weapon.
In addition to ensuring the safety of airport passengers, pilots and personnel, King County International Airport is responsible for implementing security measures to ensure the highest level of protection for airport buildings, airfield equipment and aircraft. Therefore, KCIA is launching the newly created Airport Owners and Pilots Association Airport Watch Program as an added security measure to involve the entire KCIA airport community. If the 600,000 pilots in the United States, their passengers, and others who work at airports become more aware of their surroundings, a priceless and effective security system will be created.
The AOPA Airport Watch Program is a partnered effort by the AOPA and the Transportation Security Administration. These two groups have teamed up and developed an aviation-based security initiative to reduce the public's fear of general aviation aircraft and to enhance the security at over 5,400 public use airports.
The Airport Watch Program foundation is built upon the philosophy of neighborhood watch. Much like the neighborhood watch programs across the country, pilots and airport personnel are asked to keep their eyes and ears open to anything unusual and report it to local or nationwide authorities. As part of the program, a toll-free hotline (1-866-GA-SECURE) has been established for anyone to call if something suspicious is detected at an airport. In the event of an immediate threat or emergency, KCIA encourages you to call KCIA airport police, staffed 24 hours a day, 365 days a year, at (206) 296-7392.
KCIA has begun implementation of this program by receiving the official AOPA Airport Watch Program video and presenting the program to airport personnel. This video is available for airport users and tenants to view at KCIA. Additionally, KCIA intends to distribute this video to fixed based operators and flight training schools at the airport. Furthermore, once KCIA receives the official AOPA Airport Watch Kit, the airfield will be flooded with signs, posters and brochures promoting the program and reminding pilots of the toll-free hotline number.
As part of the program, AOPA encourages everyone at airports nationwide to be aware of any of the following conditions and report it immediately to the National Response Center (1-866-GA-SECURE) or by contacting local authorities. These conditions include:
* Pilots who appear under the control of someone else.
* Anyone trying to access an aircraft through force—without keys, using a crowbar or screwdriver.
* Anyone who seems unfamiliar with aviation procedures trying to check out an airplane.
* Anyone who misuses aviation terminology.
* People or groups who seem determined to keep to themselves.
* Any members of your airport neighborhood who work to avoid contract with you or other airport tenants.
* Anyone who appears to be just loitering, with no specific reason for being there.
* Any out of the ordinary videotaping of aircraft of hangars.
* Aircraft with unusual or obviously unauthorized modifications.
* Dangerous cargo or loads—explosives, chemicals, openly displayed weapons—being loaded into an airplane.
* Anything that strikes you as wrong—listen to your gut instinct and then follow through.
* Pay special attention to height, weight and the individual's clothing or other identifiable traits.
In addition to AOPA recommendations, KCIA encourages pilots and airport leaseholders to regularly attend tenant meetings to become more familiar with their airport neighbors as well as to strengthen the KCIA aviation community. All KCIA based aircraft pilots and airport tenant personnel are also required to wear their airport-issued identification badge.
Furthermore, the Federal Aviation Administration is now mandating that all pilots carry government-issued photo identification and their pilot certificate with them at all times regardless of the airport.
After KCIA staff viewed the Airport Watch Program video and was educated on the program's fundamental concepts, Michael Colmant, acting airport director stated, "The people at KCIA are our greatest asset. Those familiar with our environment—based pilots, tenants, their employees, airport maintenance personnel—know what looks right and what may appear out of place. We want them to be vigilant in their day-to-day activities and report anything suspicious."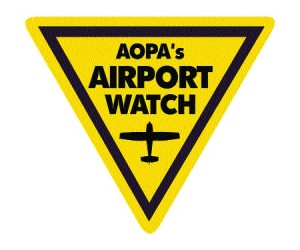 KCIA looks forward to building an even more secure airport environment with this newly introduced nationwide program and the support of the AOPA and TSA. This program is based on a simple concept of keeping our eyes and ears open to our surroundings. We have the power as an airport community to make a difference in preventing and protecting our aircraft, airports and communities from terrorist or criminal activity.
For further information or to view the AOPA Airport Watch Video, visit the AOPA website at www.aopa.org/asn/watchindex.shtml. For more information on KCIA, visit our homepage at [http://www.metrokc.gov/airport].
Comments
comments