By Michael Colmant, KCIA Assistant Airport Director
Five years after the Nisqually earthquake extensively damaged King County International Airport main Runway 13R/31L, the airport is finalizing its plans to rehabilitate the 10,000-foot pavement. As detailed in the March issue of the Pacific Northwest Aviation & Business Journal, the 6.8 magnitude earthquake severely damaged sections of the airport's main runway, as well as other facilities. Immediate but short-term measures were undertaken to repair the runway and restore business operations two weeks following the disaster event.
Last overlaid in 1985, the runway has continued to age and has reached the end of its economic 20-year life. Following receipt of a funding commitment by the Federal Aviation Administration for 95 percent of the design and construction costs, the airport commenced with its plans to rehabilitate the pavement structure and associated facilities. Project design has been completed and includes the following components:
*Resurfacing Runway 13R/31L and connecting taxiway intersections
*Reconstructing selected connecting taxiway intersections
*Installing a perimeter drainage system
*Replacing runway edge lights and cabling
*Installing runway guard lights at hold lines
*Pavement grooving
*Runway painting
KCIA's customer base—manufacturing, air cargo, corporate aviation, military, flight testing/certification—creates a unique mix of requirements. All require use of the main runway; however, the time of day and frequency of use varies for each group, posing a challenge for the airport. All construction phasing alternatives identified by the airport in its project planning impact the runway's users to varying degrees. No single alternative meets with universal approval.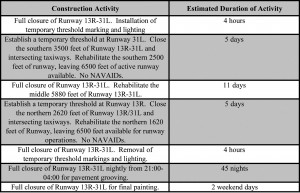 Feedback from an extensive communication program of tenant open houses, surveys and meetings identified two general themes:
1. Close the main runway and get the project completed as quickly as possible.
2. Perform the work on weekends, providing a useable runway for operations during the weekdays.
In all cases, tenants and aircraft operators stated the certainty of operations was critical for their planning purposes. KCIA's customers require that the construction plan, including closure schedule, be identified and communicated as early as possible, and that every effort be made to adhere to the advertised construction schedule.
In addition to input from its customers, KCIA sought input from experienced engineering consultants, as well as other airports that have completed similar projects. A plan was chosen that comprises two phases of temporary thresholds, providing sufficient length for nearly all users, together with a full, continuous closure to rehabilitate the center portion of the runway.
The details of the construction plan are listed in the above graphic.
Using temporarily displaced runway thresholds to provide 6,500 feet of active runway, together with a full closure for 11 days minimizes construction closure time, provides the greatest degree of certainty for aircraft operators, and is favored for safety reasons. In addition, this plan minimizes the number of repeated contractor mobilization and demobilization activities that are time consuming and impact the project schedule.
What's next? The project has been advertised to contractors for bidding. Bid receipt, evaluation and selection of a successful bidder is expected in the late April to early May time frame. At this time, construction is forecast to commence following SeaFair, in the week of Aug. 7, 2006. This schedule will be updated in May following detailed discussions between KCIA and the selected contractor.
Project updates will be available on the KCIA website at [http://www.metrokc.gov/airport].
Comments
comments