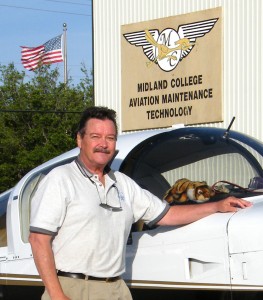 By J Carpenter
Mighty fine and a great big Texas howdy! Since this is my initial submission as a regular columnist with Airport Journals, let me introduce myself. My name is Jay Carpenter but you can call me "J." I've been submitting articles to the Dallas/Ft. Worth Aviation & Business Journal for several years now. Di Freeze graciously granted me a regular column in this great publication to focus on general aviation in Texas. I'm going to try and live up to the high standards set forth by such worthy contributors as Greg Brown and Cliff Robertson. I have my work cut out so let's get right to it.
Go west young man
I was born and raised in Texas. West Texas was home for the first 20 years of my life. After my birth in Big Spring, my parents migrated to the Madera Valley near Pecos and Balmorhea, on the edge of the Chihuahuan Desert where the Big Bend is located. Times were pretty good. Dad owned several airplanes ranging from the Piper Tripacer to the Cessna 180 tail dragger. He farmed cotton and made a decent living. We flew everywhere and landed anywhere. Starting at age 4, I'd stand up in the seat, peek over the panel and bank the plane in steep turns, Dad would recall. I thought everyone owned an airplane. I was a happy child.
However, in the late '50s, a severe drought decimated the cotton crops and a man named Billie Sol Estes bankrupted the local economy. Pecos was never the same. Just as I was approaching the age when I could begin 'formal' flying lessons toward a career in aviation, we went bust. I remember Dad tying down our furniture onto a cotton trailer behind his worn out Chevy pickup. All our belongings were moved to the South Plains near Lubbock. I couldn't help comparing my situation with the characters in Steinbeck's, "The Grapes of Wrath." Only this time the trek was in reverse. Our family moved from a nice town near the Davis Mountains to a place where the dust bowl still thrives to this day—Lamesa, Texas.
It wasn't until I was in my 40s and living in Austin that I could afford flying lessons. However, aviation was always in my heart. Presently, I own a small business in Austin and write at night. I've been published in the Aircraft Owners and Pilots Association's Flight Training, the Texas Aviation Association's Texas Flyer and the Texas Department of Transportation's Wingtips, along with D/FW A&BJ. I serve on the board of directors of TXAA and am a member of AOPA and the National Business Aviation Association. After receiving my private pilot certificate with an instrument rating, I purchased a Mooney M20E and later a Grumman Tiger, which takes me all over the state covering stories about GA. I don't "do" cars. Texas is just too big.
Texas pride
Fellow Texans know that folks from this region of the U. S. have an independent pride about our state. The title "Lone Star State" indicates that this land was once a Republic, after winning independence from Mexico in 1836. Such notables as Davy Crockett, William Travis, Jim Bowie and Sam Houston established this new nation. In 1845, Texas joined the United States. However, many of the self-reliant attitudes and opinions originating with our forefathers remain deep-seated in our culture.
For you folks outside our area, these attitudes may seem brash and self-centered. You would be right. There is no other country like Texas and all of its citizens take special pride in being Texan. However, before you judge us too harshly, look at our state motto: Friendship! That's right, pardner. There's no friendlier place than Texas. Yankees are welcome here. Even Californians are invited, as is demonstrated by the huge migration of Hummers and Porsches that arrive daily from the West. Wonderful hot BBQ, icy cold Lone Star beer and smiling faces greet every one that visits the Lone Star State.
Mission one
When Di asked me to write a regular column, I decided to focus on three subjects that pertain to general aviation in Texas:
Airports: Texas has approximately 300 airports that serve 27,000 state-based aircraft flown by 46,000 aviators logging 2 million hours each year. We have some of the finest state-of-the-art airports anywhere in the world. Dallas/Ft. Worth International Airport (DFW) is the third busiest airport in the world and George Bush Intercontinental/Houston Airport (IAH) is the sixth busiest airport in terms of daily operations. Texas has the second largest number of registered aircraft of all the states in the nation. General aviation employs 69,000 workers with a 2.5 billion dollar annual payroll. The total economic impact of GA in Texas is 8.7 billion dollars! Take in commercial service activity and the total employment zooms to 721,000. Total payroll exceeds $20 billion and the total economic output tops out at more than $48 billion (2005 Wilbur Smith Associates Texas General Aviation study sponsored by TxDOT Aviation). Everything is big in Texas.
GA issues: With the present economy waning, the price of fuel skyrocketing and the threat of user fees looming on the horizon, the environment for GA is changing at an alarming rate. New aircraft are coming into production each year. Keeping up with the economy and the evolving aviation technology creates a lot of late night reading by yours truly. Hopefully I can give you, the reader, a capsule of information to take with those two aspirin before calling the doctor in the morning.
Personalities and businesses: Texas is famous for its aviators, entrepreneurs and aviation-related businesses. I plan to focus on each segment from time to time with interesting folks, events and commercial operations. From barnstorming pilots to mom and pop fixed base operators to warbird restorers to high-level corporations that make the gears of our economy turn. All make a mark on the GA scene in Texas. You'll receive an up close and personal look at all aspects of GA in Texas as seen through the eyes of a native Texan.
There you have it—my life story and intentions in a thousand words. So sit back, relax in your armchair and fly the Lone Star Skies of Texas with me. Please fasten your lap and shoulder harnesses. It could get bumpy!
Comments
comments