By Fred "Crash" Blechman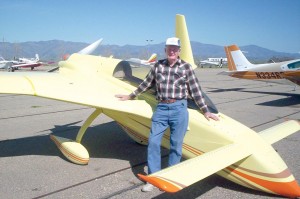 Long-EZ Flight to Santa Ynez
I recently had the pleasure of flying with a unique aircraft and equally unique pilot that set a world record for altitude. I flew from Camarillo Airport to Santa Ynez Airport with Dave Timms in his "Sun Dancer," N121DT, a home-built strange-looking airplane called a Long-EZ.
Dave spent eight and a half years building "Sun Dancer" at home in his garage. He has flown it for almost 1,600 hours since it was completed in 1988, including flights coast-to-coast, and from Alaska to Cabo San Lucas, Mexico.
The Plane
World renowned designer Burt Rutan, who has designed many record-breaking airplanes, designed the Long-EZ. There are several hundred airworthy Long-EZs flying today in many parts of the world. The airplane is very unique in many ways. It has a rear-mounted engine, a small wing up front and a large main wing, but no tail. In flight, the nose landing gear is retracted while the main landing gear remains fixed in place. Then, on the tips of the main wing are two vertical winglets-and it's built primarily of foam, fiberglass and epoxy.
Flight control is also unique. The front small wing, called a canard, has elevators that control pitch (like the original Wright Flyer), with ailerons at the rear of the main wing for roll. The winglets have rudders that operate independently for yaw, but act together as an air brake. Another air brake, a drop-down flap, is located under the front cockpit.
The Long-EZ is a pusher tandem two-seater with the pilot up front, although the pilot or passenger can control the airplane with wrist movement using a small joystick on the right side of each seat. Both seats have a throttle, but there are no instruments or rudder pedals in the rear seat. Baggage pods under the wing are optional for added luggage space and can be removed or attached in 30 minutes.
Although most light airplanes are constructed primarily of aluminum or tube and fabric, the Long-EZ is constructed of various density foam materials, covered with fiberglass and epoxy. It's sometimes called a plastic or composite airplane. This type construction provides a strong and lightweight structure having a very smooth skin. The result is an airplane with outstanding performance for speed, altitude and range, far exceeding that of factory production airplanes such as Cessnas and Pipers.
Dave's Long-EZ engine is a Lycoming 0320A 4-cylinder horizontally-opposed air-cooled engine that produces 160 horsepower. It's not supercharged. Without the two external removable baggage pods, the empty weight is 903 pounds. At 8,000 feet, it has a true air speed of 221 mph at 75 percent power. It holds 48 gallons of 100-octane low-lead fuel, and has a range of 1,252 statute miles at 60 percent power with a half-hour fuel reserve, and even further range at higher altitudes.
On Dec. 5, 1992, Dave set a Fédération Aeronautiqué Internationale world record for "altitude in level flight" in the "Sun Dancer" (Class C-1.a), having climbed to an altitude of 30,407 feet with an initial takeoff weight of 1,100 pounds. He wrote an excellent detailed (but non-technical) five-page article in the June 1963 issue of Sport Aviation magazine about the elaborate preparations for this flight. (For a free reprint of "New Altitude Record Set," send a self-addressed #10 envelope with 37-cents postage to Dave Timms, P.O. Box 1385, Simi Valley, CA 93062.)
Other Long-EZs have set world records for speed, altitude and range. Dave routinely makes nonstop endurance flights of 1,500 statute miles while cruising at 17,500 feet.
The Pilot
Dave Timms, 65, first became interested in flying when he was around 10 years old.
"I used to live in New Jersey," he recalls. "We were on the approach going into New York-both LaGuardia and Idlewild-now Kennedy. There was a lot of traffic flying overhead, including World War II traffic. After watching all those planes, I decided I'd like to fly an airplane."
He joined the Air Force in 1956, hoping to become a pilot. They had a flying club, so he took lessons on weekends, soloing an Aeronca Champ that winter. In July 1960, he entered civilian life after getting an Air Force education in avionics, and worked at a radar station in Alaska for 18 months, then Lockheed Electronics in New Jersey, RCA Avionics (airborne weather radar), and Whittaker Electronics (equipment to evade Russian radar and radar jamming equipment).
He continued flying and got his instrument rating, flight and instrument instructor ratings, ATP and helicopter ratings, and has a total of almost 4,000 pilot hours.
"I wanted to do high-performance, single-engine flying, and discovered the Long-EZ had phenomenal performance in terms of range, altitude and speed-and economy," he said. "I decided it would meet my needs, and decided to build one."
He built it from plans in his two-car garage, with some parts on the living room floor, in the hall, and in the guest bedroom. He started building the Long-EZ in 1980, and made the first flight in December 1988.
Dave says there are a lot of advantages in building your own aircraft, and the primary disadvantage is time. It's not as costly, and you spend as you build, instead of paying all up front to buy a plane. It's an educational and rewarding experience, and as a builder, you're licensed to maintain the aircraft.
"And when it is completed, you take off and just go riding a magic carpet across the mountains, and realize that this is something you built!" he said.
The Flight
After pulling his Long-EZ from his hangar at Camarillo Airport, Dave made a walk-around pre-flight check, and then checked me out on the use of the rear seat hand-controller and throttle. Because of the rear-mounted engine, when the plane is on the ground, and with no one in the cockpit, the nose-wheel has to be retracted, with the nose lowered to the ground on a rubber bumper-or it would fall backward, possibly damaging the engine and propeller!
Therefore, engine startup is highly unusual, with neither of us in the airplane! Dave first set the throttle and mixture controls with the nose on the ground. A holdback line is attached and pulled taut to keep the nose from moving forward after the engine starts. Dave engaged the left magneto switch and hand-propped the engine, while I stood by outside the front cockpit with my hand above the engine controls. When the engine started, if it seemed to over-speed, I was to push down on both the mixture and throttle controls to shut down the engine-but that wasn't necessary.
I climbed into the rear cockpit and connected my seat belt. Dave disengaged the holdback line, lifted the nose, reached into the front cockpit and cranked down the nose wheel, then climbed into the front cockpit, strapped in, and we were ready to taxi. It was 1 p.m.
Two T-28 Trojans and a couple of other light planes were ahead as we contacted Camarillo ground control and taxied out to the run-up area. Dave went through a C-I-G-A-R check: C for Controls (elevators, ailerons, rudders move freely), I for Instruments (proper readings during warm-up), G for Gas (amount in left and right tanks, tank selected), A for Attitude (set trim tabs for takeoff) and R for Run-up (checking magnetos).
We took off Runway 26 at 1:10, and were airborne in 10 seconds into a hazy sky. Climbing at 1,250 feet a minute at 80 percent power and 105 knots, we leveled off at 2,000 feet, slow cruising at 135 knots and 2,120 rpm, burning only 5.6 gallons per hour. Soon after takeoff, Dave gave me the controls. The plane was smooth and easy to fly, even without use of rudder. The hand controller was mostly wrist control-like a typical computer flight simulator joystick-with very little movement needed for responsive control. I flew out to the Pacific Ocean and followed the coast to Carpinteria, then inland over Lake Cachuma to Santa Ynez Airport.
As we approached the airport, Dave took control. We landed at Santa Ynez on 2,804-foot Runway 26 at 1:40, after going around once because a striped black and yellow ultralight at this uncontrolled airport was ahead of us-and going a lot slower. There were many gliders parked north of the runway at the east end of this airport where soaring is so popular, and in the vicinity of the airport, planes could be seen towing gliders. Parked north of the runway were a couple of dozen single- and twin-engine light planes.
Chumach Casino Resort
We had a pleasant lunch at the Chumach Café in the Indian-owned Chumach Casino Resort, only five minutes from the airport by a free shuttle-just call the Casino. When the newly-built Chumash Casino Resort opened its doors to the public in August 2003, in Santa Ynez, it not only became a prime destination point for thousands of tourists visiting the area, but it was also the first tribal gaming facility in the state built with funds from a high yield bond financing deal.
"We made history while securing the future for our descendents," said Vincent Armenta, tribal chairman of the 156-member tribe. "The opening of our new facility marked the beginning of our journey toward future economic growth."
The Chumash Casino Resort offers a 24/7 casino experience, as well as a 106-room hotel and spa that opened this year.
Located in the heart of Santa Barbara County's wine country, the resort is nestled among rolling hills, lush vineyards, championship golf courses and equestrian ranches. Offering guests a choice of serenity or excitement, the resort is quickly becoming the center of activity in the Santa Ynez Valley.
Back to Camarillo
We took a free shuttle back to the airport from the casino at 3:15, started up the Long-EZ, and taxied out at 3:45. Dave went through his pre-flight checks, and we were back in the air at 3:50, from Runway 26, with a slight head wind, in eight seconds. After a steep climbing left turn, he again handed the controls to me. We headed southeast over Lake Cachuma and to the Pacific coastline at Santa Barbara. This time we descended to about 300 feet over the water as I banked left and right to follow the rugged coastline down to Ventura, as we watched the traffic on the 101 Freeway snaking its way on our left.
We then flew directly east past Santa Paula Airport on our left, past Camarillo Airport on our right, and several miles east before turning around to the west for Dave to make a practice ILS instrument approach to Camarillo. We landed at 4:25, behind one of the two privately-owned Lockheed Constellations based at Camarillo that was practicing landings. All in all, a very different kind of flying day.
For more information about Chumash Casino Resort, call toll-free 877-248-6274 or visit [http://www.chumachcasino.com/].
Comments
comments