By Deb Smith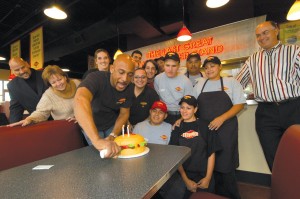 Who says gourmet burgers have to be so gourmet? Certainly not Santa Monica, Calif.-based Fatburger. To help prove the point that you don't have to be fancy to be good, the home-style, cooked-to-order hamburger chain recently opened its second Colorado location to a hungry hoard of adoring patrons at 8255 S. Chester, Suite 100, in Centennial, near the Park Meadows shopping center.
Fatburger franchise investment team leader and Emmy Award-winning television personality Montel Williams marked the occasion with a personal appearance.
"It's a pleasure to see that Coloradoans have found Fatburger to be irresistible," said Williams. "With the opening of our second Fatburger restaurant in the Denver area, we renew our pledge to serve honest, great-tasting hamburgers in entertaining surroundings."
Fatburger continues to honor the philosophy of its founder Lovie Yancey, who invented the chain's signature third-pound sandwich in Los Angeles more than half a century ago.
"It's a very simple menu, and it's cooked to order," said Jack Hercher, president of FB Colorado, a franchise of Fatburger North America, Inc., and Williams' business manager. "It's really not fast food at all; that's the important thing. When you place your order, you tell them what you want on it, and it's prepared exactly the way you want. Seven minutes for the Fatburger, and nine minutes for a King Burger, which is actually a half-pound burger."
With so many counting calories these days, why use the name "Fatburger?" According to Hercher, the moniker is derived from the word 'fat" which, back in the 1950s, was a popular term that was an indicator of personal success. Most likely, the term was often heard around Yancey's diner, since her clientele included many blues musicians.
"Back in the fifties, if you were a 'Fat Cat,' that was a good thing," explained Hercher. "If you were getting a big "fat" paycheck, well, that was a good thing, too. That's where the name came from."
Contrary to its name of great girth, the Fatburger is far from fat. Hercher points out that they select the highest quality ground chuck that's 81 percent lean.
The Fatburger is available with a wide variety of toppings, including cheese, bacon, eggs, chili and ranch dressing. To ensure freshness, each Fatburger, turkey burger and chicken sandwich is grilled or charbroiled immediately after it's ordered. Guests may also select a lower carbohydrate burger option, plus chili dogs, homemade onion rings, and "fat" or "skinny" fries. Milkshakes made with real ice cream top the list of beverages that includes an assortment of soft drinks.
Williams, who got his start in show business right here in Colorado, became involved with Fatburger through a close friend on the West Coast.
"Magic Johnson was originally one of the earlier investors in Fatburger," Williams said. "About five years ago, Magic and I were talking, and in a conversation we had over a television project, he said, 'You know, they may take Fatburger public. You ought to try to get involved. I can make a couple calls.' He made a couple calls, I made a couple calls, I got involved, and Magic sold out to get involved in Starbucks."
The new 2,500-square-foot restaurant accommodates up to 84 diners, and has additional seating for 32 in an outdoor patio area. It features the hamburger chain's signature Web-enabled digital jukebox, boasting a selection of more than 150,000 songs. The retro 1950s-style décor features plenty of period stainless steel, groovy neon lighting, brightly colored counter seating, and a large open kitchen that lets diners enjoy the action.
Williams said that plans are to have at least two days a year where Fatburger earnings will go to the Montel Williams Multiple Sclerosis Foundation.
Colorado's first Fatburger restaurant is located at 14221 Cedar Avenue in the Aurora City Place Shopping Center. A total of 20 Fatburger restaurant locations are planned for Colorado, with Highlands Ranch and Colorado Springs being eyed as potential locations.
The Fatburger Restaurant chain now has more than 50 restaurants open in Arizona, California, Colorado, Florida, Nevada, Pennsylvania and Washington. Also on the drawing board are first-time Fatburger restaurants slated for Georgia, Illinois, Kansas, Louisiana, Michigan, Missouri, New Jersey, New York, North Carolina, Ohio, South Carolina, Texas, Virginia, Washington D.C. and West Virginia.
To reach the Centennial restaurant, call 303-790-9501 or to fax an order, call 303-792-3049. For more information, visit [http://www.fatburger.com/].
Comments
comments