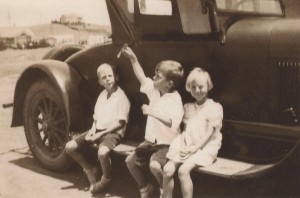 By Cliff Robertson
I couldn't believe it. There on a gigantic panoramic screen were Kodak moments of my life. My life in aviation. One of the earliest photos showed me sitting on the running board of an ancient Dodge Cabriolet automobile. There were three of us. My two cousins, Bill and Norma, ages 6 and 5, and me, age 5. They, as per the photographer's instructions, were looking straight ahead at the camera. I, in spite of the photographer's instructions, was looking up at my extended right hand, holding a small, wooden propeller, whirling around a 10-penny nail.
I couldn't have been less interested in the camera. To me, at that important moment, my concern was my friends: the wind—the propeller—the action. Action connected to my young pilot fantasy. Fantasies of Roscoe Turner, flamboyant racing pilot, accompanied by a pet lion cub. Fantasies of Charles Lindbergh, then America's hero. Fantasies of the Cleveland Air Races—pilot Art Chester and Ben Howard—and fantasies of naval air pursuit planes and diver bombers practicing off the shores of the then sleepy, quiet and modest La Jolla, Calif.
These were fantasies recreated on a huge panoramic screen in Dayton honoring: Bessie Coleman, the first female African American airplane pilot. Robert White, astronaut, test pilot and Air Force hero extraordinaire. David "Tex" Hill, World War II ace and leader of the Flying Tigers. These illustrious aviation heroes were believable—though not all still with us. They are significant aviation heroes deserving of their enshrinement that hot, humid night in Dayton. The fourth enshrinee was questionable. He was the little boy holding the propeller—now a senior citizen holding his breath. For he was included in the enshrinement ceremonies. Was it possible? Had someone made an error? Just what was this actor/director/write doing in such august company? Was this some kind of beau geste being directed because of the 30 years of attendance to this ceremony? Was this, God forbid, someone's discovery of an overlooked biopsy? Happily not—but it was a moment riveted forever in my mind. A seminal moment in my aviation life.
Sitting there at an honored table with dear, loyal friends that Saturday, July 15, 2006, in the Dayton Convention Center, I was mindful of that running board, that early Dodge Cabriolet, that propeller and my friend—the wind. It had all slipped by so quickly. And though this was a moment of great celebration and gratitude, there was a poignancy to it all. The dear Lord had been good to that little boy, now a senior citizen. Surrounded with friends—true friends—created a reality that "It Was Really Happening." REALLY HAPPENING. That little kid—later that airport hangar rat—later that pilot—and many years later—this reality of recognition. Recognition ill-deserved. Recognition readily accepted.
So many to thank: Bud Smith, the chief pilot of Speer Airport, who allowed me to clean aircraft. Who allowed me to actually fly the Taylor Cub at age 14. The Fair Oaks Airport, Chobham Surrey, England, where I soloed. The Tiger Club in Red Hill, Surrey, England, where I was allowed to mingle with our English cousins. And on and on and on upward.
Soaring entered my aviation scenario some 15 years ago. Since then, I have learned the value of peaceful, quiet, bird-like flight on the eastern slopes of the Sierras. My film career has spanned some 78 feature films as actor/writer/director. I am grateful for the good fortune that has allowed me to pursue those boyhood dreams. And I am grateful for those who have supported my efforts in pursuing those dreams.
The wind has been my endless friend. And I am ever, forever grateful.
P.S. Many readers have asked how they can reach me. I suggest they send their request "in care of" Laurie Lips, co-publisher, Airport Journals, and she will pass it on to me.
Academy Award and Emmy Award winning screen star Cliff Robertson has owned and flown a wide array of aircraft, including a Spitfire MK IX, a Messerschmitt Me 108, a French aerobatic Stampe SV4 biplane, a Grob Astir glider (in which he still holds a distance record) and a Beech Baron 58. A holder of single, multi, instrument and commercial licenses, as well as balloon, the pilot of many thousands of hours has accumulated many aviation awards, including EAA's highest Eagle award and the AOPA Sharples Award. He was inducted into the National Aviation Hall of Fame, and the American Veteran Association has honored him as Veteran of the Year. His columns will appear in his soon-to-be-published book. For more information, visit [http://www.cliffrobertson.info].
Comments
comments