By Terry Stephens
The new $27.8 million, 271-foot-tall control tower at Spokane International Airport (GEG) is a giant symbol of the airfield's growth and development in recent years. Now the tallest control tower in Washington, the facility positions the airport for a further expansion of aviation activity.
While comparing the new tower to the shorter one built in the 1960s, Federal Aviation Administration officials at the August dedication ceremony said air traffic controllers could now manage at least 325 flights daily, an increase of 55 flights each day. The tower improvements are part of the airport's 20-year master plan. Airport officials anticipate passenger levels will nearly double from 1.7 million to 3.3 million a year, by 2020.
"We can now handle 20 percent more flights per day, at the minimum," said David Jennings, the tower's FAA quality assurance specialist and training director.
The airport is equipped to manage 205,000 operations annually. Significantly, the tower eliminates line-of-sight issues that restricted views of the airport. Jennings said the facility handles passenger, cargo and general aviation traffic at GEG, as well as flights into nearby Fairchild Air Force Base (SKA).
FAA officials said the airport's older tower would continue operating as a backup facility for several months. Eventually it will be demolished, but supporters of a future Spokane and eastern Washington aviation museum would like to see portions of the tower and its equipment preserved for display.
U.S. Sen. Patty Murray, credited with providing more than $16 million in federal funds for the project, said the tower increases the efficiency and safety of both civilian and military flights in the area.
The new tower won't result in an increase in FAA staffing, said David Adams, the FAA district manager for Spokane. Presently, FAA offices in the area have 50 employees; 30 of them are air traffic controllers who work inside the tower cab or downstairs at the Terminal Radar Approach Control center.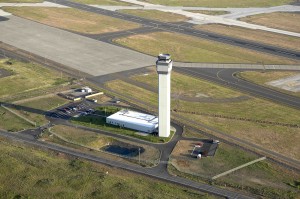 Construction on the tower began in 2005. During the dedication ceremony, Robert Sturgell, the FAA's deputy administrator, said that although building and equipping such a large, high-tech facility usually takes a long time, the Spokane tower was completed faster than most similar projects.
"These don't go up in a day, as we all know," he said. "But what's unique about this facility is that it was the region's first design-build construction contract, meaning it went up far quicker than towers of a similar size."
The facility's two Automated Radar Terminal System installations provide approach control for both Spokane International Airport and Missoula International Airport (MSO) in Montana. ARTS has been replacing aging traffic control systems at hundreds of TRACONS across the country since 1997.
In newer ATC towers and TRACONS, A Rapid Deployment Voice Switch, RDVS-II, provides a digital voice switch communication system, replacing older voice switches and their analog interfaces. The new Spokane airport tower also has data screen information displays, a separate weather system information display and a new guidance and control capability for aircraft and vehicles on the ground.
Comments
comments