By Shari Valenta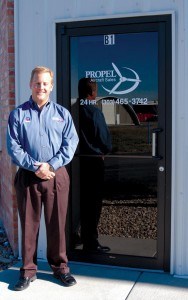 You feel a certain sense of excitement when you purchase a new vehicle. Looking out the brand new window without pits or cracks exudes a feeling of grandeur. That new car smell makes you confident that your automobile performs beyond compare.
Now, take a minute to imagine owning your own factory-new Cessna. The energy is multiplied tenfold when flying your own aircraft. The owner of a new aircraft always has that exuberant expression on his or her face while talking about all of the great trips that will be made.
If you're in the market for a new aircraft, Propel Aircraft Sales, Inc. is the largest new Cessna dealer in the Rocky Mountains. Located at Jefferson County Airport, it concentrates its efforts exclusively in marketing Cessnas.
"That way, the customer's satisfaction throughout the entire purchasing experience becomes the primary focus," says Eric Need, owner of Propel Aircraft Sales.
Neeb is no stranger to sales; he started out in 1993 as a real estate agent. His friendly, casual demeanor made him a successful broker. In 1998, his career took a turn for the sky when he received his private pilot's license. Neeb enjoys skiing and racing triathlons, but his greatest passion is flying.
"It's just the joy of being up in the air and enjoying the beauty," explained Neeb. "There's a kind of personal fulfillment and freedom when you're up there, flying above the mountains and seeing the elk herds on the ground."
Neeb has earned his single-engine, multiengine, commercial, flight instructor, multiengine instructor and instrument instructor ratings. In 1999, he started a company with his real estate colleagues selling partnerships in Beech King Air 200s and Cessna 421s.
"We made progress on that until the stock market bubble burst and 9/11 hit," Neeb remembered. "The real estate sector of the economy went down a bit."
Unfettered, Neeb continued to follow his aviation dream. A friend was preparing to leave his job selling new Cessna aircraft at Windsong Aviation and recommended Neeb for his position.
Neeb has been selling new Cessna single-engine piston aircraft for the last three years. He purchased the dealership from Windsong Aviation a year and a half ago and it became Propel Aircraft Sales. Although Windsong Aviation also owned a maintenance shop, Neeb decided not to pursue aircraft maintenance and the company decided to sell it to another entity. Because there's no maintenance shop, Neeb believes Propel Aircraft is able to give customer care full attention.
"Cessna sales are my only line intentionally," pointed out Neeb. "When I bought the dealership, I considered buying the whole package. Instead, I decided to focus on aircraft sales because this is what I know, what I've been doing all my life and what I do best. I can concentrate all my efforts on making sure I have the newest aircraft on order and that my customers are fully taken care of."
Letters from satisfied customers are displayed proudly in Neeb's office. Some include pictures of pilots in front of their newly-acquired aircraft. He points out that the great majority of his past customers still regularly keep in touch with him. One was an enthusiastic, young aviator.
"In August, I sold a 152 Aerobat to a family in Scottsdale," recollected Neeb. "They were buying the airplane for their 16-year-old son who was learning to fly so he could join the Air Force Academy. They had a trip planned to visit the academy in Colorado Springs, so I quickly arranged to have the airplane ready for delivery. When the teenager's flight instructor indicated that he was unable to fly back with the youngster, I offered to make the flight back with him, to ensure that he would make it back home safely. The 152 is about a 100-knot airplane; I knew it was going to be a very long trip."
Neeb said that when he arrived in Colorado Springs to pick him up for the flight back to Scottsdale, he was very impressed with the young man's maturity, organization and thoughtfulness.
"We spent a lot of time talking on that eight-hour flight," he said. "He actually flew like a pro. When we finally arrived, the family put me up for the night and drove me down in the morning to Phoenix Sky Harbor to catch a commercial flight back to Denver. That's aircraft sales; meeting people is what I find so interesting."
Neeb prides himself on continually going the extra distance to ensure that his customers are completely satisfied before, during and after the sale.
"The fun part is seeing the excitement in my customers' eyes when they pick up their new airplane," said Neeb. "I'll usually spend quite a few hours flying with them afterward so I can show them some of the nuances of the airplane and avionics while soaking up some of their enthusiasm."
For those who are enthusiastic about traveling at their own pace, acquiring a Cessna is a wonderful and breathtaking way to meet a demanding schedule without driving to the airport, dealing with airlines and renting cars. However, Neeb says that freedom and enjoyment of flying comes with a lot of responsibility.
"That's making the right decisions and making sure you're flying good equipment, rather than an airplane that may not be the most reliable," he said.
Propel Aircraft Sales, Inc. serves Colorado and Wyoming and is located at 10128B Airport Court. To make an appointment, call 303-465-3742 or e-mail Eric Neeb at [http://eneeb@propelaircraft.com/].
Comments
comments